Pierce's Pitt Bar-B-Que January 2012
Pierce's Pitt Bar-B-Que had been recommended to us by a number of people as well as Art's father and various websites.  We decided to try it out on the day we arrived in Williamsburg for our first vacation since 2005!
The ambiance is pretty low-key, sort of like the McDonalds of my youth.  You order at a counter and then pick up your food when your number is called out.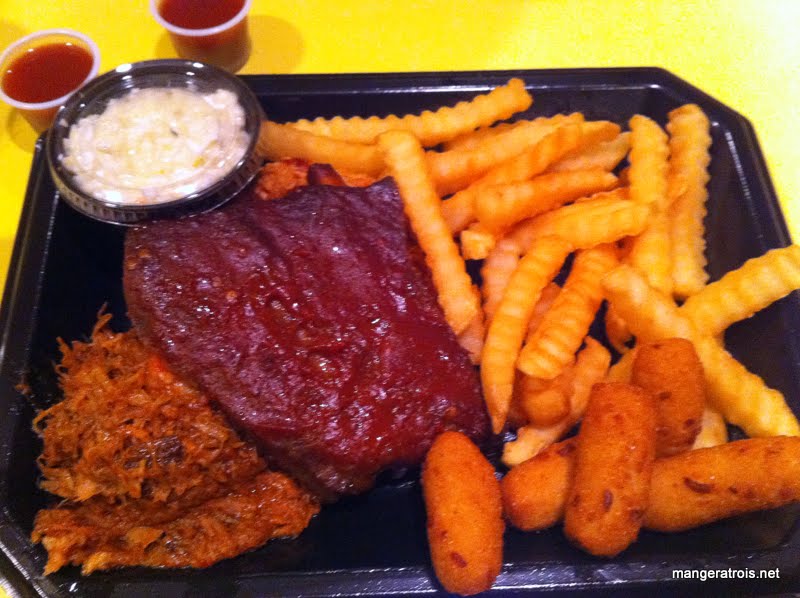 COMBO DINNER 5 ounces of our Pulled BBQ Chicken and 5 ounces of our Pulled Pork BBQ covered with "Doc" Pierce's Original Bar-B-Que Sauce. Comes with a Side of Ribs, French fries, Pierce's own coleslaw and hushpuppies.
Art and I both had the Combo Dinner with a roll on the side.  In this picture the pulled chicken is hiding out under the ribs.  I guess we're spoiled by the smoking Art does at home, because this wasn't really anything special.  Sadly, I'm guessing it was also full of HFCS because I was pretty ill that night.  Be wary of restaurants which bottle and sell their BBQ sauce, chances are it has things you might not want to ingest as ingredients. 
I'm sad that Pierce's wasn't as awesome as we were hoping it would be, but such is life and I'm still glad we gave it a try. 
Total price: $38.09
Pierce's Pitt Bar-B-Que
447 East Rochambeau
Williamsburg, Virginia 23188
Phone: 757.565.2955