I think this might be the 8th or 9th attempt I've made at perfecting Almost No-Knead Sourdough and I think that I might have nailed it.  I'll need to try it a few times more to make sure, and I'd like to ensure that I can substitute half of the white flour for whole wheat flour as well.  But I'm feeling really good about this method and, in the end, the only change I really needed to make was to reduce the resting and rising times.  Who knew? 
Apparently, if you allow sourdough to rest for too long, whatever bonds there are that should keep the dough together sort of disintegrate and the dough turns into a wet, gloppy mess. 
Ingredients
15 ounces all purpose flour (3 cups)
1⁄4 teaspoon yeast
1 1⁄2 teaspoons table salt
7 ounces water, at room temperature (3⁄4 cup plus 2 tablespoons)
3 ounces mild-flavored lager (1⁄4 cup plus 2 tablespoons), such as Budweiser
1⁄4 cup sourdough starter
1 tablespoon white vinegar
Instructions
1. Whisk flour, yeast, and salt in large bowl. Add water, beer, starter, and vinegar. Using rubber spatula, fold mixture, scraping up dry flour from bottom of bowl until shaggy ball forms. Cover bowl with plastic wrap and let sit at room temperature for 6 hours.
2. Lay 12- by 18-inch sheet of parchment paper inside 10-inch skillet and spray with nonstick cooking spray. Transfer dough to lightly floured work surface and knead 10 to 15 times. Shape dough into ball by pulling edges into middle. Transfer dough, seam-side down, to parchment-lined skillet and spray surface of dough with nonstick cooking spray. Cover loosely with plastic wrap and let rise at room temperature until dough has double in size and does not readily spring back when poked with finger, about 1 hour.
3. About 30 minutes before baking, adjust oven rack to lowest position, place 6- to 8-quart heavy-bottomed Dutch oven (with lid) on rack, and heat oven to 500*F. Lightly flour top of dough and, using razor sharp blade or sharp knife, make one 6-inch long, 1⁄2-inch-deep slit along top of dough. Carefully remove pot from oven and remove lid. Pick up dough by lifting parchment overhang and lower into pot (let any excess parchment hang over pot edge). Cover pot and place in oven. Reduce oven temperature to 425*F and bake covered for 30 minutes. Remove lid and continue to bake until loaf is deep brown and instant-read thermometer inserted into center registers 210*F, 20 to 30 minutes longer. Carefully remove bread from pot; transfer to wire rack and cool to room temperature, about 2 hours.
4. Refresh starter by mixing in 1⁄4 cup flour and 1⁄4 water.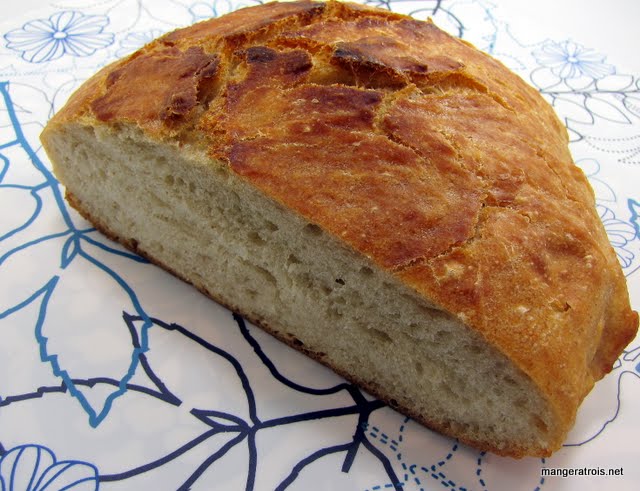 I forgot to put a slit in the bread, so it's not quite as pretty as my original Almost No-Knead Bread loaf, but that's an easy fix for next time.  I'm still refreshing my starter with whole wheat flour and that seems to be having a nice effect.  Next time I'll try replacing half of the flour with whole wheat flour.  The sourdough flavor in this loaf was nice and pronounced. 
I am feeling a bit sheepish that the only thing I really needed to do was change the rising and resting times, but it's been a fun journey.  It's nice to finally have achieved something resembling success! 
In theory, if I was more confident in the rising abilities of my starter, I could omit the yeast entirely, but my starter has proven finicky.  Hopefully this will change in time.