Disclosure: Two weeks ago I received an invitation to a complimentary tasting experience at Pulpo.  The restaurant recently hired Chef Billy Klein and radically reinvented their menu.  In the words of the invitation they now have "a vastly improved core menu, a top-flight craft cocktail program, greatly enhanced standards of service, and coming in Autumn; Billy Klein's tasting menus and chef's table."  This all means that the meal you're about to see was free but all of the opinions are my honest and non-influenced thoughts as well as those of my dining companions.  
We arrived a bit early for our 5pm reservation since we opted to take the Metro.  The restaurant is less than two blocks away from the Cleveland Park Metro station and, since parking is limited to street parking and I don't parallel park, riding the Metro was easy and painless. The hostess was very friendly and happy to seat us right away.  She warned us that the brunch crew hadn't completely left upstairs, so that it would be a bit noisy for a few more minutes, but I certainly didn't notice an unpleasant volume.  Art, who is a bit sound sensitive, did notice the increased volume, but only when we were first seated.  During the rest of the meal the noise level in the restaurant was great for all of to enjoy each other's company.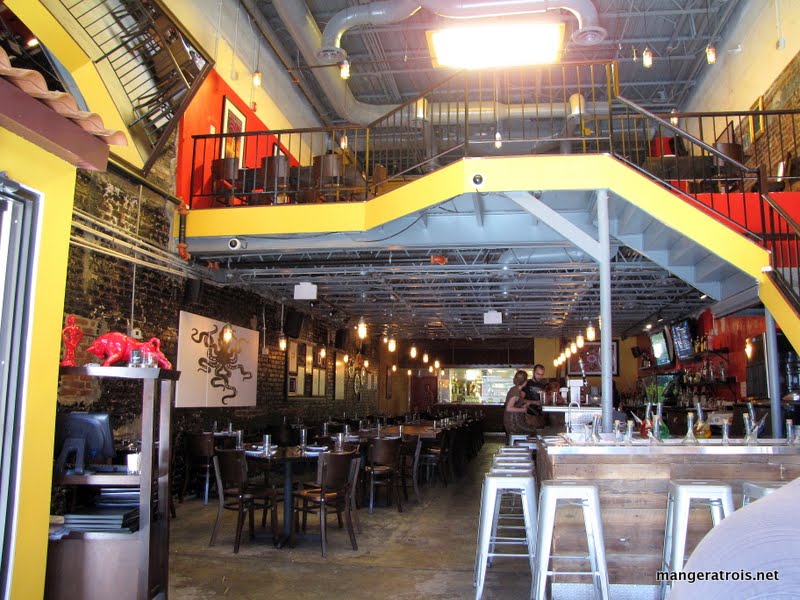 The décor of the restaurant was really lovely.  It felt casual, relaxed, and architecturally interesting.  The exposed brick on the walls and the duct work on the ceiling was a nice touch.  There is plenty of seating on the first floor, including tables for parties as large as ten.  In the back of the downstairs dining area is a glass walled kitchen that allows you to see what's going on.  Our table was a four top at the front of the restaurant with a huge window and plenty of light.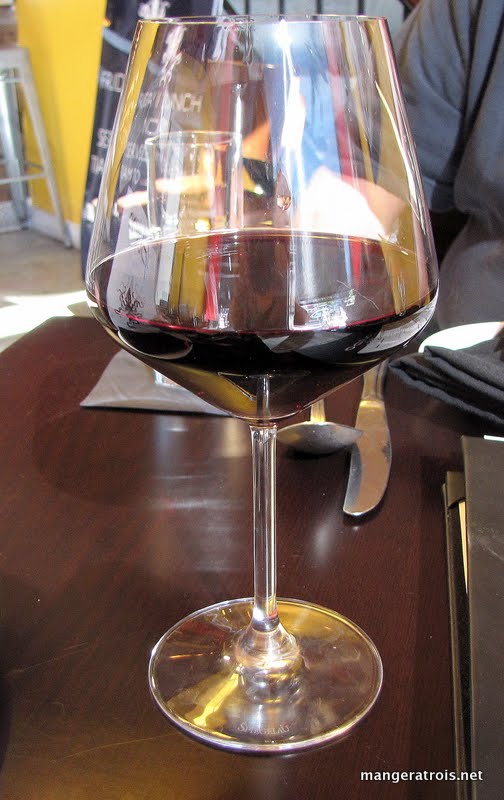 We were given menus to peruse and our waiter, Kai, took our drink orders.  Brian ordered the manager's special wine which is a Tempranillo.  I'm never sure if I should take and share pictures of wine, but here you go.  He enjoyed it!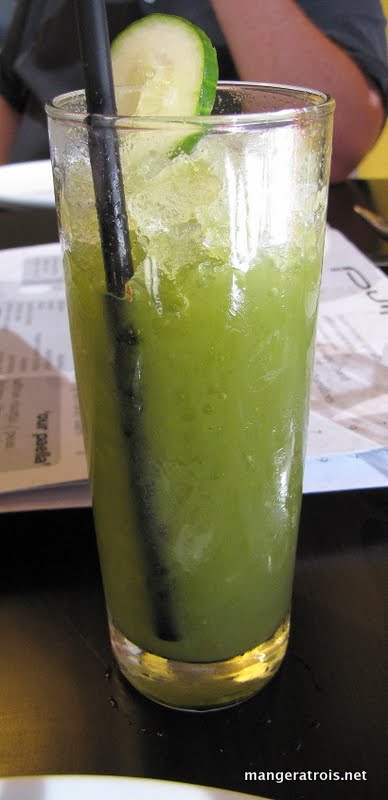 I normally stick with water at restaurants due to my allergies, but our amazing waiter mentioned that they also had virgin cocktails and agua frescas.  Agua fresca?  Tell me more!  The three flavors they had that day were cucumber with lime and mint, mango, and watermelon.  Since I can't eat mango or watermelon, the choice was easy for me.  The cucumber was amazing.  I ended up drinking three of them.  Delicious, sweet, bright, and ridiculously flavorful.  Did I mention that I drank three of these?!
The chef came to our table to introduce himself and give us an idea of his vision for the menu.  He's aiming for a modern take on tapas with a goal to respect the high-quality ingredients that he starts with.  Lance and I had actually been to another tapas two weeks before with my parents and we could tell that the menu was much less traditional at Pulpo than it had been at the other place.  We also couldn't help but note than Pulpo has significantly fewer offerings, which we've learned is always a positive sign for a restaurant.  
Then the food started coming.  I hadn't been 100% sure that it was going to be a tasting menu, but I had complained to both Art and Lance that everything on the menu looked too good and I wasn't going to be able to decide.  I'm glad I ended up not having to!  Neither Art nor Brian had ever had a tasting menu experience, so this made the whole experience even more exciting.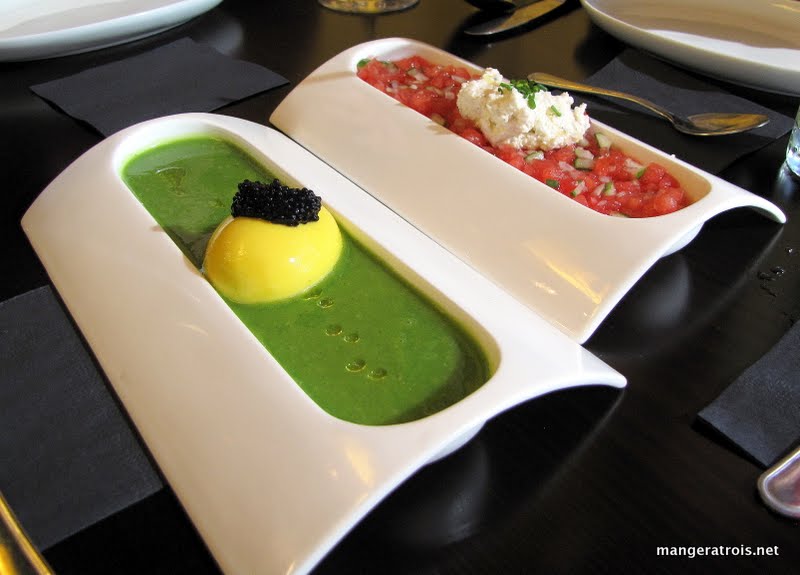 Our first two dishes were the two gazpachos on the menu.  The green one is Asparagus Gazpacho with saffron soft-boiled egg and black caviar.  The red one is Sandia [Watermelon] Gazpacho with house-made ricotta.  Wow.  The saltiness of the caviar added a really nice flavor to go along with the delicious asparagus flavor.  The asparagus was really the star of the show that was enhanced by the egg and the caviar.  The sandia gazpacho was even better.  I'm not supposed to eat watermelon, but I had to try a taste of it anyway.  The house-made ricotta was so perfect and creamy.  This is actually the first time I've been sad that I can't eat watermelon.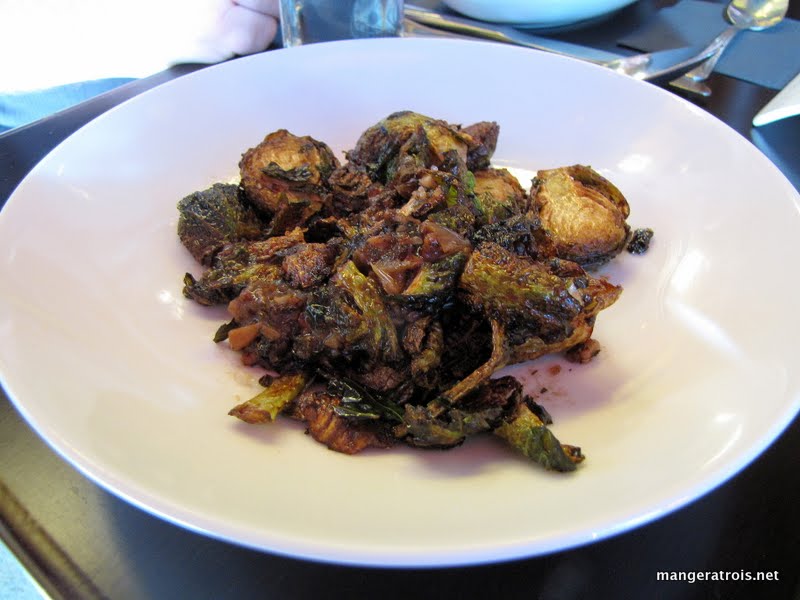 Our third dish was the Bacon Brussel Sprouts.  I love Brussels sprouts and tend to order them whenever they're on the menu.  And, without fail, I'm always disappointed.  They're always over cooked and either taste like boiled or burnt cabbage.  These were amazing.  The outer leaves were crisp, the centers were tender but not mushy, the flavor was superb.  This, like every other plate of our meal, was demolished.  Apparently we have our server to thank for this one, since Kai suggested to the chef to include it as it's one of Kai's favorites.  Thank you, Kai!

Our fourth dish was one of the signature dishes.  Pulpo means octopus and this is Octopus prepared with quinoa, olives, oranges, and parsley.  None of us had ever eaten octopus before and Art does not eat seafood or fish.  However, he decided that he was going to try everything anyway – I was super impressed by him for this determination.  We all tried the octopus and we all loved it.  The flavor was fantastic, the texture was nicely chewy, the citrus and quinoa paired excellently with the octopus.  Art and Brian both enjoyed the olives as well.  This was a very well conceived dish and surprised us all.  I also like that this dish didn't look scary - there wasn't a big tentacle or baby octopus head on the plate.  Instead, there were just bite-sized pieces of meat in a pleasing presentation.  I think this is a good call on the chef's part.  [Update: Brian actually has had octopus before.  He says that this octopus was very well cooked and not at all rubbery as the octopus he's had in the past has been.]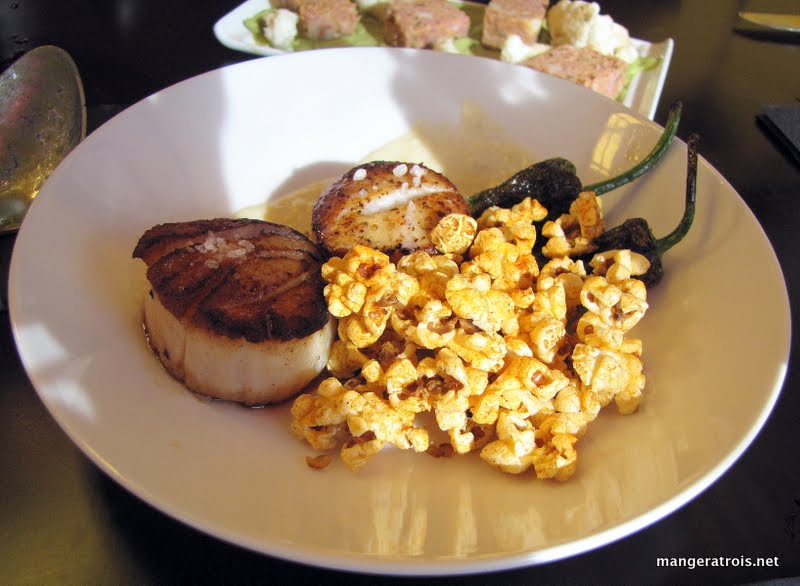 Next out was Sea Scallops with sweetcorn puree, blistered padron peppers, and angry popcorn.  It's worth mentioning that Brian is quite a lover of scallops and he tends to order then whenever they're on a menu.  He said that these were the best he's ever had and that Art will be spoiled forever.  I have eaten scallops before and I agree with Brian.  If all scallops were like this, I'd order them everywhere too!  The sear was perfection and they were supremely tender inside.  The sweetcorn puree and popcorn were both flavorful and Art claimed the peppers.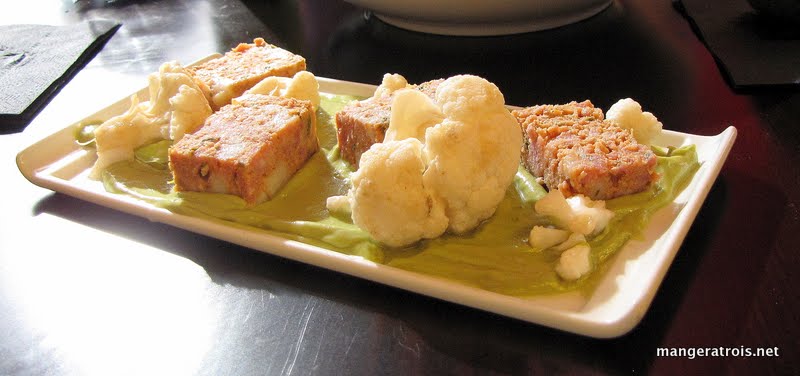 Our sixth dish was the Chorizo Pate with avocado mousse and pickled cauliflower.  This was another amazing dish.  I loved the buttery creaminess of the avocado and the pickled bite of the cauliflower with the garlicky and spicy pate.  Another really well composed dish.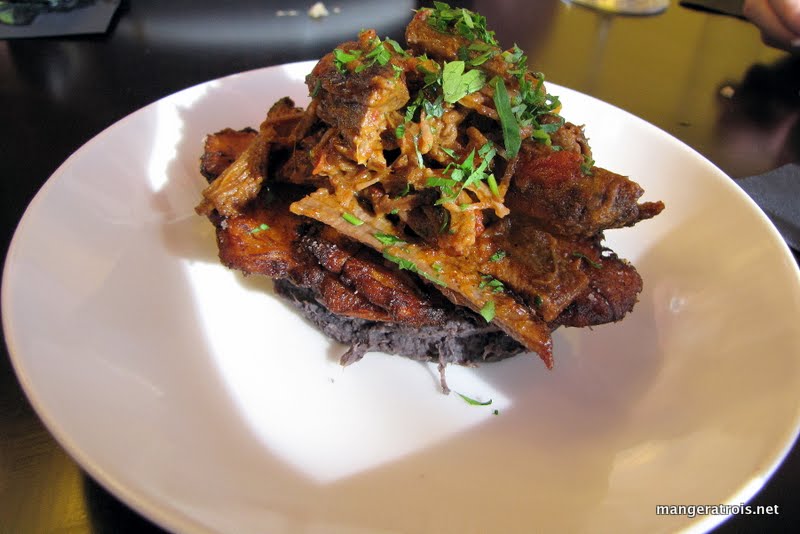 Dish seven was 'Ropa Vieja' with black beans and tostones.  This is the dish where it could have all gone wrong since Art is a total brisket snob.  Yet again, though, Chef Billy hit it out of the park.  The flavor of the brisket was fantastic, the tostones were crisp and flavorful, and the black bean puree was awesome.  Normally bean purees can be so bland and boring, but this was neither of those things.  We had no idea what the tostones were and decided they must be fried potato things, but google tells me that they're plantains.  They were extremely tasty and the three components of the dish really complimented each other.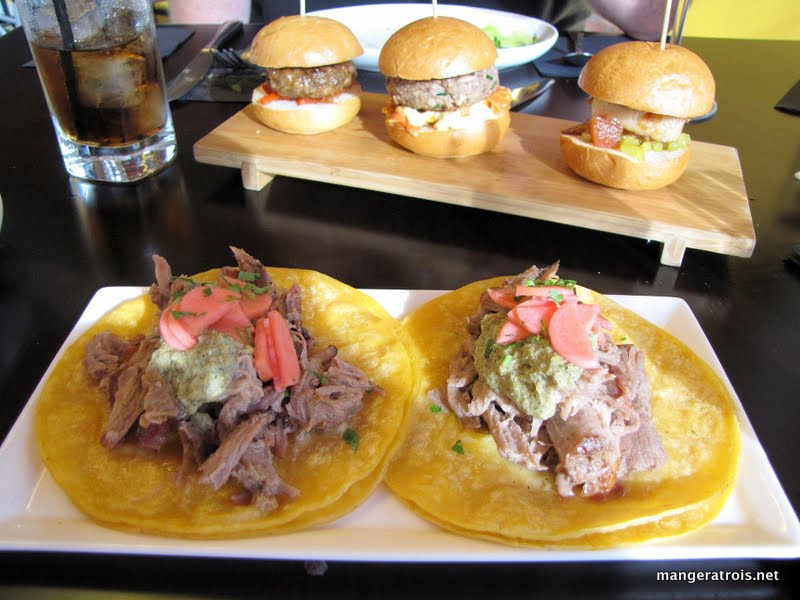 Then the Smoked Pork Tacos arrived with salsa verde and pickled radishes.  Another delicious meat dish.  The pork was super tender and flavorful and the radishes added a great crunch and bite to the dish.  These were served on corn tortillas.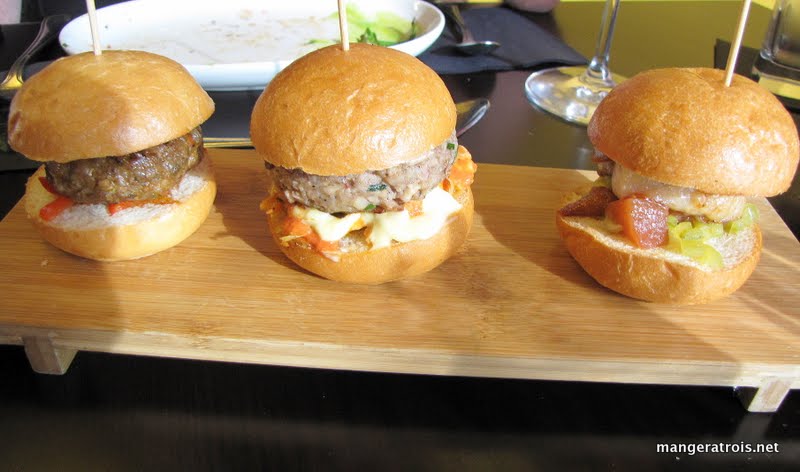 Our ninth dish was a slider platter.  For the record, sliders are really hard to split four ways.  If you're going to attempt this, we found that removing the top bun first makes for easier cutting, otherwise the bun smooshes everything when you cut.  From left to right our sliders were lamb, octopus, and pork belly.  The pork belly had some sort of pickle and the octopus included cabbage, bravas sauce, and aioli.  I forgot to ask about the lamb slider.  Even though we all only had a small bite of each of these, we were all very impressed.  The meats were all just packed with flavor.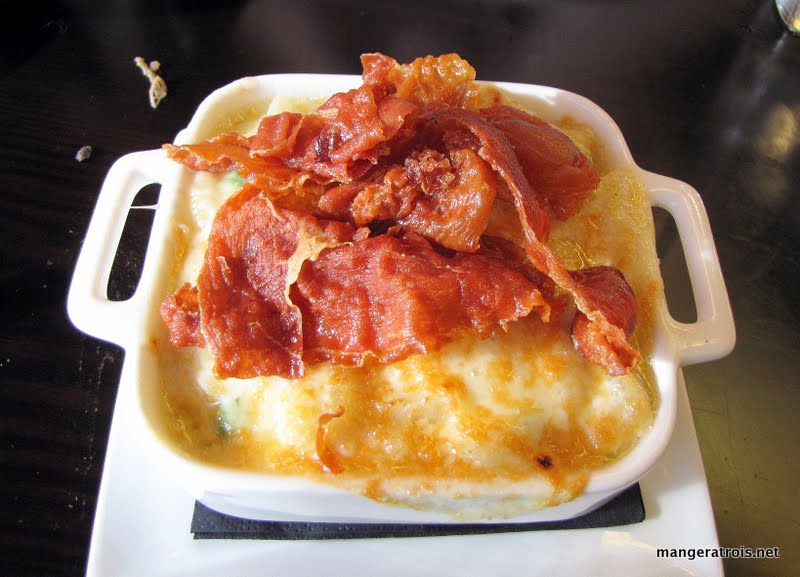 Lucky dish number ten was the Mac and Cheese with manchego, cavatelli, sweet peas, and crispy Serrano ham.  Special mac and cheeses are another thing I've tried to order in restaurants from time to time and they're always a let down.  The flavors tend to be unbalanced or, even worse, the pasta is mushy.  This mac and cheese was superb.  The pasta was perfectly cooked with a nice texture, the Serrano ham was very crispy and nicely salty.  The manchego added a rich, buttery, creamy sort of taste to every bite.  Even Lance loved this dish and he is not a mac and cheese lover.  Art felt that it was closer to a carbonara than a mac and cheese, but this is probably because he's a bit picky about what things are called.  (For example, we have to call pizza with non-traditional toppings "flatbread with toppings" around him.  Since pizza is something very specific in his mind.)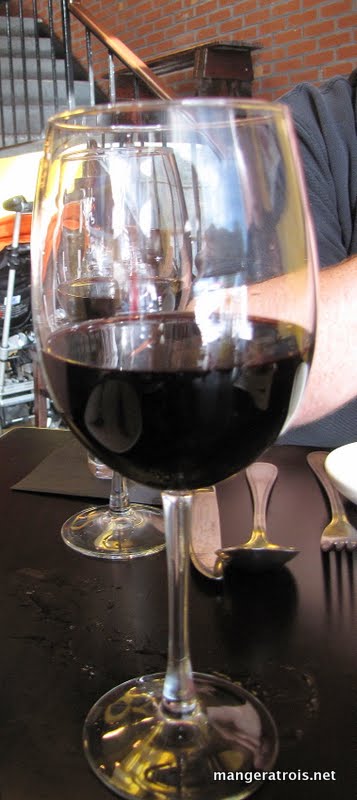 Brian ordered another glass of wine!  I don't have a note of what this was because he ordered one type and our waiter, Kai, suggested that he try a different one due to the upcoming dishes.  I thought that was pretty cool and Art ended up getting a glass for himself as well!  I tried a taste and it had a peppery, spicy sort of bite to it.  Sadly I didn't note the name of the wine.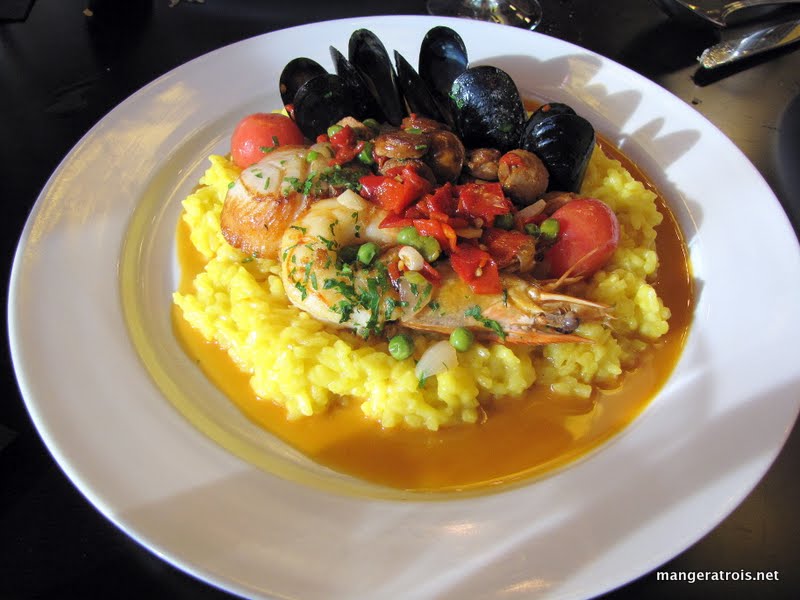 Our final entrée dish was the Paella.  This was a combination of saffron risotto, peas, shrimp, mussels, chorizo, scallop, and piquillo peppers.  Risotto is one of those delicious things that I love to eat.  However, my experiences with it in restaurants have been hit or miss.  The saffron risotto which formed the base of this dish was lovely.  The rice was perfectly cooked and delicious.  The chorizo and peppers flavored the entire dish and we divvied up the seafood.  Art even tried a mussel!  This was a very flavorful dish and I'm sure that a lover of seafood, rice, and paella would thoroughly enjoy it.  If I was forced to pick a least favorite dish, this would be it, but that would be an unfair designation since everything was so excellent.  This was too, it just had a combination of flavors that I'm not in love with.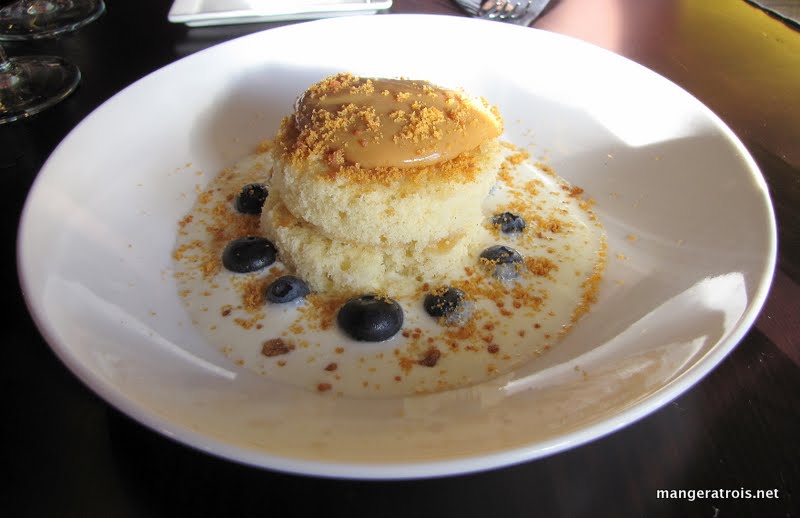 Our last dish, number twelve, was a dessert called Tres Leches v2.0.  It's described on the menu as "Billy's unique take on a standard angel food cake, goat cheese frosting, dulce de leche, sheep's milk foam, blueberries, and crumble."  So, in addition to the normal "three milks," Chef Billy included the milk of three animals as well.  The variety of the milks helped to temper the sweetness of the components and this was a fantastic little dessert.  
As we were finishing our dessert, the chef came back out to talk with us and answer all of our questions.  We talked about high quality ingredients and pointed out the dishes that particularly impressed us.  He explained to Art his brisket process, which is a three-day process involving rubbing the meat an entire day before cooking it.  He also deep fries the Brussels sprouts which is what makes them the best I've ever had.  He took a good 10-15 minutes to answer our questions and chat, which was pretty grand.  The general manager, Dave, also came out to introduce himself at that point and let us know that the whole meal was on the house.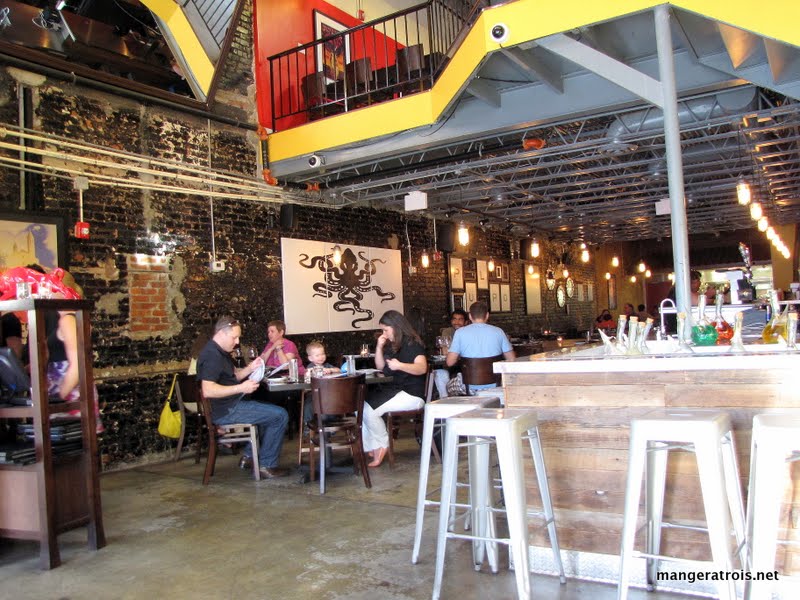 This was a really amazing experience.  The amount of food we were given was perfect and the pacing was spot on.  We were all pleasantly full but didn't feel stuffed.  The restaurant atmosphere was great and relaxed. They filled up as the evening went on and, from what we could see, every other table was receiving the same level of service that we were.  The service was great!  Our glasses were always full and Kai was knowledgeable, attentive, and friendly.  
This was the first tasting menu that Brian and Art have ever had and they were both super happy with the experience.  They're both eager to go back again in the future and we're hoping to make that happen before too much time passes by!  Just a quick glance at the menu and I see 10 things on the menu that I want to try and didn't get to, not to mention all the things we had that I loved so much I want to eat again.  
This is a tapas restaurant, which means that plates are small and intended to be shared.  It's normal for people to order 2 to 4 dishes each.  I felt that the dishes here, when compared to the other tapas place we had visited, were better composed and thought out.  While sharing does add to my personal enjoyment at a restaurant like this, I do think that a person would be completely satisfied to order their own plates and horde them.  I certainly had a few dishes I would have liked to keep all to myself!  
I highly recommend that you give Pulpo a try when you're in the DC area.  It's a super easy restaurant to get to from the Red Line and the food and service were stellar.  We will definitely dine here again in the future, and you should too.  
Total price: unknown.  We tipped $60 based on Lance's quick math with the menu and our enjoyment.  
Pulpo Restaurant
3407 Connecticut Avenue NW
Washington, DC 20008
Reservations: 202.450.6875 (and OpenTable)