In early February, Lance and I were invited to go out to Chicago for a planning meeting.  We ended up being able to make the trip work and, since we didn't have any plans Friday evening, I tracked down a restaurant.  I picked Tramonto's because I remembered seeing Rick Tramonto on Top Chef Masters.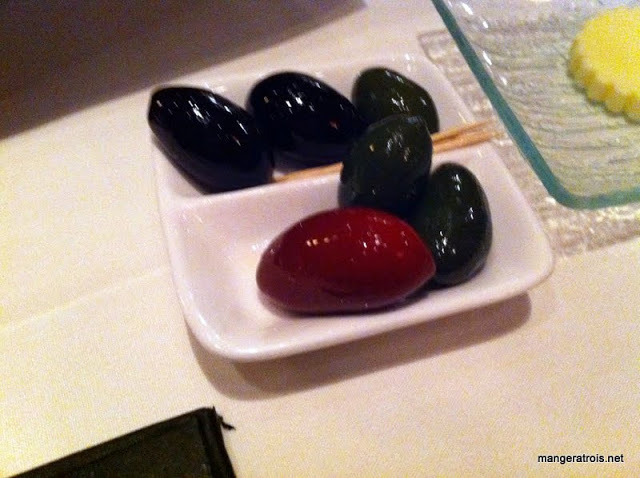 Our meal started off with some olives… which neither of us tried.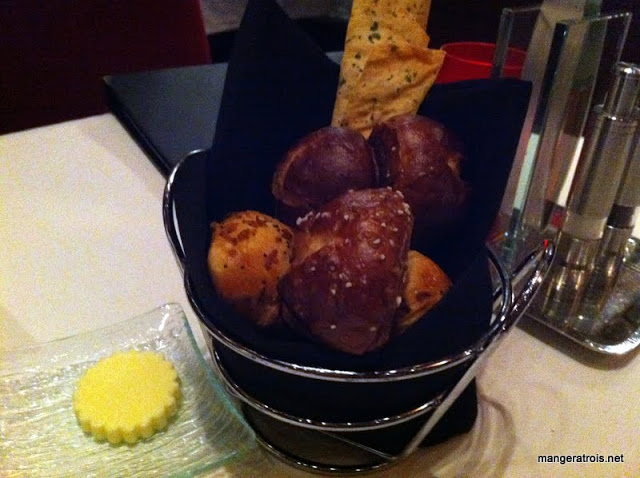 And a nice assortment of breads.  I like the trend of pretzel rolls in restaurants, they're quite tasty!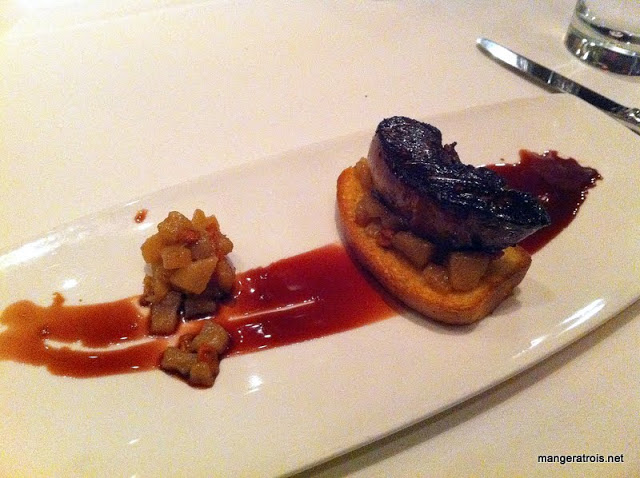 Seared Hudson Valley Foie Gras Asian pear, goji berry, port wine reduction
Due to Tramonto's involvement in the foie controversy in Chicago some years back, I knew I had to get it.  This foie was rich and velvety.  The sweetness of the sauce complemented the foie quite well.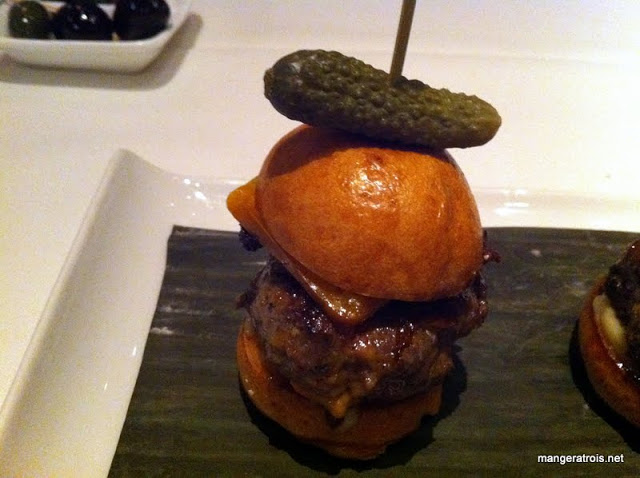 Kobe Beef Sliders Black pepper bacon, Wisconsin smoked cheddar, roasted garlic aioli
Lance thought these were amazing and I think we might have come to blows had I tried to snag a bite.  They were juicy and he devoured them.  There were there of them, but you just get a picture of one!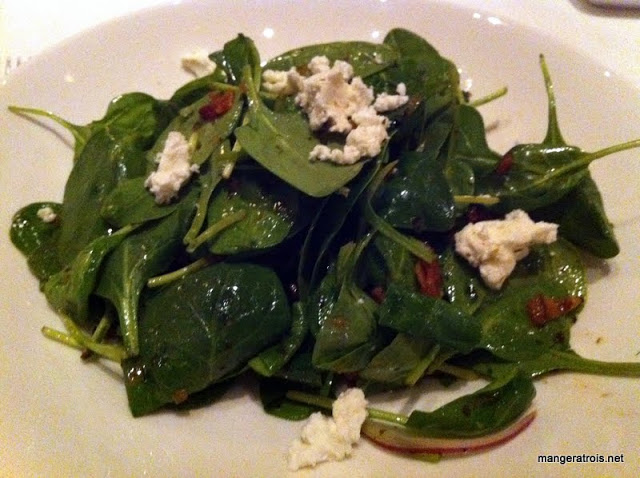 Spinach Goat cheese, red onion, bacon, spiced pecans
This was a super tasty salad although I forget which dressing I had with it.  I think it was a sherry vinaigrette which was well balanced.  The pecans were a little bit sweet and added a nice textural component to the salad.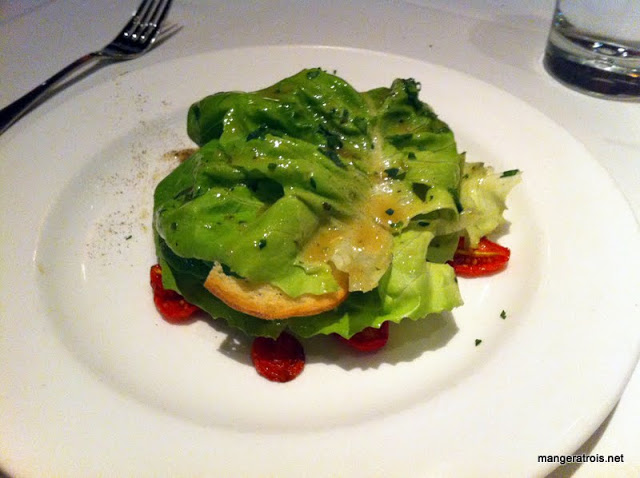 Simple House Bibb lettuce, roasted tomato, tarragon, chives, ciabatta crouton
Lance had a house salad and, sadly, it suffered the same problem many salads do for him – the lettuce wasn't cut up!  He prefers salads where the components are all bite sized before he gets it.  Regardless, it was a tasty salad.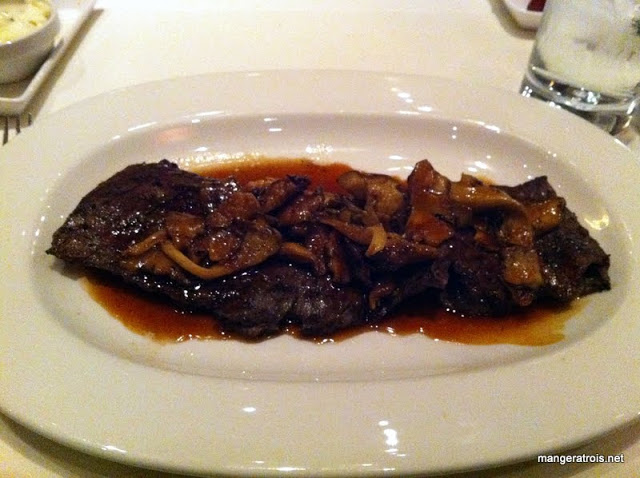 Char-Broiled Skirt Steak Red wine sauce, forest mushroom topper
I ordered the skirt steak because it's my favorite cut of cow these days. Whenever I have the chance to get it, I do. It was nicely done and I enjoyed every bite.  I found the mushrooms to be a bit much, but they were easy enough to push to the side.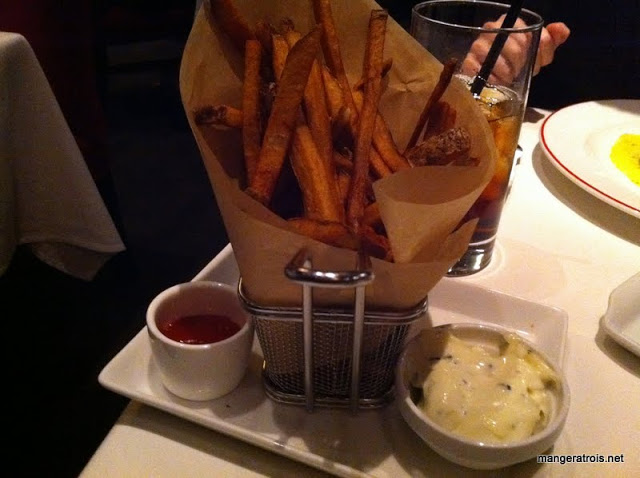 My meal came with fries, which Lance and I shared.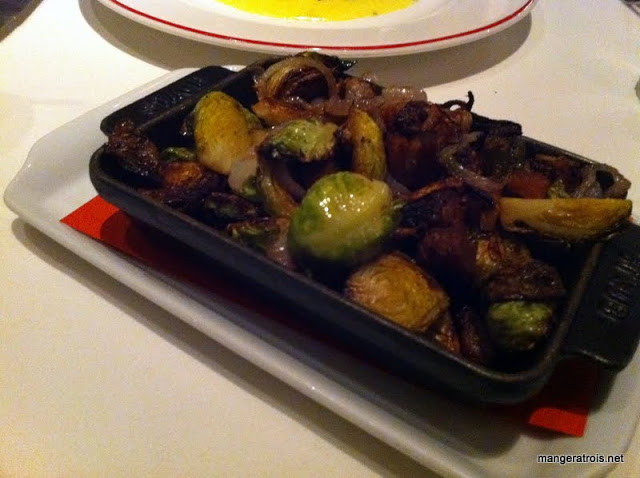 Wood Oven Roasted Brussels Sprouts with Housemade Bacon
I had my heart set on this side before even getting to the restaurant and it was a letdown, sadly.  The bacon tasted overcooked as did the sprouts.  A few pieces of the bacon were lovely, but they mainly tasted overcooked.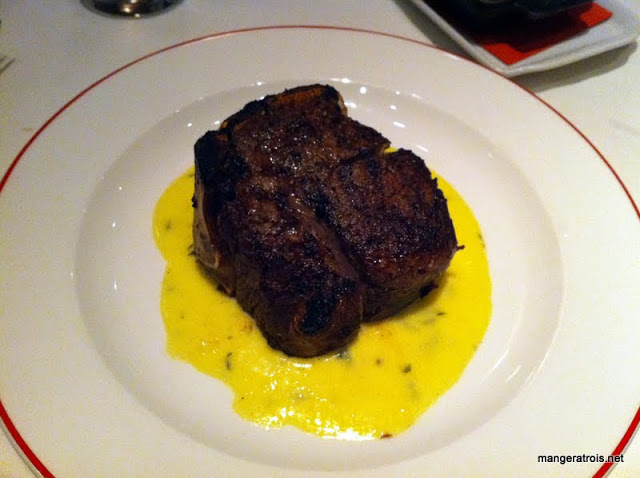 Bone-in Filet Bearnaise sauce
Lance enjoyed his filet and it was well cooked.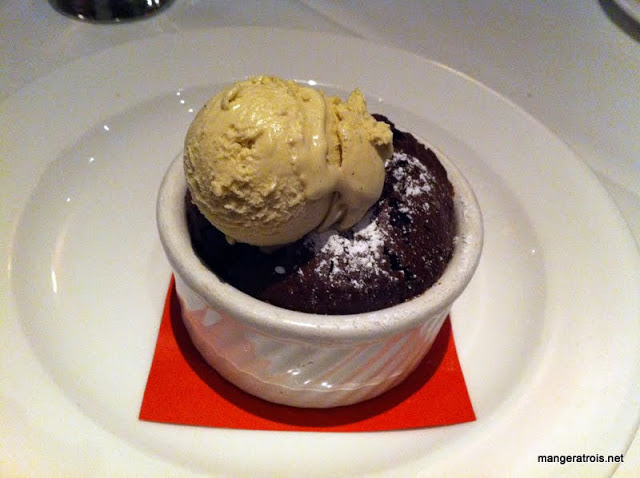 Molten dark Chocolate Soufflé Toasted marshmallow ice cream
Lance loves molten chocolate cakes, so this was a no brainer for him to order.  The ice cream really did taste like toasted marshmallow!  The cake was so rich, though, that he wished he had another scoop of ice cream.  He wasn't able to finish the whole dessert.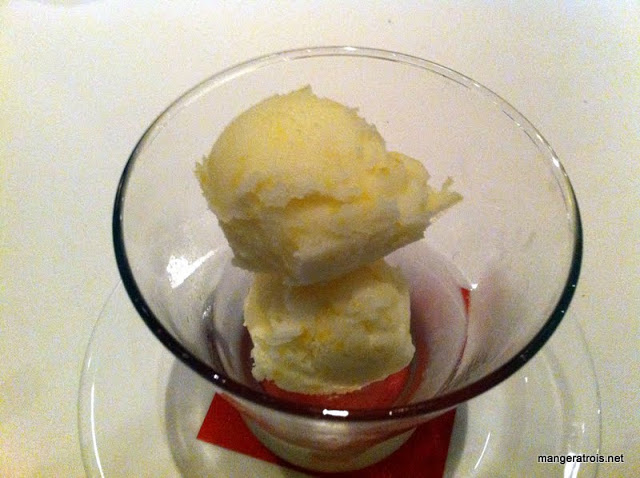 House Made Meyer Lemon Sorbet
This was mouth puckeringly delicious.  I could only eat about one scoop because of how intense it was!  Great, tart, intense lemon flavor.  I loved it. 
This was a very nice meal.  While the meal had some lowlights (the Brussels sprouts), it also had some great highlights (the steaks, appetizers, and desserts).  The service was grand and my water glass was always refilled when I wanted it to be.  I'm not sure we'll ever go back, since I've got my heart set on Alinea for our next Chicago trip, but I would be happy to recommend it to people in search of a nice steakhouse. 
Total price: $156.63
Tramonto's Steak and Seafood
601 N. Milwaukee Avenue
Wheeling, Illinois 60090
Phone: 847.777.65758