This post recounts May 22nd to the 24th.
May 22 Ålesund, Geiranger, Molde
Every evening on the ship, around dinnertime, we were able to pick up an itinerary for the following day.  This was a very nifty service as it would list all of our stops for that day, the sights we would pass, and anything else interesting that was happening.  
We woke up early on our first day for a brief walkabout in Ålesund.  We were only in port for about 45 minutes, so we had time to walk to the closest Narvesen, look for thimbles there, and walk back to the ship.  We did this in quite a few stops since Lance's mom collects thimbles and it was nice to stretch our legs on land.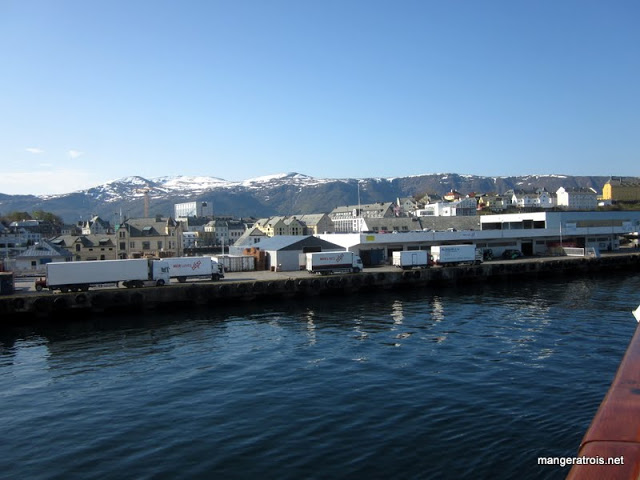 Then we stopped in the dining room for breakfast.  All of our breakfasts were free seating buffets, and we tended to get mostly the same sorts of foods each morning with one or two variations.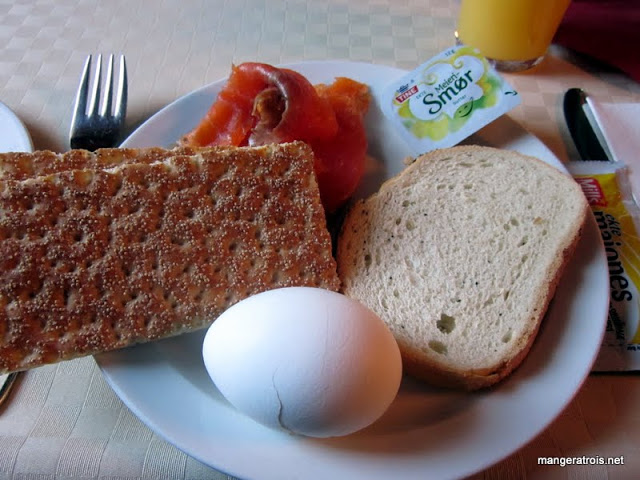 My plates are always the ones with salmon.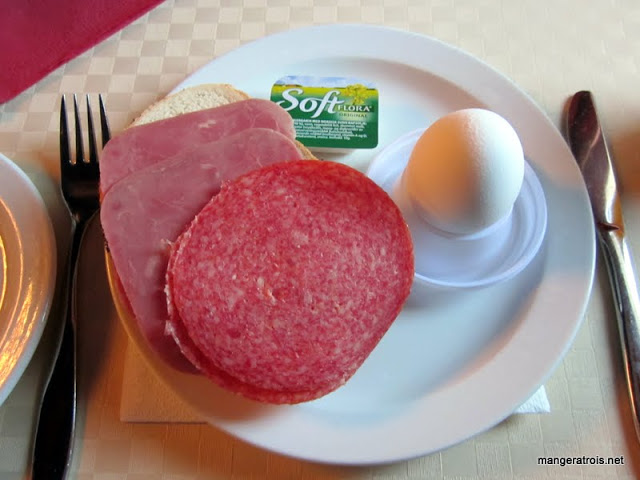 Lance usually opted for sliced meats.  Hard and soft boiled eggs were offered most days and they came with a stack of those little egg cups.  Too cute.  
After breakfast we found the internet lounge and spent a bit of time there connecting with the rest of the world and our various apps.  Some of the newer ships might have wifi throughout, but our ship only had wifi in one lounge at the fore of the ship.  We stopped by once a day usually, to check in with the world at large.  
During the summer months, the Hurtigruten ships are able to go down the Geiranger fjord.  Geiranger is also the name of the town at the end of the fjord.  The trip from Ålesund to Geiranger took about four hours and we spent most of that time on deck.  I took a ton of pictures.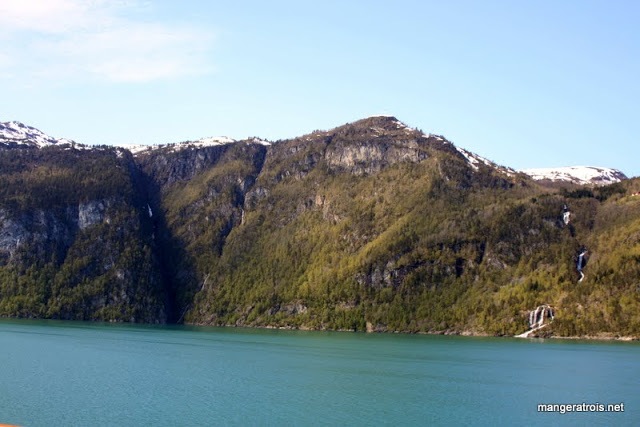 It's a gorgeous fjord and the weather was beautiful.  We really lucked out!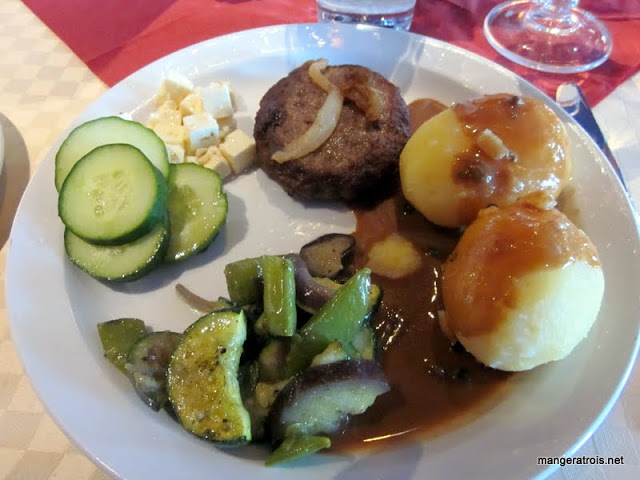 After reaching Geiranger we had lunch.  I had some vegetarian option, potatoes, and a reindeer burger.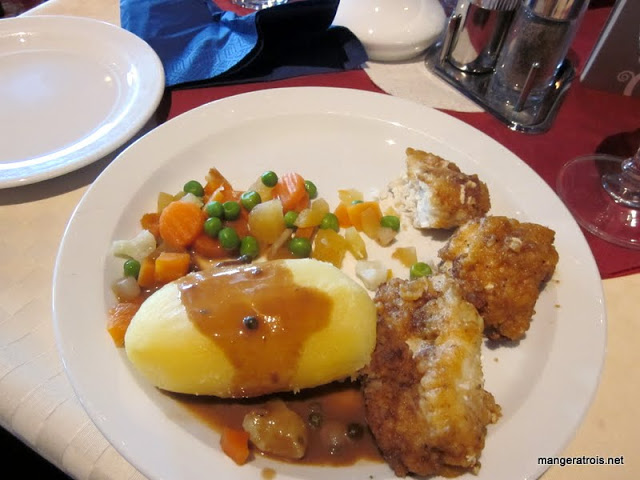 Lance had fish, potatoes, and veggies.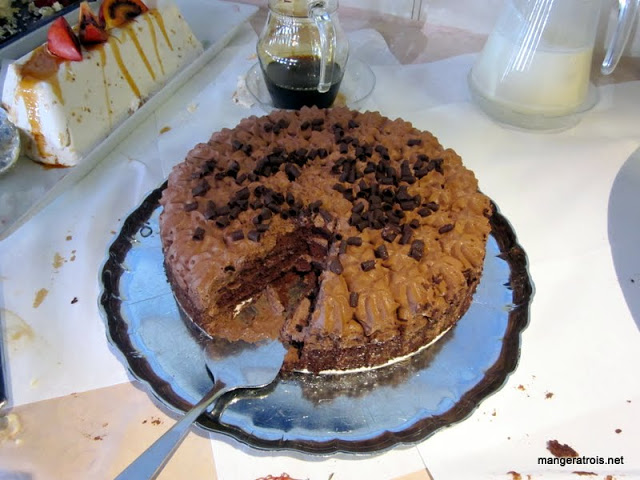 He also had a slice of this chocolate mousse cake.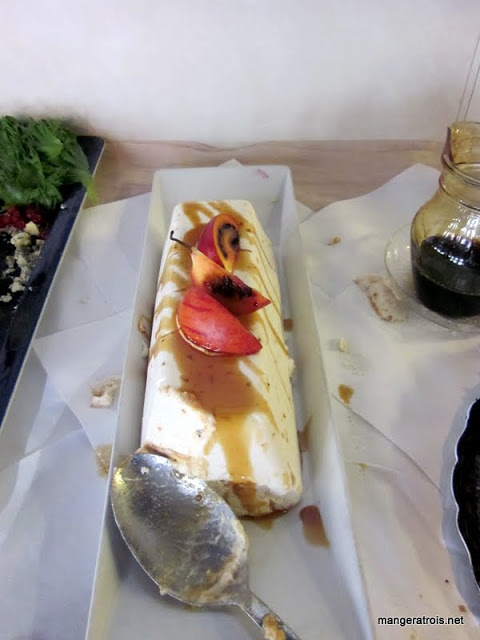 And I think I had this pudding thing – I'm not sure exactly what it was, just that it was tasty.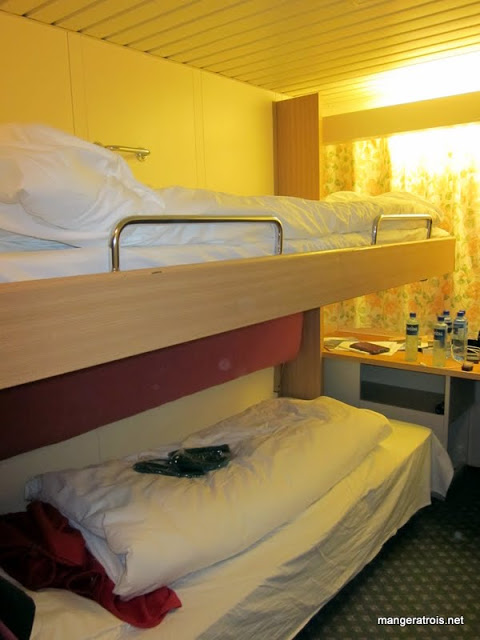 I also took a few pictures of our cabin, so you can see how teeny it was!  Don't let the curtain fool you - there was no window there.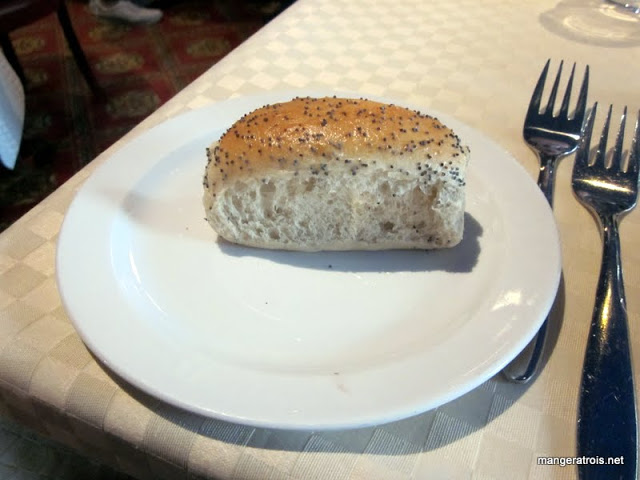 I'm not entirely sure what we did between lunch and dinner.  I have a feeling we took naps.  All that fresh air made us sleepy.  Dinner had fixed seating and our seats were at the end of a table for six.  The other four seats were occupied by two Norwegian couples who seemed to know each other and be traveling together.  Dinner started out with a roll.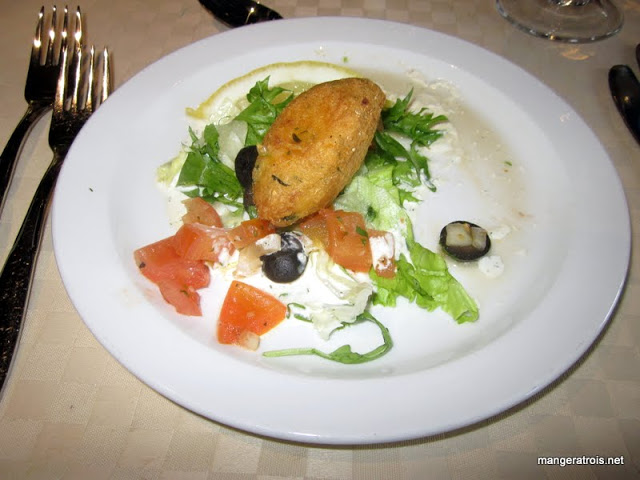 It was a three course meal and our first course was "clipfish bolinhos with ruccola salad."  (The ship's crew was kind enough to post a menu daily so that we would know what we were getting.)  This was basically a little fishcake on top of a salad.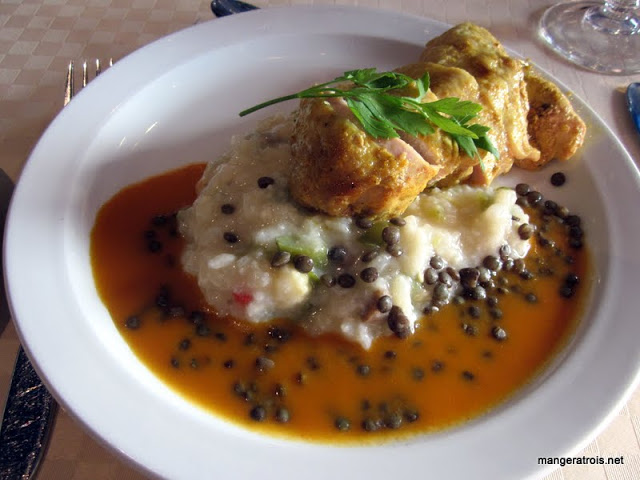 Our second course was "free range chicken with barley risotto."  I'm not entirely sure it actually was barley, since it seemed an awful lot like rice to me.  There were also lentils and some nice sauce.  The chicken seemed like it had curry seasoning.  Weird flavor combination, but not bad at all.  
Our third course was "panacotta made with Norwegian thick cream."  The panna cotta had some sort of berry compote on top with whipped cream and a strawberry.  It was delicious.  For our first served meal on the ship, we were quite satisfied.  Prior to our trip Lance read a number of reviews on the experience and it seemed like the number one complaint was about food.   We didn't have any problems with our meals at all.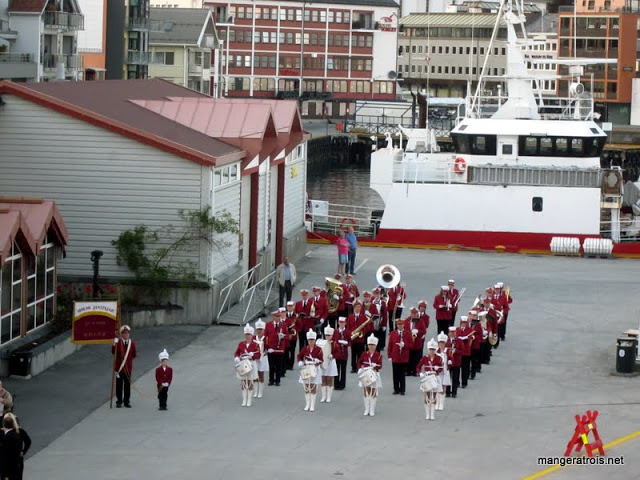 After dinner we spent time back on deck and waved to Ålesund on the way by before stopping briefly at Molde.  There was a marching band waiting for us at port and we enjoyed listening to them play after picking up a thimble for Lance's mom!  Our stop there was only 30 minutes and then it was back to the ship for the night.  
You can view all the pictures from the day here.  
May 23 Trondheim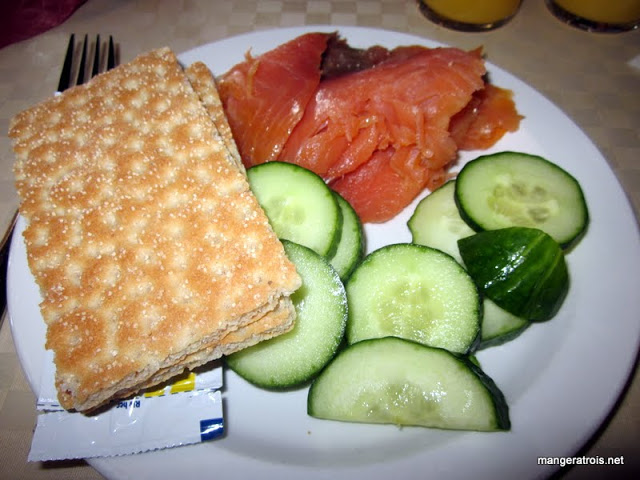 We woke up early on the 23rd and had a quick breakfast on ship.  I had salmon, cucumbers, and wasa.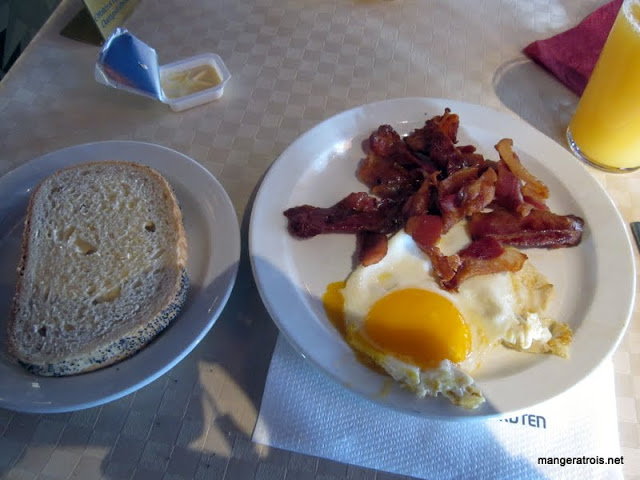 Lance had eggs, bacon, and bread.  Then we got off in port at Trondheim for our first excursion!  One of the things I was super excited about getting to see was the cathedral (Nidaros) at Trondheim, so we purchased the excursion for that when we booked our voyage.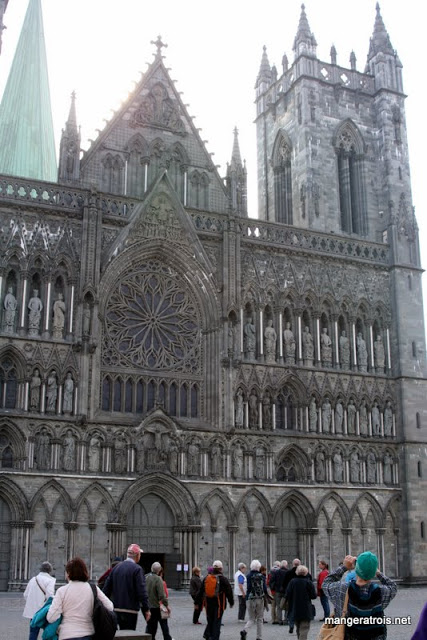 Sadly, we weren't able to take pictures inside the cathedral, but I took quite a few outside.  It was absolutely gorgeous and had at least two organs inside.  Of course, these organs are the "best in Norway."  
The excursion buses were split up by language which was convenient.  Most of the other people on the boat were German, so German was always offered as a language option, but we also had access to Norwegian, French, and English.  I think we ended up with every language combination at one point or another.  The tour guides at any given location were also split into language groups, so all of our tours were in English.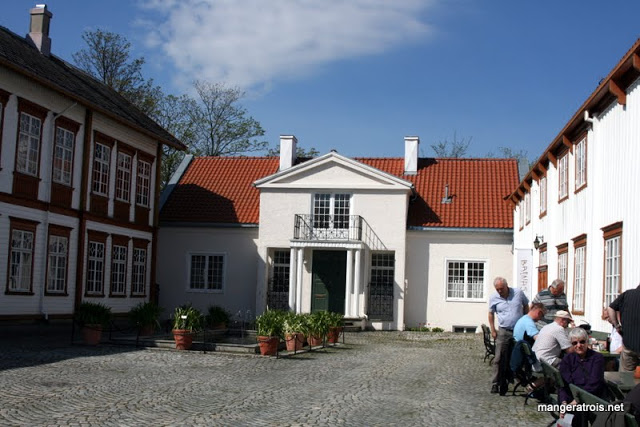 From Nidaros, we took the bus to the Ringve Museum.  I had no idea what to expect since we really just signed up in order to see Nidaros, but I think the Ringve was almost better.  It's a museum dedicated to the preservation of musical instruments and mostly has keyboard instruments.  Each room is dedicated to a musical period (such as Baroque) and our tour guide played a bit of a piece from the period in each room.  It was fascinating to see the evolution of the piano up close and personal, and to get to hear it as well!  We weren't able to take pictures inside, so you should go and see it for yourself.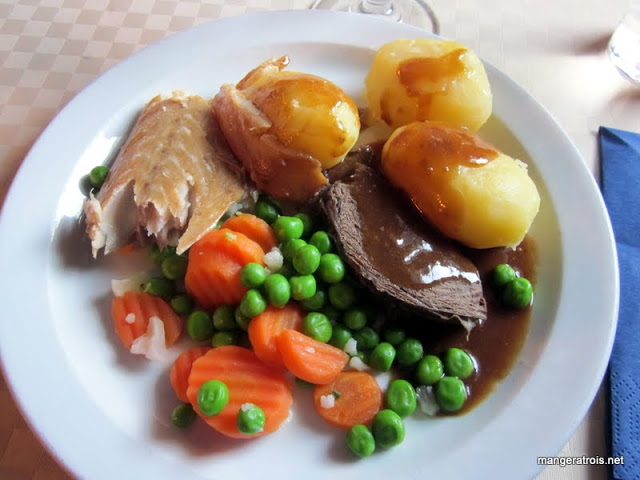 Once back on the ship we had lunch.  This was Lance's plate, I think that's a reindeer steak along with potatoes, veggies, and fish.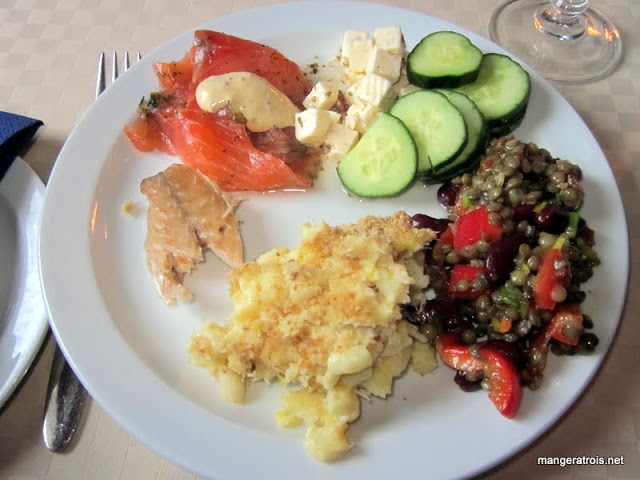 I had more salmon!  The lentil salad here was really great but the other thing is a fish casserole that was pretty suboptimal.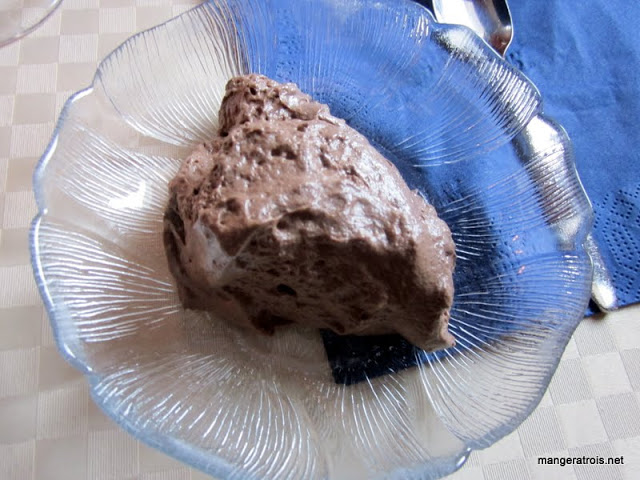 We both had yummy chocolate mousse.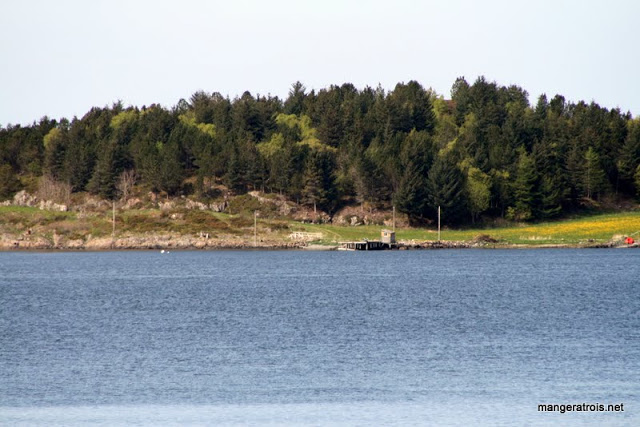 After lunch we spent time back on deck and took many pictures like this.  Then we took another nap!  Vacations are hard work!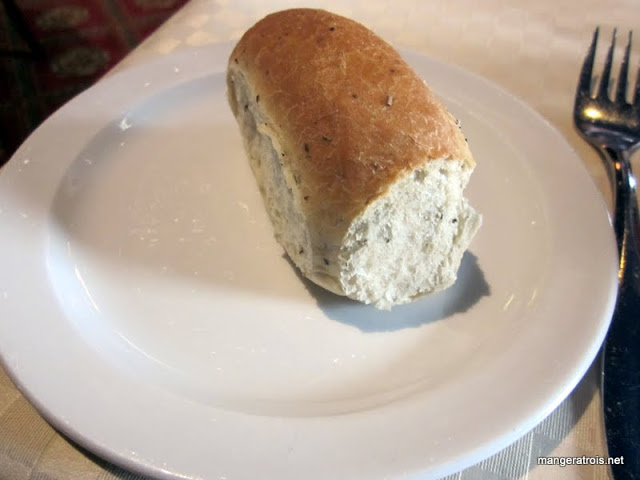 Our second dinner on the ship started with bread again.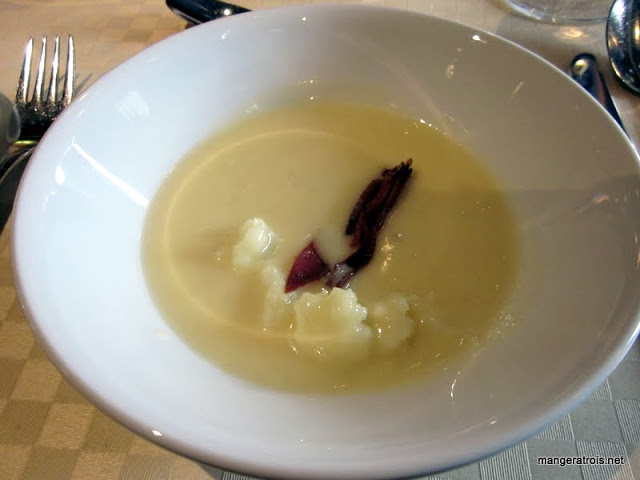 The first course was "cauliflower soup with shreads of cured ham" and I thought it was quite delicious.  Very nicely flavored.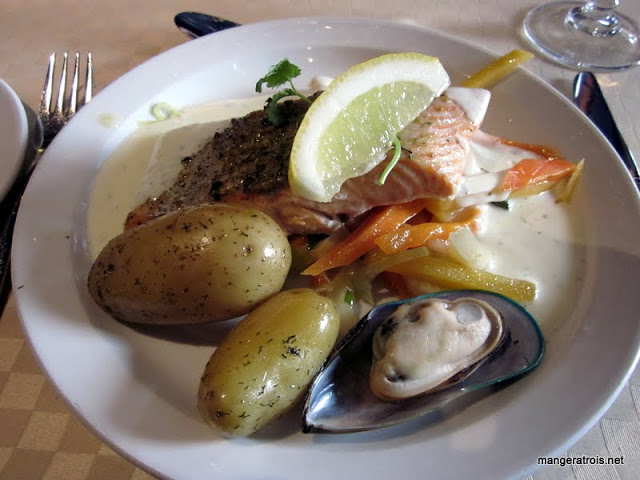 The second course was "baked fillet of trout with root vegetables."This was tasty but I was too chicken to try the mussel.  The fish and sauce was delicious, though.  Sort of like a lemony cream sauce.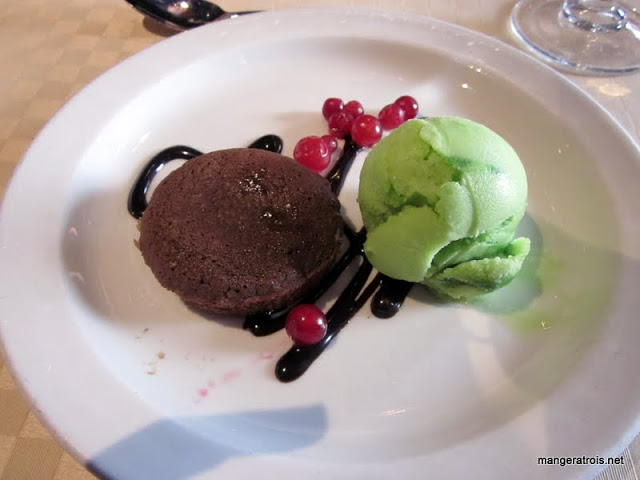 The third course was "chocolate fondant with pear sorbet."  The red berries are red currants.  I've googled "chocolate fondant" and the only thing that comes up is the stuff you coat cakes with, so I think this was translated badly.  It was like a molten chocolate cake only pretty small and not so molten.  The pear sorbet reminded me of green apple Jolly Ranchers.  Both were delicious.
After dinner we spent some more time on deck before getting off in Rørvik.  We picked up a thimble, I fell and hurt myself, and then we got back on the ship and spent the rest of the evening in the cabin since I was in pain.  Oops.  
You can view all the pictures from the day here.  
May 24 Bodø, Lofoten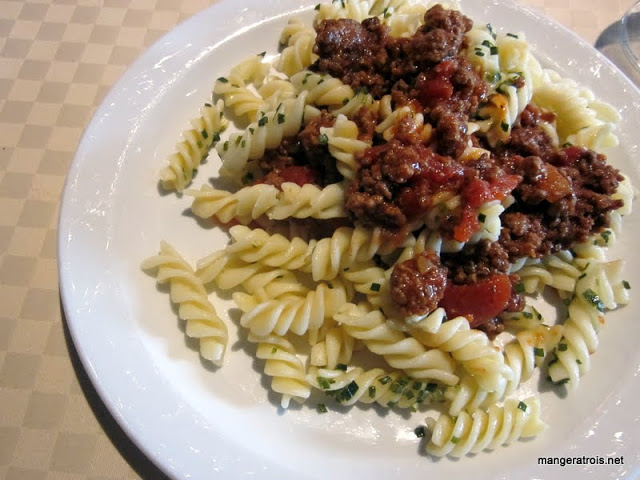 We decided to sleep in this day and skip breakfast.  We hung out in the internet lounge until the dining hall was open for lunch and we ate a quick meal before getting off the ship in Bodø.  Lance had pasta with sauce.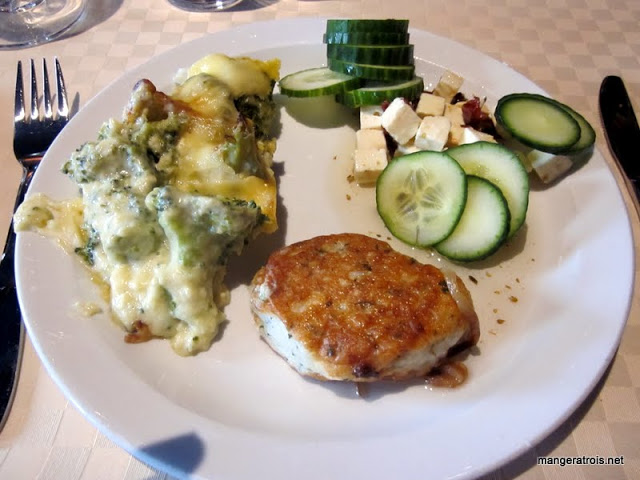 I had a fish cake, some broccoli casserole, and more cucumbers with feta.  Yum.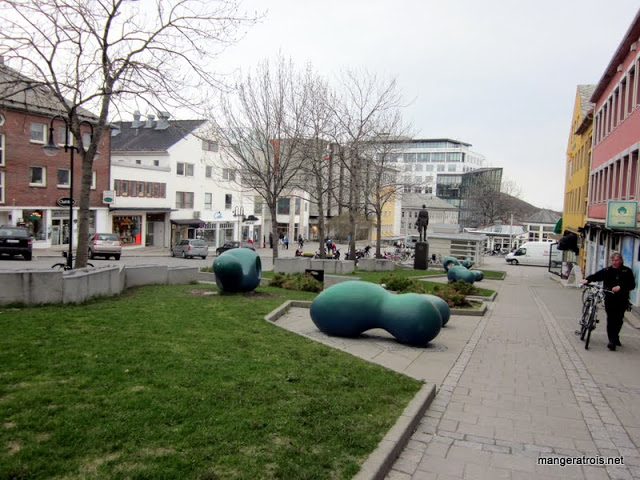 We wandered around Bodø a bit since it was a two and a half hour stop.  We picked up a wrist brace and wandered through the town center and shopping mall.  We had initially planned to get our second meal of the day in Bodø, but we weren't hungry.  We ended up getting sandwiches from the ship's café a bit later.  (We were having a late dinner, so we had to space our meals out differently this day.)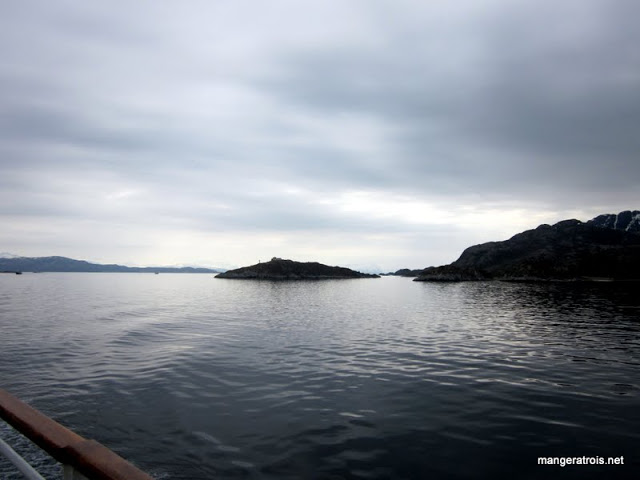 We spent some time on deck after lunch before disembarking in Stamsund for our second pre-booked excursion – The Viking Feast.  
This was another excursion where we had no idea what to expect and were pleasantly surprised.  The bus ride to the Lofotr Viking Museum was about 45 minutes and our guide told us about the sites we passed as well as the history of Lofoten and the history of Vikings in the area.  It was fascinating and we learned quite a bit!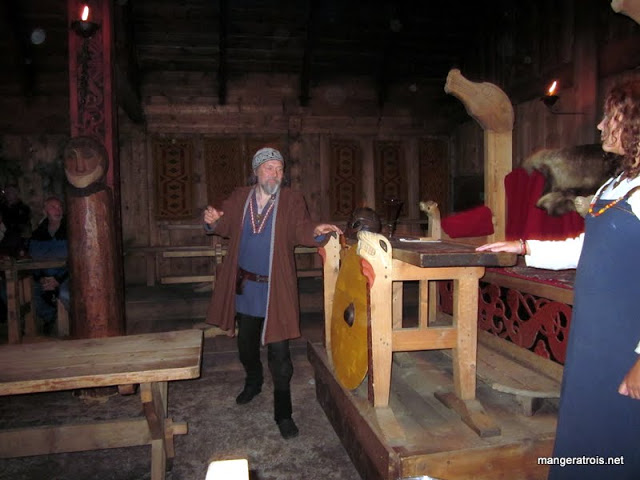 Once at the Viking Museum we were greeted by the chief and his family.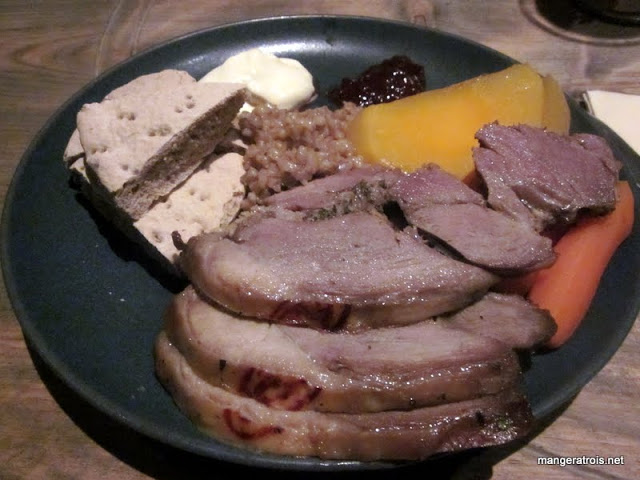 Our meal consisted of lamb, barley, parsnips, carrots, sour cream, lingonberry jam, and bread.  I ate about half of this before I was too full to eat any more!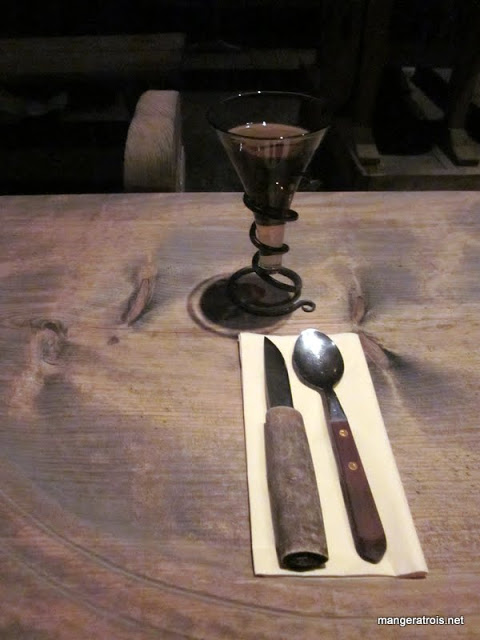 And mead…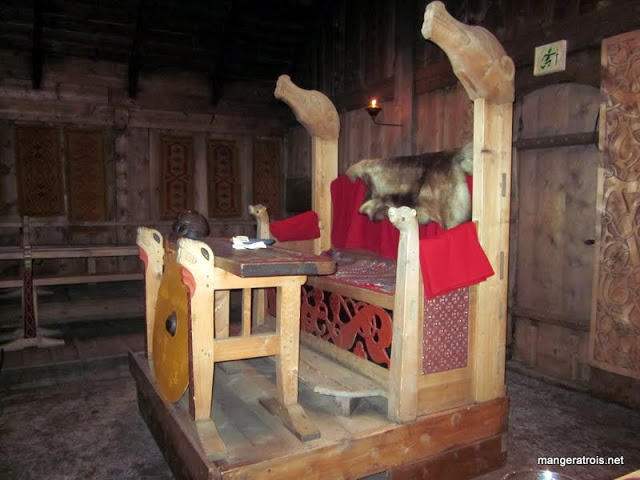 It was quite a lot of fun and we had enjoyable entertainment from the chief and his family.  We even did a quick circle dance at the end!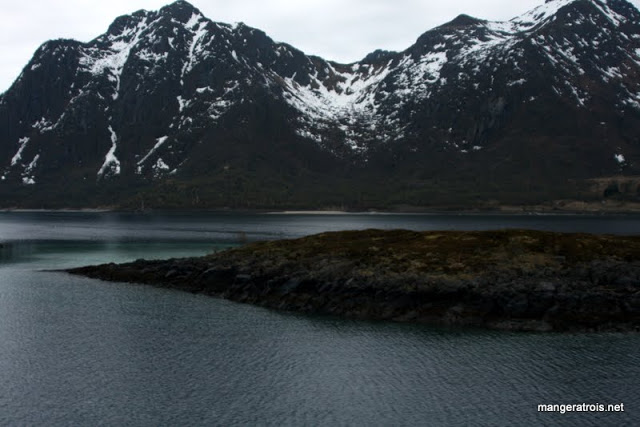 Then it was back on the bus to Svolvær where we met up with the ship again.  More gorgeous scenery on the way – Lance was especially impressed by the mountains!  
Once back on the ship we camped out in the glass house on the aft deck.  I think there's a picture of that later.  Sadly, it started to rain so I wasn't able to get any pictures, but this was the first bad weather we had the entire trip.  We were on deck until shortly after midnight in order to see Trollfjorden.  Imagine a very narrow fjord that requires the ship to make numerous 90- and 180-degree turns.  It was fairly scary to me and made me wonder what on earth the captain was thinking.  There were times I thought we were going to run into the sides of the cliffs.  We didn't… but we did get cups of delicious, hot vegetable soup to warm us up.  
Then we zonked out in the cabin.  I noted in my journal that "time sure is strange here."  Even at midnight it was still light enough outside to see easily.  
You can view all the pictures from the day here.  
Begin with The Norway Diaries - Part One Continue with The Norway Diaries - Part Three