Back in January, right after Williamsburg in fact, Lance and I went to Orlando for a weekend event.  Due to not wanting to cut my Williamsburg vacation short, we decided to fly to Orlando on Friday morning instead of the normal Thursday evening.  20⁄20 hindsight, we could have flown out Thursday and the trip would have been significantly more pleasant, but oh well.  Even though the trip was super short (Friday morning to Sunday evening), I really wanted to revisit Tchoup Chop with Lance.  We had been there back in 2008 together, which feels like forever ago.  Luckily, I was able to get reservations for Friday night and, even though we were the last diners there, it was still a fantastic meal and great to revisit a restaurant we'd been too so many years before.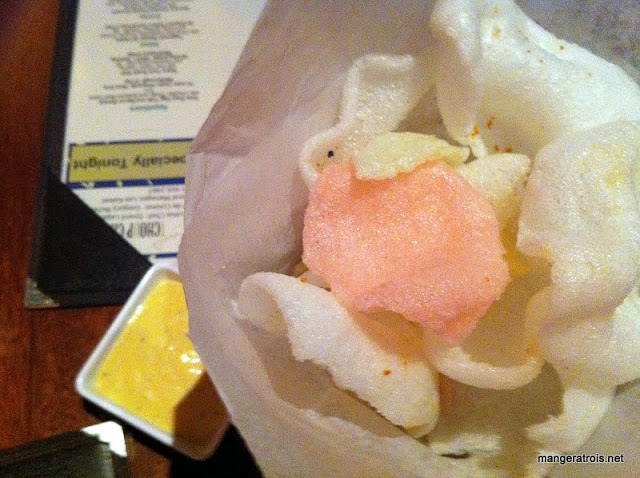 Our meal began with signature prawn chips that come with a nice, spicy aioli-type sauce.  They're a great crunchy munchy treat for perusing the menu.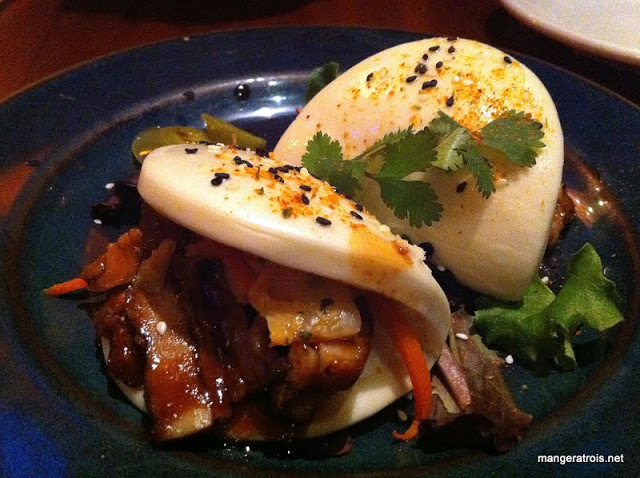 Mongolian Glazed Slow Roasted Pork Belly In Chinese Style Steamed Buns with Spicy Napa Slaw
We ordered this appetizer to share and, while it wasn't as good as our previous pork belly appetizer at Morimoto, it was still pretty delicious.  A bit sweet and all tasty.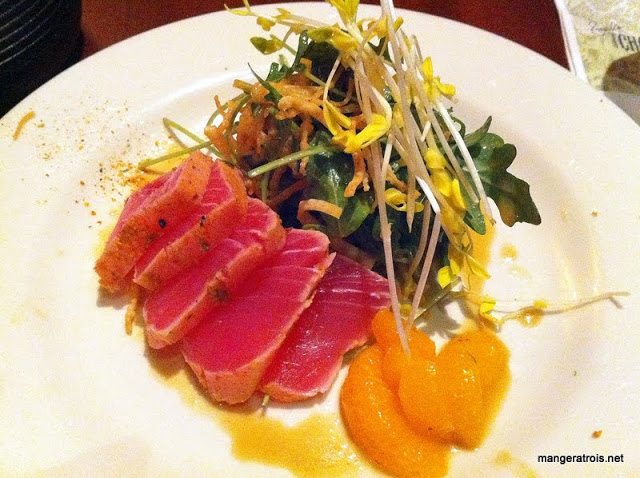 Togarashi Seared Ahi Salad with Citrus Soy Vinaigrette, Arugula, Orange, and Crispy Wonton Threads
My salad was one of the daily specials and it was fantastic.  The tuna was beautiful and the citrus soy vinaigrette was lovely.  The right amount of sweet and the right amount of soy.  I also enjoyed the crunch of the wonton strips.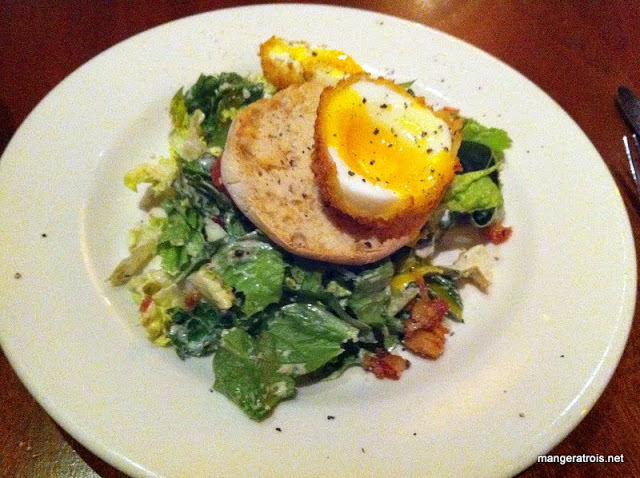 Panko Fried Soft Egg and Apple Smoked Bacon Salad with Creamy Parmesan Dressing and English Muffin Crostini
This was Lance's salad and he was a bit disappointed.  The egg was nice, but he felt that a salad with bacon in the name should have more than one strip throughout the salad and I think his complaint is valid.  It was not a very bacony salad and the crostini seemed a bit stale.  Nice idea, but poor execution.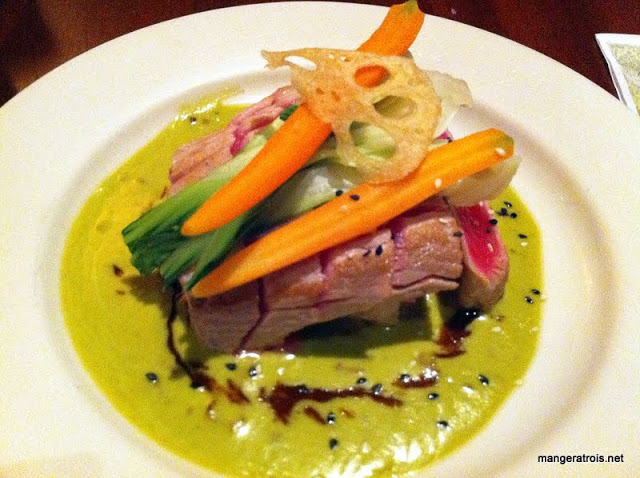 Hot Iron Seared Yellowfin Tuna Steak with Thai Sticky Rice and Smoked Bacon-Wasabi Butter Infusion
Clearly I was in a tuna mood that evening.  I'm often in a tuna mood, though, so it's not a huge surprise.  This dish was great.  The rice, which you can't see in the picture since it's hiding under the tuna, was wonderfully flavored and complimented the sauce well.  The veggies were also a great and unexpected addition.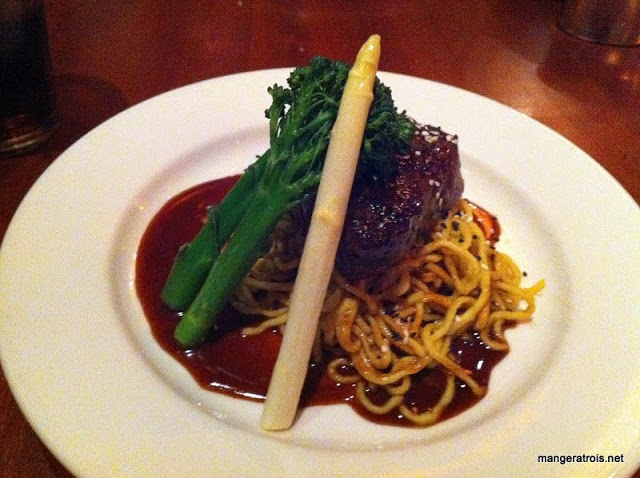 Tamarind Grilled Angus Beef Tenderloin on Spicy Waterfall Lo Mein Noodles and Broccolini
Lance ordered the filet, which, like my ordering of the tuna, should be no surprise.  It was a very unusual pairing with lo mein and a sweet tamarind sauce, but he enjoyed it and I thought it was tasty too.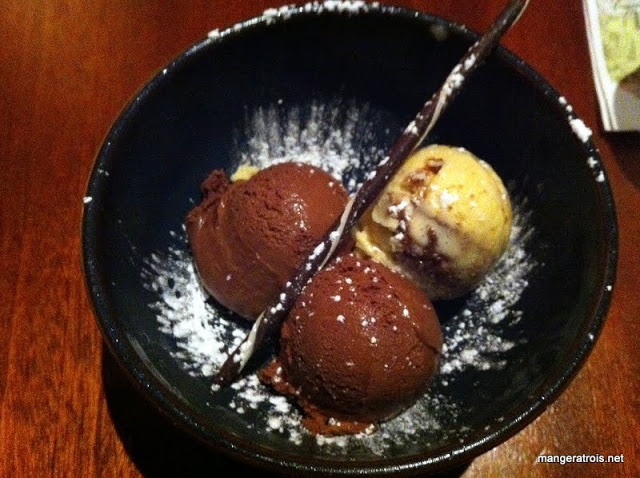 Homemade Ice Creams
I had the trio of ice creams but wasn't too keen on one of the night's flavors, so I went with double chocolate and the third is pecan pie.  I think.  This meal was two months ago!  I remember thinking it was some of the best ice cream I'd ever had.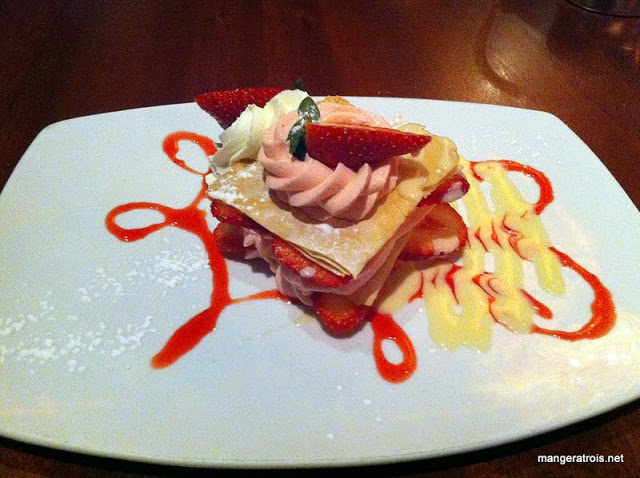 Fresh Strawberry Mousse & Crispy Phyllo Napoleon with White Chocolate Sauce
Lance got this crazy strawberry concoction and liked it well enough, although I think he would have been happier with a big bowl of strawberries! 
Overall, this was a great meal and really fun.  Our service was lovely even if we were the last people in the restaurant while they were closing up!  I'm glad that we were able to revisit Thchoup Chop after such a great first experience four years ago.  I hope that, some day, we'll be able to visit again!
Total price: $148.81 including tip
Emeril's Tchoup Chop
6300 Hollywood Way
Orlando, FL 32819
Phone: 407.503.2467