Ingredients
For the rub
1⁄2 cup sugar
1⁄2 cup salt
2 tablespoons cumin, ground
2 tablespoons chili powder
2 tablespoons pepper
1 tablespoon paprika
1 tablespoon garlic powder
1 tablespoon coriander, ground
1 beef brisket (5 to 6 pounds), with at least 1⁄4-inch thick fat layer
Wood chips (I used pecan.)
Instructions
1. Mix all rub ingredients.  Generously rub over brisket, place in a ziptop bag or other sealable container.  Refrigerate for 4 to 8 hours, or even overnight. 
2. Place brisket on aluminum foil pan (or make a pan with a double sheet of heavy duty aluminum foil) and smoke at 200-250*F for 6 to 8 hours or until fork tender.  Baste brisket every 30-45 minutes with juices that have accumulated in the pan. 
3. Remove the brisket pan from the grill and let rest for 15 minutes. Transfer the brisket to a cutting board and thinly slice it across the grain.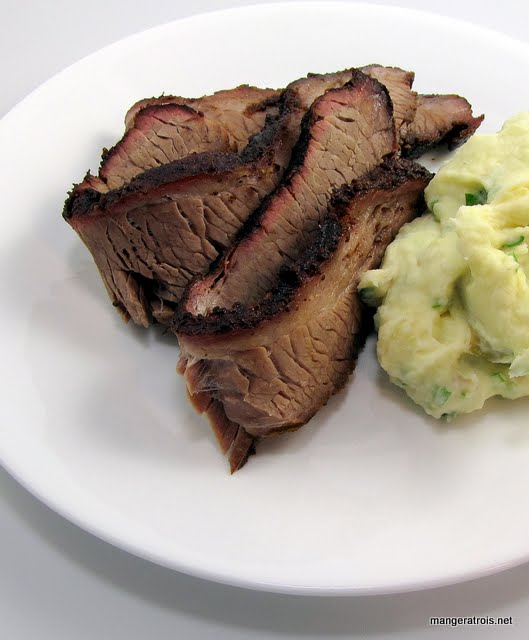 Comments
Since this rub worked so well on short ribs, and since I had leftovers, I went ahead and used it for the brisket.  Wow, was it delicious.  We were all concerned that it would be too dry and had barbeque sauce on the table just in case, but no one touched it.  The meat was extremely flavorful and the smell was just fantastic.  It's safe to say that we are completely sold on smoked meats now. 
Shown here with Cream Cheese and Chive Mashed Potatoes that I made with garlic chives instead of regular chives.  Yum.