Ingredients
For the béchamel sauce
2 tablespoons unsalted butter
2 tablespoons all purpose flour
2 cups milk
1⁄4 teaspoon salt
1⁄8 teaspoon white pepper
Freshly grated nutmeg
For the assembly
8 eggs
1 cup heavy cream
1 cup milk
1⁄2 teaspoon salt
1⁄2 teaspoon spicy brown mustard
1⁄4 teaspoon cayenne
1⁄8 teaspoon freshly grated nutmeg
5 tablespoons unsalted butter
2 pounds sandwich bread, thinly sliced (Sadly, the best option I had was Arnold's Country White which is not thinly sliced.)
1 pound turkey breast, thinly sliced or shredded (I used leftover smoked turkey.)
2 medium tomatoes, cored and thinly sliced
12-16 ounces bacon, cooked until crisp and drained
8 ounces ham, thinly sliced
8 ounces sharp cheddar cheese, thinly sliced or shredded
Instructions
1. To make the béchamel sauce: In a medium saucepan, melt the butter over medium heat. Add the flour and cook, stirring constantly with a wooden spoon, for about 2 minutes; do not allow to brown.
2. While stirring constantly, add the milk, salt, pepper, and nutmeg. Cook the mixture, stirring, until it comes to a boil. Reduce heat to medium-low and continue to cook until the sauce has thickened and any floury taste is gone, about 8 minutes.  Remove sauce from heat.
3. In large mixing bowl, whisk together eggs, cream, milk, salt, mustard, cayenne, and nutmeg.  Set mixture aside. 
4. Grease the bottom and sides of a 9x12- or 13-inch glass baking dish with 1 tablespoon of butter. 
5. Layer about 6 slices of bread over bottom of baking dish, cutting slices as necessary to make a single layer of bread.  Spread some of the béchamel evenly over bread slices.  Top with half the turkey, half the tomato, and half the bacon. 
6. Create another layer of bread as in step 5 and spread with more of the béchamel.  Top with half the ham and half the cheese. 
7. Repeat steps 5 and 6.  Then top last ham and cheese layer with last layer of bread spread with remaining béchamel, béchamel side down. 
8. Carefully and slowly, pour egg-milk mixture evenly over top of sandwiches.  Place a piece of parchment or wax paper on top of casserole dish and place a second casserole dish on top of the paper to weight the casserole.  Refrigerate 1 to 2 hours or until the bread has absorbed most of the egg mixture. 
9. Heat oven to 350*F and remove casserole from refrigerator.  Slice remaining 4 tablespoons butter into 8 pieces and place at even intervals over top layer of bread.  Bake casserole, uncovered, until puffy, golden and egg has completely set, about 40 to 50 minutes.  Allow casserole to cool 5 to 10 minutes before serving.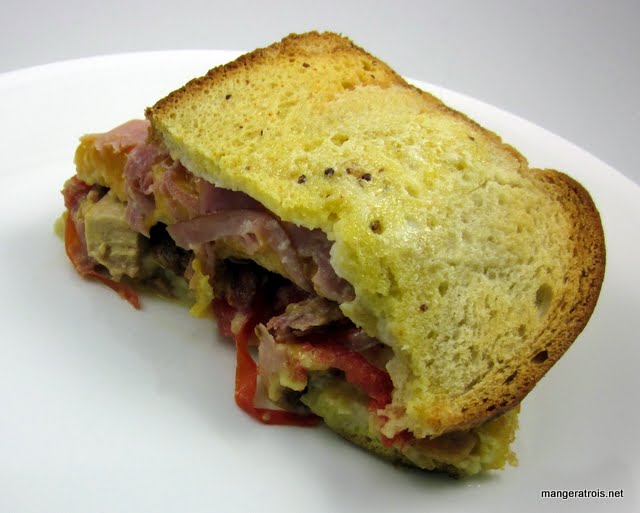 Comments
This recipe is from the new Emeril book, Sizzling Skillets and Other One-Pot Wonders.  It was a bit complicated due to the bread I had to work with – the original recipe called for another layer of bread, and to make the sandwiches individually.  I tried to streamline everything with the recipe you see here.  When I saw this recipe, I knew that it would be a great way to use up some of the excess smoked turkey we had in the freezer and it worked perfectly.  The casserole was delicious, sort of like a cross between a turkey club sandwich and French toast or strata. 
Weird, but good, and well worth the effort.
Sizzling Skillets and Other One-Pot Wonders