Ah, St. Elmo - my favorite restaurant in downtown Indianapolis.  I had rare pleasure of being able to eat at St. Elmo on my actual birthday this year!  Normally we're only in Indy in August, but this year we had an event in March as well.  My birthday conveniently fell on the day of the event we knew we'd be finished early with, so I was able to secure a reservation for us at St. Elmo.  On my birthday!  Super exciting!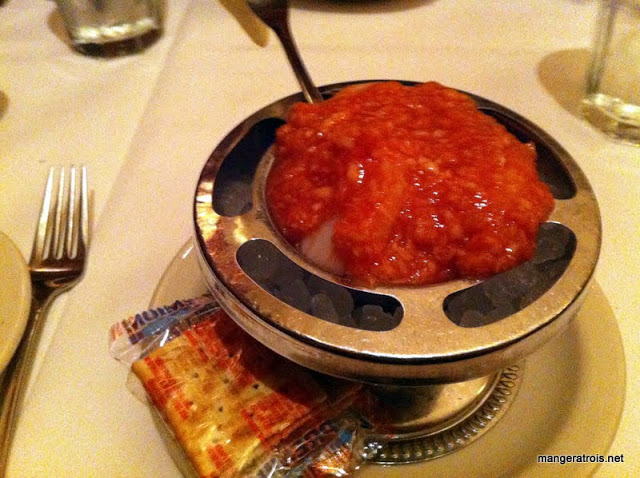 World Famous St. Elmo Shrimp Cocktail
We both started out with the insane shrimp cocktail.  It's insane because the cocktail sauce is horseradish with some red stuff.  It's a delicious challenge.  I didn't finish all of my shrimp, but Lance was happy to help.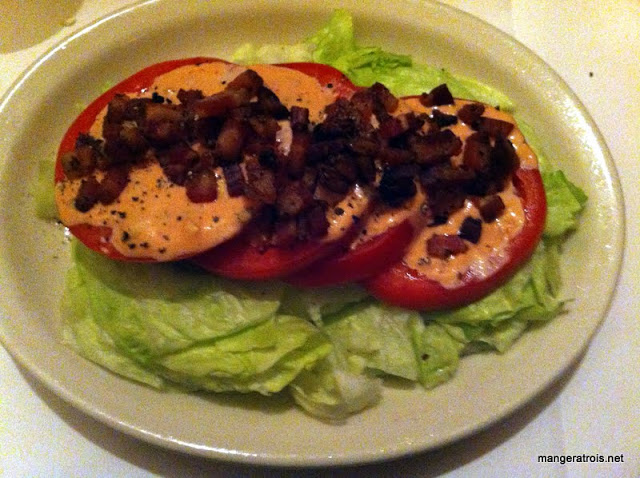 BLT Salad
Lance had his favorite BLT Salad, which I feel has changed since we first had it so many years ago.  Now it comes with a choice of dressing and no blue cheese.  This makes him happier, but I can never remember the dressing I liked best!  The bacon comes in the form of lovely, big pieces and the tomatoes were great for March.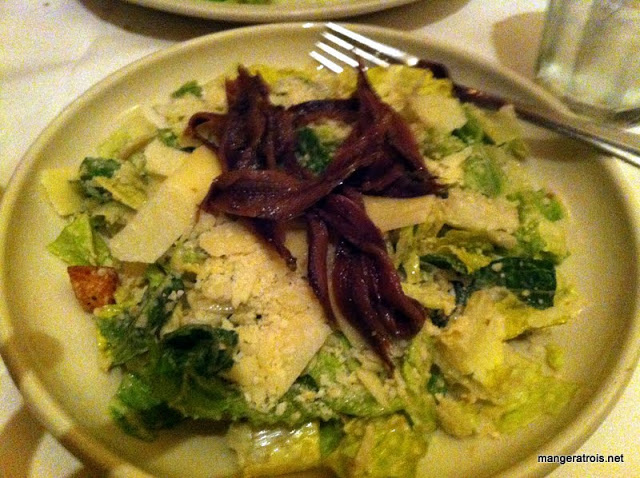 Caesar Salad
I'm glad I waited to get a Caesar at St. Elmo instead of at Harry and Izzy's the night before!  Those anchovies are awesome!  This was a great salad, just what I hope every Caesar will be.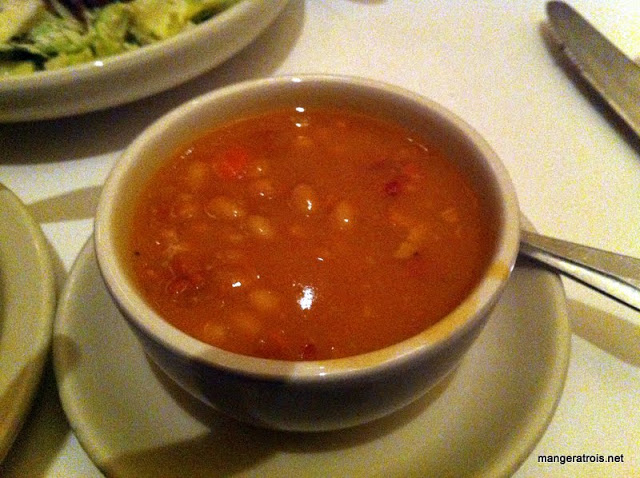 Navy Bean Soup
Every entrée comes with the choice this soup or a cup of tomato juice.  Lance normally skips both and I do too, but this time I decided to try the soup due to the suggestion a friend had made to me at the event.  She told me that mixing the leftover horseradish sauce from the shrimp into the soup makes it rock.  I tried that, and she was right!  Great taste sensation that really helps to elevate the soup.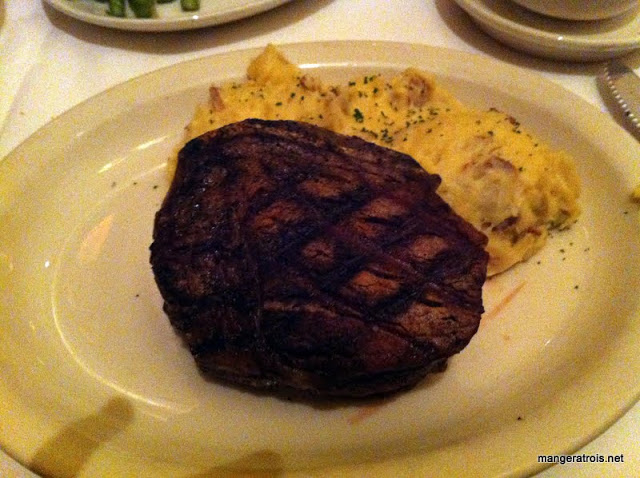 Bone-In Filet
Every restaurant we go has filet mignon, but they don't all have bone-in filet.  Perfect as always.  Rare toward the bone, medium rare in the middle.  I love this stuff.  Mine came with mashed potatoes but I don't think I ate more than a bite.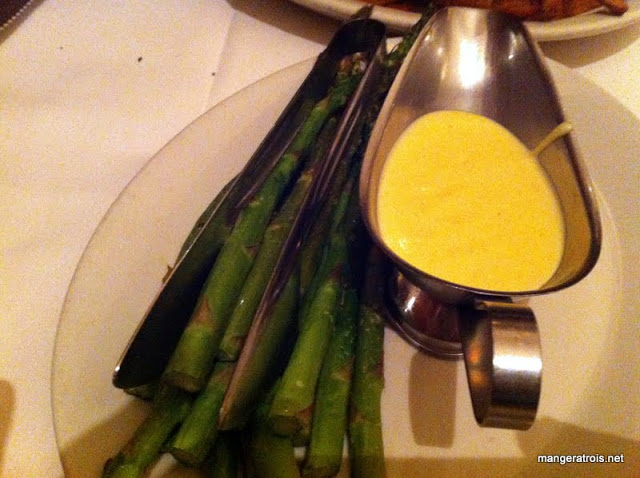 Asparagus
I love asparagus.  I order it whenever I can these days.  I ate these like fries, with my fingers, dipped in the hollandaise sauce.  I'm so uncouth.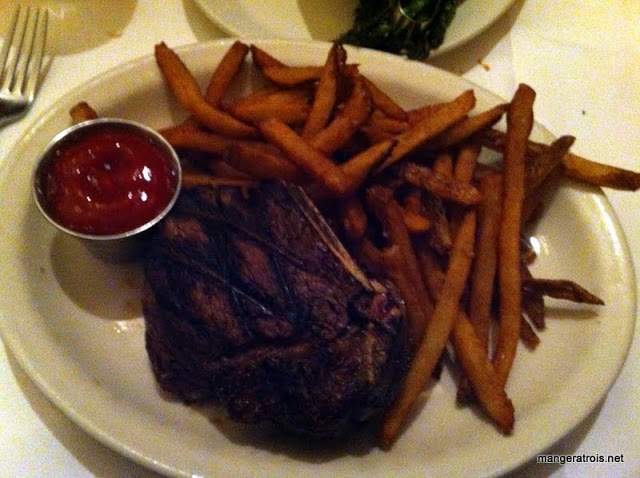 Bone-In Filet
Lance also got the bone-in filet and he felt his was a bit less than perfect – it was too rare near the bone for him so he's going to try to remember to order medium next time instead of medium-rare.  His fries were better than the Harry and Izzy fries!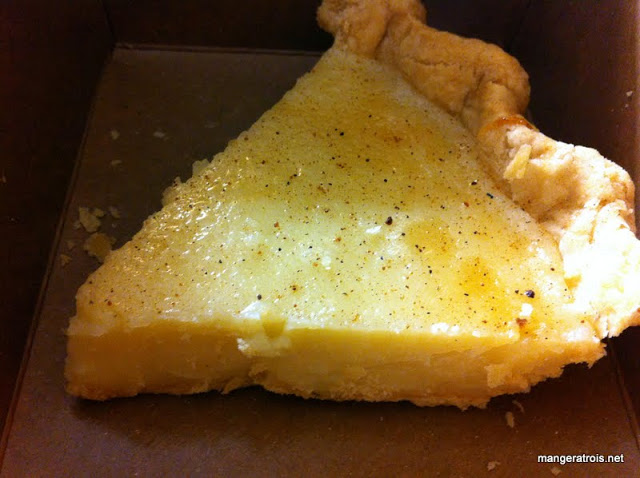 Sugar Cream/Hoosier Pie
We both got dessert to take back to the hotel since we were full at the restaurant.  Lance ordered his normal HUGE chocolate cake which you can see in previous reviews.  I decided to try something new and got this sugar cream pie.  The water described it as being sort of like the creamy part of crème brulee in a pie shell and that seems like a pretty accurate description.  It is more sugary than the crème brulees I've had, but it was delicious and I ate every bite.  I'm glad I tried something new this time! 
This was another great meal at St. Elmo and I'll be sad when we can no longer take our yearly pilgrimages to Indianapolis.  The service was excellent, as always, and the experience was flawless.  I'm super excited for our next trip to St. Elmo which will be Art's first visit!  Woo! 
Total price: Unknown. 
St. Elmo Steak House
127 S. Illinois St.
Indianapolis, IN. 46225
Phone: 317.635.0636