Founding Farmers Park Potomac February 2012
Art's birthday is in February and one of his favorite restaurants is Founding Farmers.  We had heard that the owners had opened a new location in Park Potomac, and, thinking that it would be the same as the DC location, we decided to go with the suburban location since the travel time would be about the same. 
Sadly, I am made of fail and did not read through the menu in its entirety which means the fish bowl of mousse Art had his heart set on was unavailable at the Potomac location.  Thankfully he was a trooper and persevered in the face of adversity. 
Brian joined us for Art's birthday meal, but he was a bit late so we went ahead and guessed at what to order for appetizers.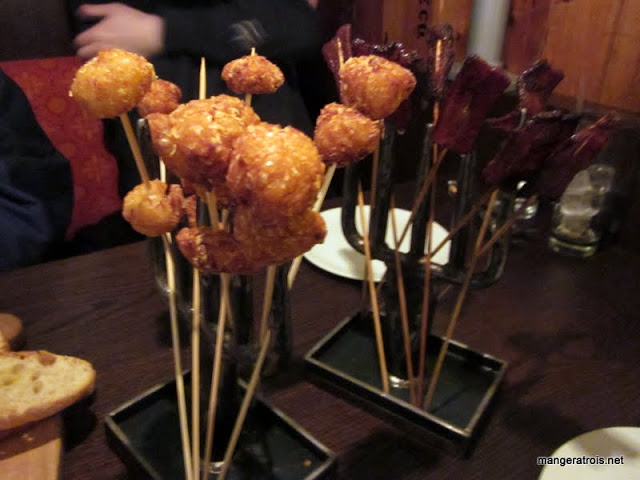 Bacon Lollis and Tater Tots
We've loved the bacon lollis at the DC location, and knew we had to get them again.  This location also has homemade tater tots and that's a combination of words I can't say no to.  I love tater tots!  These were all grand and the presentation was unique.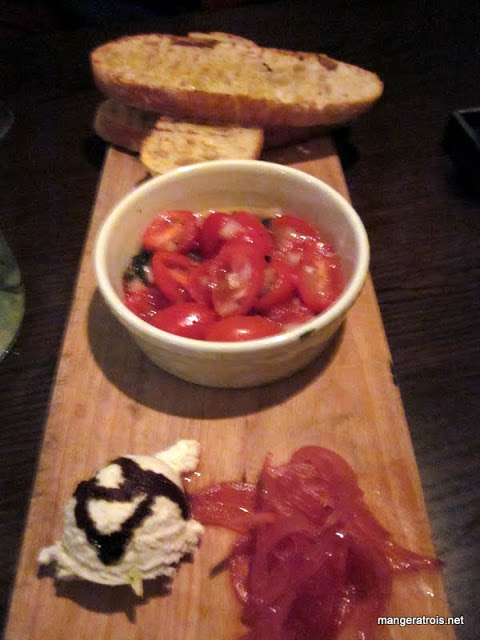 Flatbread Tomatoes, Goat Cheese, Pickled Red Onion
We had eyed the flatbreads at the DC location and decided to go ahead and try them here.  The only downside to this appetizer is that there were only 3 breads and 4 of us!  But the do-it-yourself assembly worked well and all of the ingredients went well together.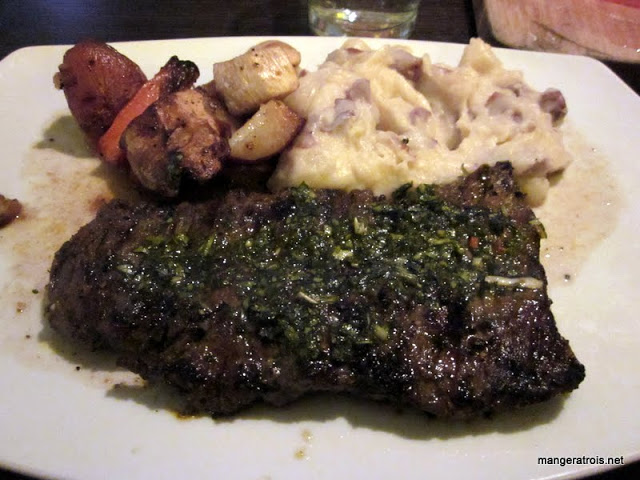 Skirt Steak Chimichurri Sauce
This was my entrée.  As I've mentioned before, I love skirt steak.  This was nicely prepared and the sauce was lovely.  I was a bit disappointed that the seasonal veggie side was potatoes.  Two sides of potatoes isn't really my ideal arrangement.  There were a few carrots in with the roasted potatoes and those were tasty.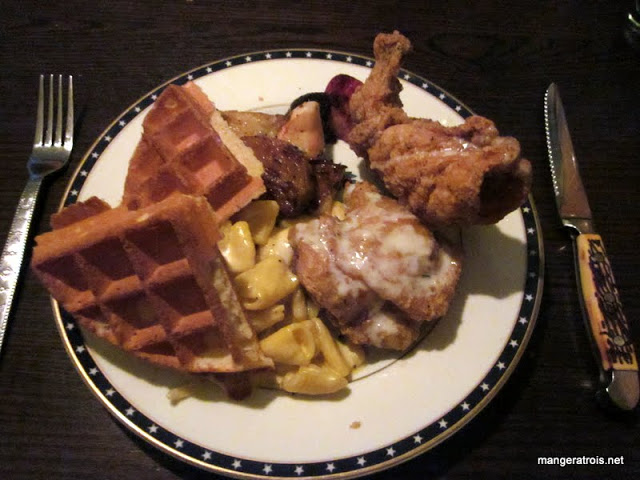 Fried Chicken and Waffles Mac and Cheese, Chef's Vegetables
Art and Brian both ordered the chicken and waffles.  This is because they are both weird.  From what I could tell they were both happy with their choice – the waffles were crispy and so was the chicken.  The mac and cheese wasn't a winner, but I've learned that restaurant mac and cheese rarely is.  Their veg was also the roasted root vegetable assortment that I received.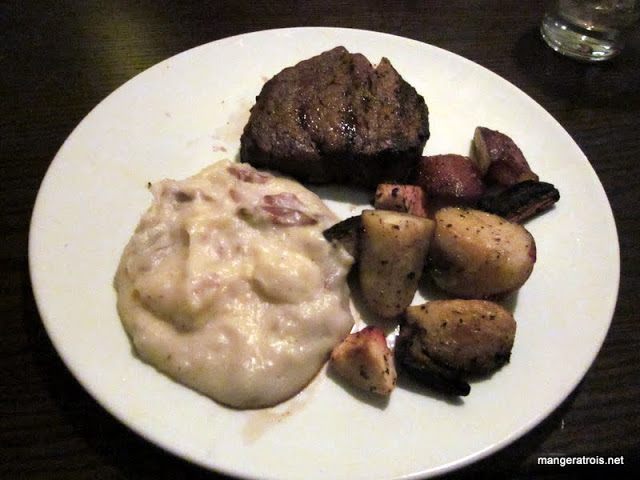 Grilled Center Cut 8oz Filet
Lance ordered the filet and it also came with sides of potatoes and more potatoes.  The steak was prepared nicely.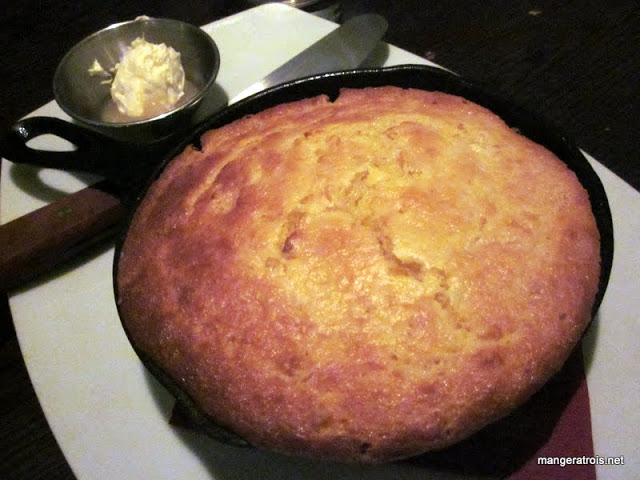 Skillet Honey Butter Cornbread
Art had wanted to order the biscuits, but they were out of them for the evenings so he ordered the cornbread instead.  It was just as delicious as it is at the DC location and I love the little corn bits!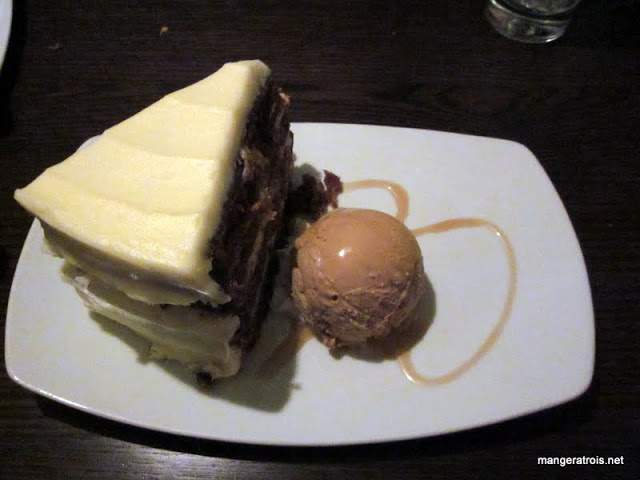 Farmer Marcy's Carrot Cake Bourbon Caramel Pecan Ice Cream
Art got the carrot cake and didn't like it very much.  I guess there are multiple kinds of carrot cake and this is the kind that Art's not a fan of.  Sad times.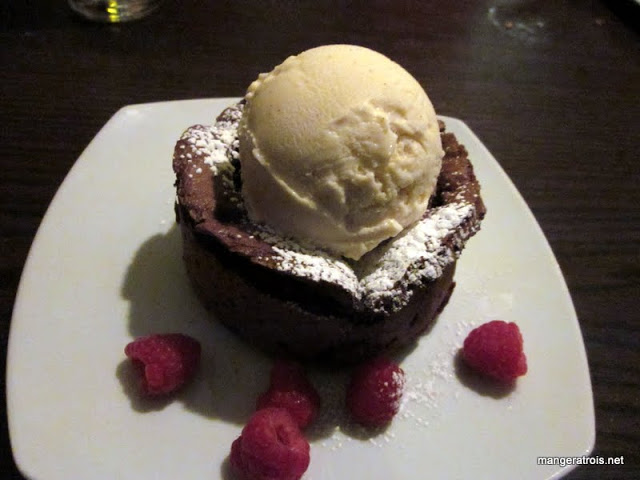 Flourless Chocolate Cake Vanilla Ice Cream, Berries
Lance's dessert was also a bit of a letdown.  He said the cake tasted stale, like it had been made a few days before instead of fresh on the spot.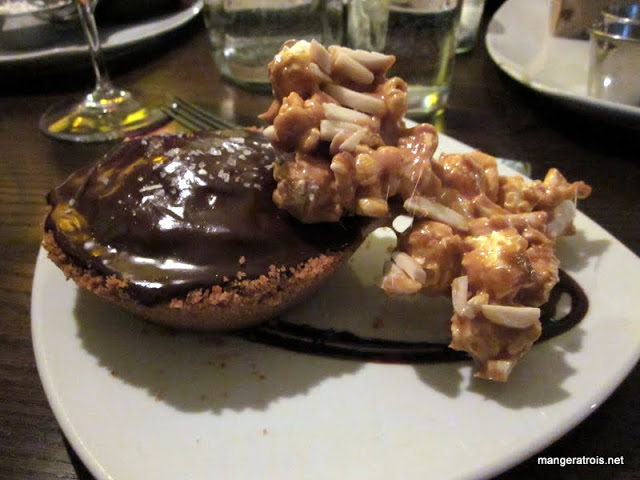 Chocolate Peanut Butter Pie Caramel Corn Cluster, Chocolate Sauce
Thankfully the dessert tide turned with Brian's dessert which looked insanely amazing.  I tried a little bite and it was like a big, huge Reese's Peanut Butter Cup.  I almost had dessert envy.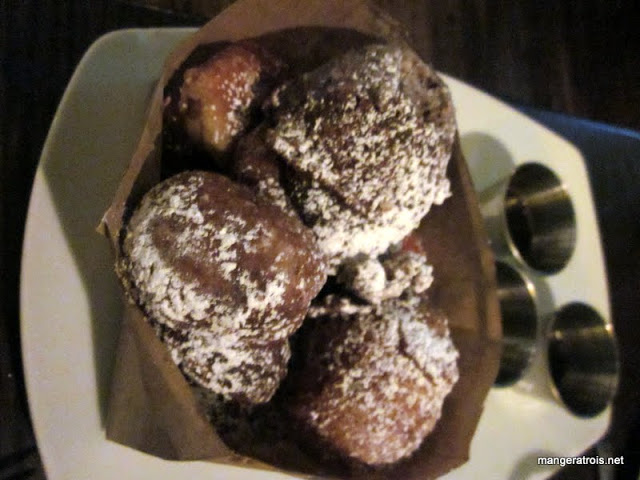 Uncle Buck's Beignets Raspberry, Chocolate and Caramel Sauces
I didn't have dessert envy, though, because my dessert was awesome.  The beignets were fresh, hot, little dough balls of awesomeness.  I went with triple chocolate sauce since I'm not a fan of either berry sauces or caramel.  I'd go back just for these beignets – or I should learn how to make them myself.  So delicious!  I couldn't finish them all so I got a little take away box and they were just as tasty cold later.  Yum. 
The service at the new location was certainly great and there were some great aspects to our meal.  Sadly some of the desserts and entrees were lackluster, which is surprising after such great experiences at the DC location.  I think that, in the future, we'll stick to the DC location even if the travel is a bit of a pain.  I would, however, really like to go back for their breakfast or brunch since those menus look awesome!
Total price: Unknown
Founding Farmers – Park Potomac
12505 Park Potomac Avenue
Potomac, MD 20854
Phone: 301.340.8783