Craftsteak June 2009
Lance and I just got home from spending a few days in Las Vegas.  We opted to indulge in the sin of gluttony while in Sin City, forsaking the other well-known sins.  Lance gifted me with the planning of our meals while on vacation, and it was an amazing foodie experience.  
It all started with a visit to Tom Colicchio's Craftsteak.  We've become enamored with Colicchio, like so many others, thanks to Top Chef.  Craftsteak was the first restaurant to come to mind in my planning so it's only fair that it was where we dined the first night.  
I apologize in advance for the quality of photos in these restaurant articles.  I'm still figuring out how best to take photographs in restaurants and it's certainly a learning process!  I still wanted to show all the food, even if the photos weren't stellar, since the food was all amazing.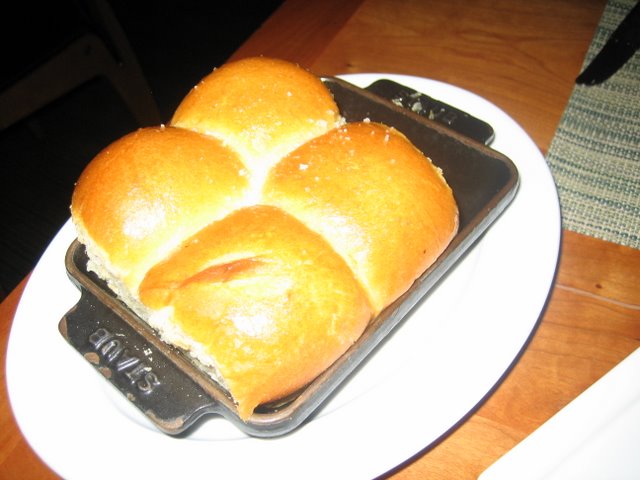 Soon after we were seated, and our servers introduced themselves, bread and butter were delivered to our table.  The bread was in a skillet and brushed with butter in such a way that the top tasted almost like a flakey layer of a croissant.  The bread also had salt sprinkled over the top.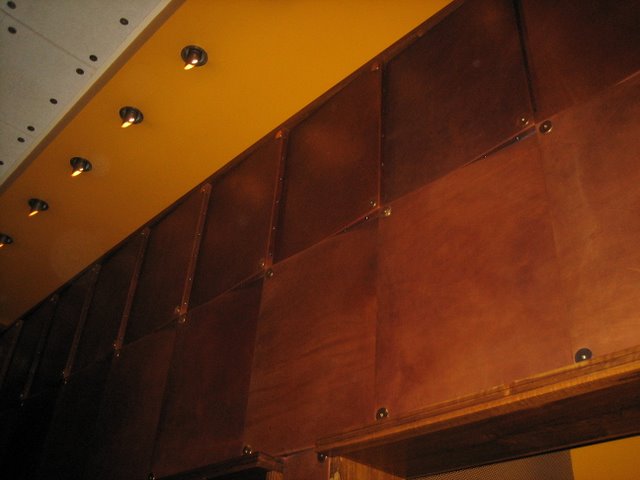 Tom's food theory is something along the lines of "take amazing ingredients and don't screw them up."  We felt that this reflected in the décor as well as the menu.  You'll notice that the menu doesn't have any descriptions, just the cooking method and the main ingredient of the dish.  There were no tablecloths on the tables and the walls were covered in fantastic leather panels.
For my first course I went with the Fresh Buffalo Mozzarella.  This was served with hazelnuts, a balsamic glaze, and roasted red peppers.  I'd never had buffalo mozzarella before so it was a chance I couldn't pass up.  The cheese was quite a bit more flavorful than the regular mozzarella I can find at my local stores and the red pepper sauce was a pleasant change from the usual tomatoes that accompany fresh mozzarella.
Lance's first course was Farmer Jones' Mixed Lettuces.  You'll notice a trend in Lance's first courses during the week; I think he was on a mission to compare all of the mixed green salads in Las Vegas.  This one was very simple, just the greens, and perfectly dressed.   Each piece of lettuce glistened from the dressing but there was no residual dressing on the plate when he was finished eating.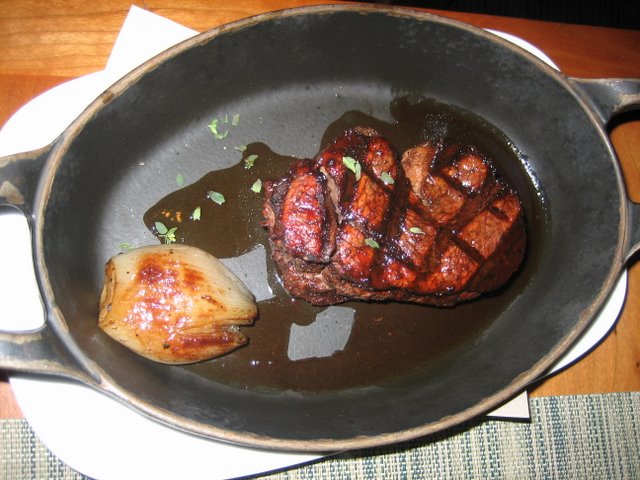 Next we had our steak course.  I ordered the Kobe Style Wagyu Filet and Lance ordered the Japanese Kobe Wagyu.  We've not entirely sure if we were served the correct steaks, but they were both ridiculously tasty.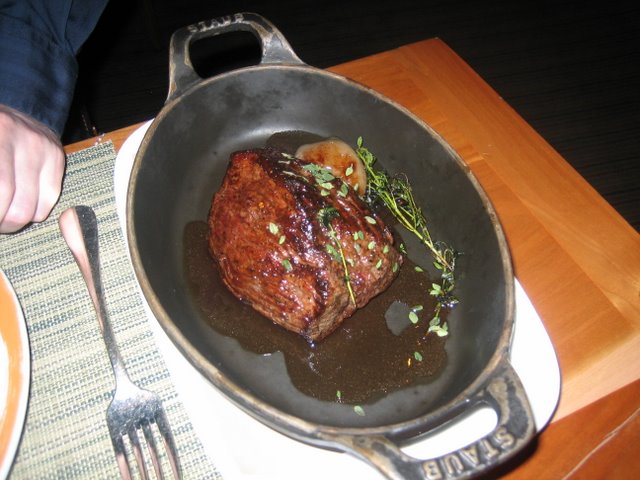 Both filets were very tender.  Mine, which is pictured first, was a bit more flavorful than Lance's but almost tender enough to melt in my mouth.  His filet, pictured second, was a bit less "steak-y" than mine and even more tender.
Neither of us had had this quality of Kobe beef before and, I've got to admit, that I was a bit perplexed.  Perhaps my palate just isn't refined enough to detect the minor differences in quality between Wagyu and "regular" filet mignon.  Perhaps the difference in the quality would have been more noticeable with a different cut of meat.  Nevertheless, it was amazingly delicious.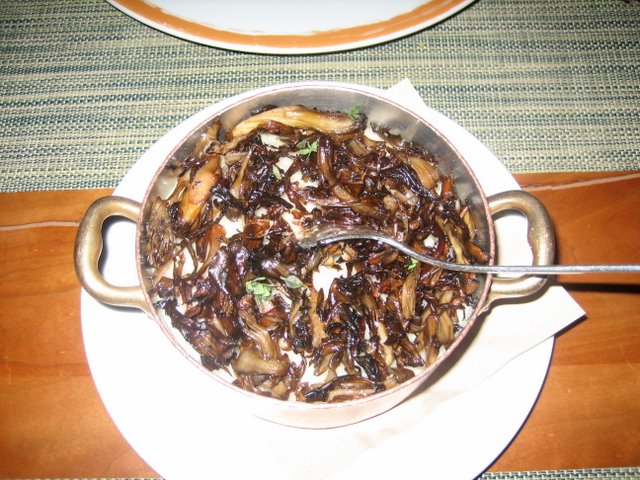 To go with our steak, we ordered mushroom risotto which was served family style.  The flavors were fantastic in the risotto, but it was a bit too toothy and not as creamy as the risottos we've enjoyed in the past.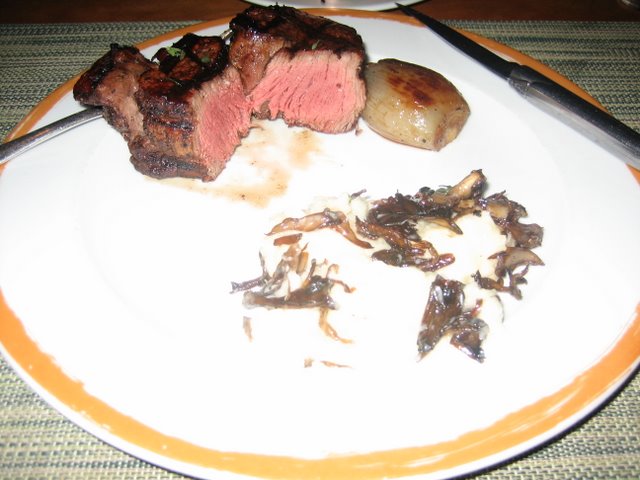 Our meals.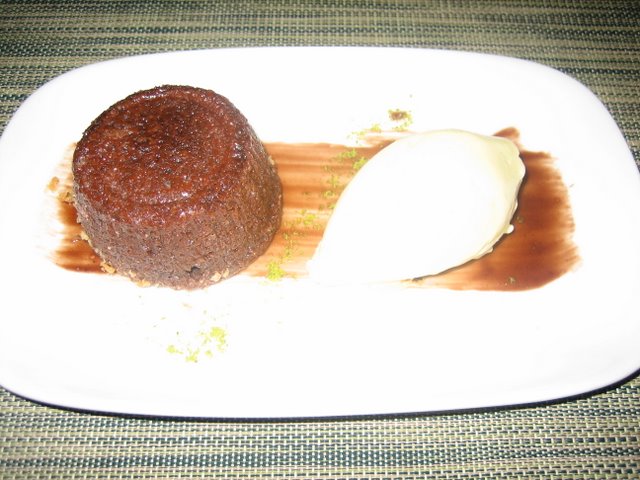 For dessert, I opted to go the chocolate route and chose the Liquid Chocolate Cake.  This was served with vanilla ice cream.  The dessert was very rich and extremely enjoyable.  I've got to admit that the smear of chocolate on the plate brought back some unkind words from an episode of Top Chef and I tried not to chuckle too much.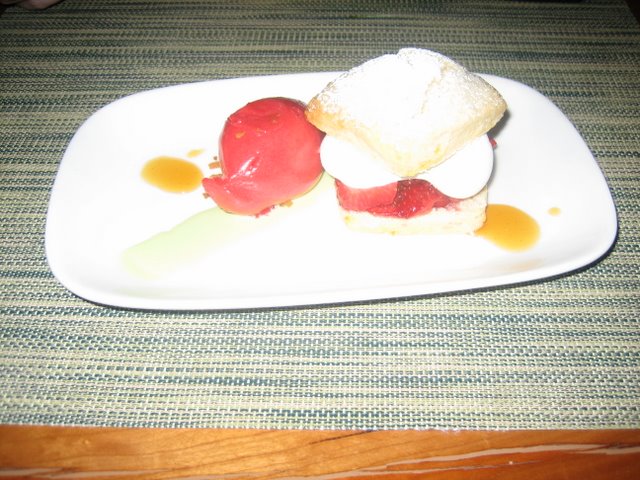 Lance is a lover of strawberries and he chose the Strawberry Shortcake which was served with strawberry sorbet.  The strawberry sorbet was definitely the winner of the dessert course, it was stellar.
Overall, this was a great dining experience.  The service was impeccable and we even developed, accidentally, a new "test" for waitstaff.  During the meal Lance blew out the candle while we were talking.  This was completely unintentional on his part but, afterward, he said "I'll bet it's relit within 5 minutes."  And, sure enough, our server appeared in about 2 minutes to relight our candle.  Very impressive.  
Our water glasses were always full; every server we interacted with was extremely knowledgeable about all the dishes and ingredients.  The staff also encouraged us to ask any questions that we had and, of course, I had quite a few!  Given the chance, I would eat at Craftsteak again in a heartbeat.  
Total price, including tip with no drinks: $546
Craftsteak
MGM Grand
Las Vegas, NV
Reservations: (702) 891-7318