Traditional Green Bean Casserole
Ingredients
26 ounces condensed cream of mushroom soup
1 1⁄2 cups milk
1 tablespoon soy sauce
1⁄2 teaspoon pepper
48 ounces frozen cut green beans, cooked and drained
6-9 ounces French's fried onions
Instructions
1. Preheat oven to 350*F.  
2. Mix all except 1⁄2 of the onions in a 3 quart shallow baking dish.  Bake for 25 minutes or until hot throughout.  
3. Remove from oven and stir.  Sprinkle with remaining onions and bake for 5 more minutes.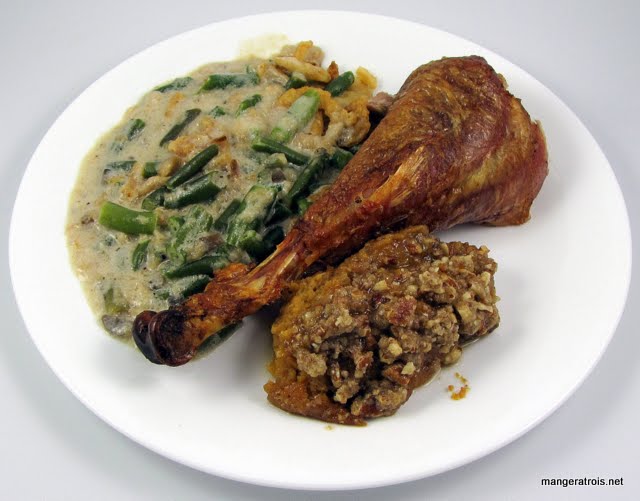 Comments
This, of course, is the green bean casserole recipe that is on bags/cans of green beans, the fried onion canisters, and cans of cream of mushroom soup.  My family prefers the taste and texture of frozen green beans and I remember, every year, that it's important to cook the beans first.  I forgot that crucial step during my first Thanksgiving with Art and he couldn't fathom why I loved the dish so much.  Now that I make it correctly, he is a believer.
I was not able to find french cut green beans for Thanksgiving 2009, so I had to make this with regular cut green beans.  It was a bit soupier than usual, but still delicious.  Perhaps cutting back on the milk would have been wise.
Update 11⁄2010: I tweaked all of the ingredient amounts from the originally posted recipe to the amounts shown above.  These amounts yield a perfect green bean casserole that isn't runny at all.  Sadly I didn't take a new picture, but believe me that the resulting casserole will be a much better consistency!
Shown here with Turkey and Sweet Potato Casserole.
Unknown