High-Heat Roasted Turkey
Ingredients
12-15 pound turkey, thawed
Salt
5 tablespoons butter, melted
Instructions
1. Position a rack at the lowest level of the oven. Preheat the oven to 425*F.
2. Remove the giblets and neck from the turkey, then rinse inside and out and pat dry.
3. Generously rub the body and neck cavities and sprinkle the skin with salt.
4. Truss the bird if desired but at least tuck the wings under the bird, this will make it easier to turn. Place it in a heavy non-stick roasting pan and brush all over with butter.  (I've always used a pan with a V-rack and it's wonderful.)  
5. Arrange the turkey so that it rests on one of its sides, using aluminum foil balls to prop it up if necessary. Roast for 30 minutes. Remove turkey from the oven. Protecting your hands, rotate the turkey to the other side.
6. Baste all exposed skin with pan drippings, then roast for 30 minutes. Turn and baste twice more so that the turkey roasts twice on each side, for a total of 2 hours. Note: If using a heritage turkey, reduce this time to 20 minutes per flip from 30. 
7. Turn the turkey breast side up, baste and roast until an instant-read thermometer in the thickest part of the thigh reads 175*F, 10 to 30 minutes more.
8. Remove turkey to a platter and let stand, tented with foil, for at least 20 minutes before carving.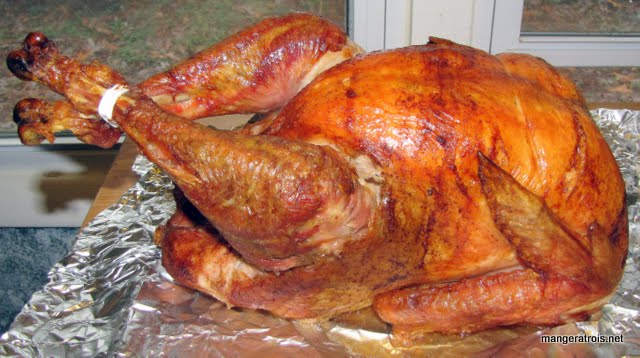 Comments
This recipe comes from the 1997 Joy of Cooking.  I've been using it since 2001 and I have always been thrilled with the results.  The rotation yields moist and tender white meat and dark meat since it allows the dark meat to get extra cooking time and the juices to move throughout the bird during cooking.  
One year I did try brining the bird, but I was extremely let down by the results and did find the meat to be much saltier than usual.  
The one downside to this cooking method is that you do need a smaller bird.  It wouldn't work well with a 20 pound turkey, for instance.  Try to keep to the 12-15 pound range.  I also opt to not stuff the bird because that makes it more difficult to turn.  Instead I mix some of the drippings into the stuffing in a separate pan to ensure the stuffing will be nicely flavored from the turkey.  
I have also found, with the turkeys I usually get, that the cooking time in step 7 is often extremely short, so make sure you have your thermometer on hand.
I recommend using leftovers to make Turkey Tetrazzini.
Note from 2009: I used a silicone band for both the legs and holding the wings to the bird and it was a cinch to turn as a result.  I need to remember to do this again next year.
Joy of Cooking (1997)