Ingredients
2 tablespoons fat (e.g., olive oil, butter, bacon fat, combination of these)
2⁄3 cups onion-type ingredient (e.g., onion of any color, shallot, leeks)
2 cloves garlic, minced (optional)
1 cup Arborio rice
1⁄2 cup white wine
4-5 cups savory liquid (Broths are best, since they add flavor.  Chicken broth is most common.  Water is acceptable for a small amount if necessary.)  
1⁄2 cup Parmesan cheese, shredded or grated, or other cheeses
Salt and freshly ground black pepper, to taste
~2 cups "other stuff" such as vegetables, bacon, or cheese.  See instructions below for specific suggestions. 
Instructions
1. Heat fat in large saucepan or Dutch oven set over medium heat.  Add onion-type ingredient and sauté until soft, stirring.
1.5 Add appropriate "other stuff."  This is when you should add things that need to be sautéed, but can also stand up to being cooked with the risotto for the entire cooking time.  Mushrooms and meats such as bacon work well for this step.  You should fully cook the ingredient before progressing to the next step.
2. Add garlic, if using, and cook until fragrant, about 30 seconds.  
3. Add rice and cook, stirring, until rice is opaque and well coated with fat.  
4. Add wine and cook, stirring, until all wine has evaporated or is absorbed.  
5. Working with 1⁄2 cup at a time, add savory liquid.  After each addition, stir often and continue stirring often until each addition is completely absorbed into rice.  This should take around 20 minutes and, at the end, the rice should be tender.
5.5 Add appropriate "other stuff" during step 5.  This is when you should add things that do well with being cooked in a wet environment for less than 20 minutes.  For example, the risotto in the picture shown here included asparagus.  The asparagus was cut into small pieces and added when the rice had about 3 to 4 minutes left to go.  Other crunchy vegetables work well in this step.  Frozen peas are also good for this step because they don't take much time to thaw and heat.
6. Remove from heat and stir in cheese until cheese melts.
6.5 Add appropriate "other stuff."  This is the time to add things that don't need any cooking.  Meats such as prosciutto, pine nuts, other cheeses, and dried fruits can all be added at this point.  As long as you don't add a ton of stuff, the heat from the risotto will warm these ingredients up.  If you are adding a ton of stuff, consider step 5.5 instead.  This step is also good for the addition of pre-cooked ingredients such as bacon you've already sautéed, vegetables you've already steamed, etc.  Spinach, and similar super tender greens, can also be added at this time because the heat from the risotto will be enough to wilt the greens.
7. Taste for seasoning then add salt and pepper to your tastes.  The amount of salt you will need will depend on the other ingredients you've added (Parmesan and bacon are salty) and the saltiness of the liquid you've used.  Make sure to taste first!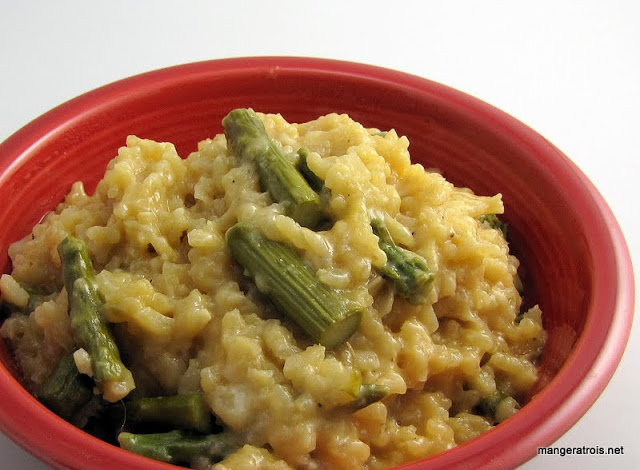 Comments
This is my basic method for risotto.  I tend to always have the ingredients listed on hand, so from there it's just a matter of tossing other ingredients into the pot at the appropriate time.  The amounts listed here are for 1 cup of rice, but it's simple enough to scale the ingredients if you're interested in making more.  
I prefer to use my Dutch oven when preparing risotto because it transfers heat the best out of all of the pots I own.  
You'll notice that I deviate from traditional risotto recipes in two ways with my method.  The first way is that I don't bother with heating the broth first.  If you are making large batches of risotto, it is useful to heat the broth first but, with the small batches I make for family dinners, it is unnecessary as the broth warms up very quickly once added to the pot.  I most often use chicken broth in 4-cup boxes and I pour in a 1⁄2 cup at a time directly from the box.  
The other way I deviate is that I don't feel it necessary to "STIR CONSTANTLY" which is something that can scare people away from risotto.  Yes, you should stir often, but it's perfectly fine to do other tasks for food prep while you're cooking risotto.  Add some broth, stir a bit, chop up an onion before stirring some more.  Set the table, stir some more.  It's all good and you'll start to get a feel for how often you need to stir as you gain more experience with risotto-making.  Do be sure to stir often enough that the rice doesn't stick to the bottom of the pot.  
Just remember, that you do not need to be scared of risotto.  Risotto is simple, quick, and endlessly versatile.  It's a fantastic, cozy, creamy comfort food and works both as a main dish or a side dish, depending on the additions.  
The risotto shown here had asparagus added in step 5.5.
Special thanks to my awesome mother for her proof reading help and formatting suggestions.
Person - Gwen