Easier French Fries
Ingredients
2 1⁄2 pounds Yukon gold potatoes, scrubbed, dried, sides squared off, and cut lengthwise into 1⁄4-inch by 1⁄4-inch batons
6 cups peanut oil
1⁄4 cup bacon fat, strained (Optional)
Kosher salt
Instructions
1. Combine potatoes, oil, and bacon fat (if using) in large Dutch oven. Cook over high heat until oil has reached rolling boil, about 5 minutes. Continue to cook, without stirring, until potatoes are limp but exteriors are beginning to firm, about 15 minutes.
2. Using tongs, stir potatoes, gently scraping up any that stick, and continue to cook, stirring occasionally, until crisp and golden, 5 to 10 minutes longer. Using skimmer or slotted spoon, transfer fries to thick paper bag or paper towels. Season with salt and serve immediately.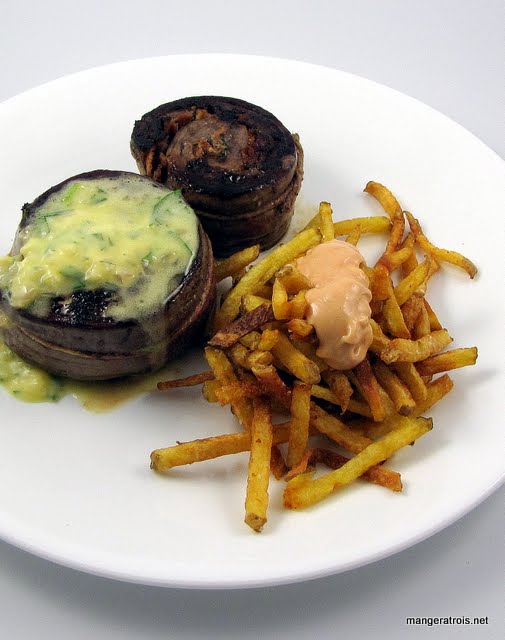 Comments
I saw this recipe for the first time about a year ago in a recipe testing email from Cook's Illustrated and, while it sounded neat, I never got around to testing it.  It was published in the 2009 Cook's Illustrated Annual and I bookmarked it as something to try in the future.  The future is here and I'm very pleased with how they turned out!  They were nice, thin, crispy and flavorful. 
The usual way to make fries involves frying at one temperature, removing the fries, and then frying at a higher temperature.  This method is different as it relies on the oil being room temperature to begin with.  I'm very pleased with how they turned out.  I think I'd make them slightly thicker next time just for a stronger potato flavor. 
Shown here with Steak and Bacon Tournedos, Béarnaise Sauce, and Belgian-Style Dipping Sauce.
Cook's Illustrated 2009