Sweet Potato Casserole
Ingredients
2 (15 ounce each) cans sweet potatoes, drained and mashed
1⁄2 cup sugar
1⁄2 teaspoon salt
1⁄2 teaspoon cinnamon
1⁄2 teaspoon nutmeg
2 eggs
1⁄3 stick butter or margarine
1⁄2 cup milk
1 teaspoon vanilla extract
1⁄3 cup light brown sugar, packed
1⁄3 cup all purpose flour
1 cup pecans, chopped
1⁄3 cup butter or margarine, softened
Instructions
1. Preheat oven to 400*F.
2. Mix sweet potatoes, sugar, salt, cinnamon, nutmeg, eggs, butter, milk, and vanilla in a large bowl until smooth. Pour into greased casserole dish.
3. Bake for 30 to 40 minutes, or until firm.  (It is important to bake it until firm.)
4. Mix remaining ingredients until crumbly. Sprinkle over casserole and bake 10 more minutes.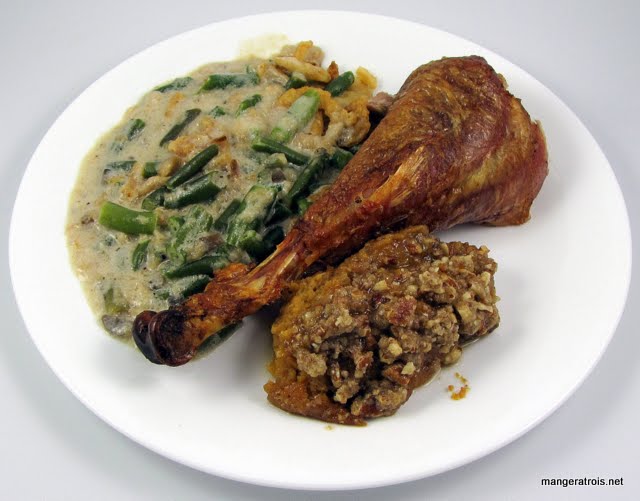 Comments
The first time I had this casserole I was blown away by how delicious it was.  This version of the dish is from Art's mom and I make it every year since it is one of his favorites.  My mom loves it as well.  I bake some in a dish of its own without the topping so that Lance can have some that is nutfree.  
It is very sweet and I always think that maybe I should reduce the sugar but, invariably, I'll forget by the time Thanksgiving rolls around again.  If I remember to reduce the sugar this year, I'll report back on the results.
Update 11⁄2010: I reduced the sugar from 1 cup to 1⁄2 cup and the resulting casserole was MUCH better.  The recipe has been edited to reflect this change.
Shown here with Turkey and Green Bean Casserole.
Person - Darlene Morris