Slow Cooker Hawaiian Pulled Pork Sandwiches
Ingredients
3-5 pound pork loin, trimmed
Rub for the Pork Loin:
3 tablespoons brown sugar
1 tablespoon salt
1 teaspoon black pepper
1 teaspoon onion powder
1 teaspoon cinnamon
2 teaspoons dried thyme
1 tablespoon ground coriander
2 teaspoons garlic powder
Pineapple Barbecue Sauce:
2 cups pineapple juice
2 inches fresh ginger, minced
1 tablespoon garlic, minced
1-2 jalapeno peppers, seeds removed and minced (I just used one and the sauce was nicely spiced for my tastes.)
1⁄4 cup fresh cilantro, finely chopped
1 cup ketchup
2 tablespoons brown sugar
1 tablespoon molasses
3 tablespoons vinegar (I used pineapple balsamic but apple cider or even white would work.)
1 tablespoon Worcestershire sauce
1 teaspoon salt
1 teaspoon black pepper
Instructions
1. The night before you plan to eat, mix together all rub ingredients and spread rub all over pork loin.  Wrap in plastic wrap and refrigerate overnight. 
2. The morning of the day you plan to eat this, unwrap pork and place into slow cooker.  Cook on LOW for 8 hours.  Remove pork to bowl and shred with two forks.  Discard accumulated liquid from slow cooker. 
3. During the last half hour of slow cooking, bring pineapple juice, ginger, garlic, jalapeno and cilantro to boil in medium saucepan.  Boil for 10 minutes, stirring occasionally, until sauce is reduced.  Add ketchup, brown sugar, molasses, vinegar, Worcestershire, salt and pepper.  Reduce heat to low and cook 15 minutes, stirring occasionally. 
4. If desired, pour sauce over pork and stir well before serving with rolls.  Otherwise, serve pork and sauce separately. 
Note: If you like a very saucy barbecue, consider doubling sauce ingredients.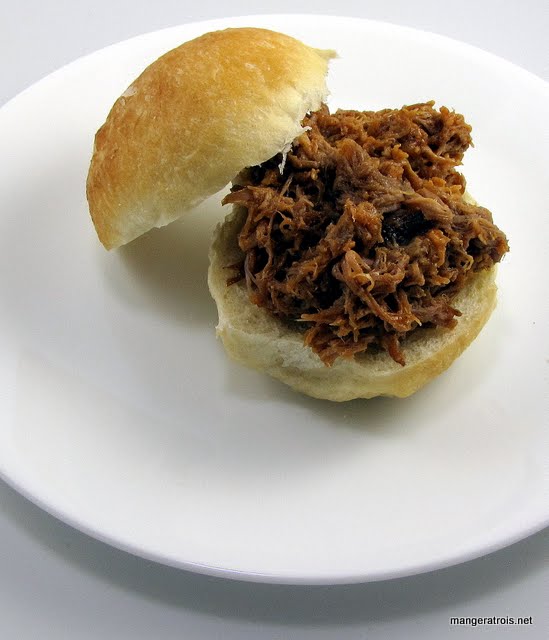 Comments
This recipe is from Simple Comfort Food and I can say without a doubt that it's a keeper.  The flavors were all wonderful, not a hint of bitterness that I've had with past slow cooker barbecue recipes.  The sweetness of the pineapple in the sauce was fantastic and Art wished that I had made even more of the sauce than I did.  The amount of sauce in the recipe was the perfect amount to coat a 3 pound pork loin, so if you want a bit extra, you should make more.  This was seriously a fantastic dish.  The guys both had two sandwiches.  Yum.
Internet - Simple Comfort Food