Pork Tenderloin with Mustard Sauce
Ingredients
1 pork tenderloin
Salt and freshly ground black pepper
1 tablespoon olive oil
1 tablespoon water
3 tablespoons spicy brown mustard
1 1⁄2 teaspoons Dijon mustard
1 1⁄2 teaspoons sour cream
Instructions
1. Season pork on all sides with salt and pepper.  Heat oil in large skillet over medium heat.  Add pork and cook until meat is well browned on all sides, about 5 minutes. 
2. Lower heat to medium low, cover pan, and cook until the temperature of the pork reaches 145*F, about 20 to 25 minutes.  Remove meat to a plate and cover with foil.  Let meat rest for 10 minutes while preparing the sauce. 
3. Return skillet to burner set to medium and deglaze with 1 tablespoon water, scraping off any browned bits from the bottom of the pan.  Lower heat and add both mustards and sour cream, whisking to combine.  Cook sauce until heated through. 
4. Thinly slice pork and serve with sauce.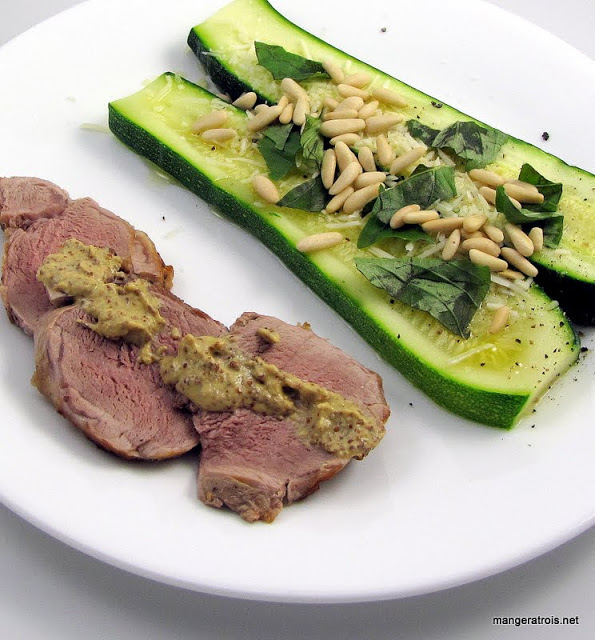 Comments
This recipe is from Kalyn's Kitchen and I thought it was very tasty.  The sauce was easy and pork tenderloin is super simple to cook in a skillet.  It was tender, moist, and full of great flavor.
Shown here with Zucchini with Basil, Pine Nuts, and Parmesan.