Molten Chocolate Cakes
Ingredients
4 ounces chocolate chips (I used a mix of bittersweet and semisweet.)
1⁄2 cup unsalted butter
1 cup powdered sugar
2 large eggs
2 large egg yolks
6 tablespoon flour
Extra butter and white sugar for dishes
Instructions
1. Heat oven to 425*F. 
2. Place chocolate and butter in large microwafe-safe dish and nuke on high 1 minute or until butter is melted.  Remove from microwave and stir until chocolate is completely melted.  Stir in powdered sugar until well blended.  Whisk in eggs and egg yolks.  Stir in flour. 
3. Butter sides and bottoms of 4 custard cups or ramekins (mine are 7ounces).  Sprinkle with about 1 teaspoon sugar per dish and shake out excess. 
4. Divide batter between dishes.  Bake 13 to 17 minutes or until sides are firm but centers are still soft.  Remove from oven and let stand 2 to 3 minutes.  Serve in dishes or run knife around edges to invert onto plates.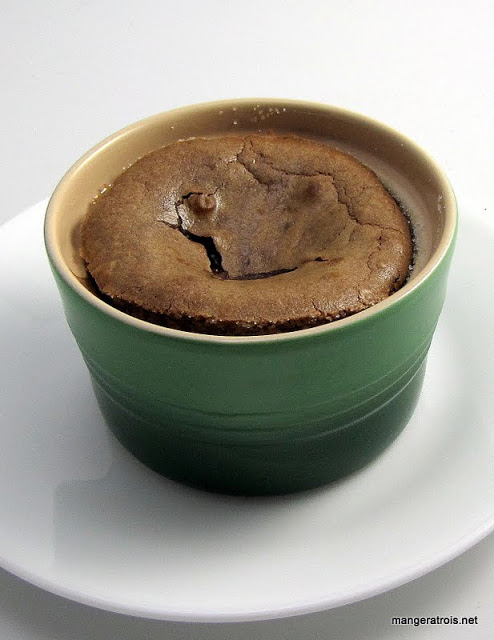 Comments
This recipe was passed on to me by a friend, so I don't have a link for the original source.  I also don't have a picture, maybe because they were such a huge hit that I didn't take the time to photograph anything!  My mom and I made them together and they were a cinch.  (Edit: The photo has since been updated!)
These were super rich, a perfect serving size, and just divine.  Lance, the chocolate cake connoisseur in the house, declared them as awesome as the ones he has gotten in restaurants which is pretty high praise!  The only thing that could have been better is that the centers were a little too runny – I think a few more minutes of cooking would have done the trick.  But liquid chocolate in the middle of cake is never a bad thing, so we all devoured our little cakes. 
I served these with Vanilla Ice Cream which nicely tempered the super richness of the chocolate.  I think we may have found a new Thanksgiving tradition that we can all get behind!
Unknown