Streusel Coffee Cake
Ingredients
Cake
1 1⁄2 cups all purpose flour
2 teaspoons baking powder
1⁄4 teaspoon salt
3⁄4 cup sugar
1⁄4 cup butter
1 egg, beaten
1⁄2 cup milk
1 teaspoon vanilla
Topping
1⁄2 cup brown sugar
2 tablespoons all purpose flour
2 teaspoons cinnamon
2 tablespoons butter, melted
1⁄2 cup nuts, chopped (Optional.)
Instructions
1. Preheat oven to 375*F.
2. Mix all dry cake ingredients. Cut in butter until crumbly. Stir in egg, milk and vanilla. Pour 1⁄2 batter into a greased 8 by 8-inch pan.
3. Mix topping ingredients and sprinkle it on top of batter. Drop remaining batter by the spoonful over the top of the topping.
4. Bake 25-30 minutes, or until done.  (If it still wobbles when you shake the pan gently, it's not quite done.)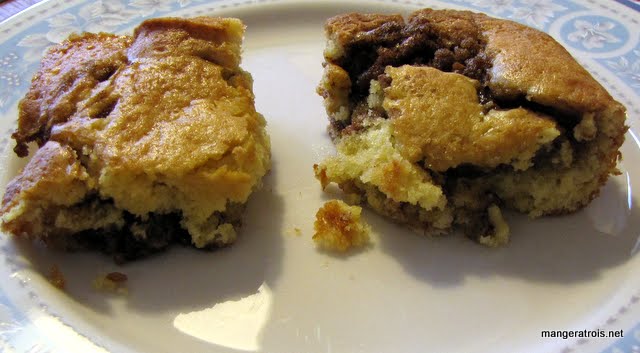 Comments
This recipe has been in my family for forever.  My grandma made it when my mom was a child.  My mom made it when I was a child.  Now my mom and I make it together on Christmas morning.  We make two of them, one with nuts and one without.  It also doubles very well and can be made in a 9 by 13-inch pan.  We don't have many traditional Christmas foods in my family, but the holiday wouldn't be the same without this one.  
The first year I was living in England my parents mailed me a box that had an 8 by 8-inch baking pan and this recipe on a card so that I'd be able to carry on the tradition with my new family.  :)
Person - Mom