Bundt Coffee Cake
Ingredients
For the Cake
1 box cake mix, flavor of your choice
3 ounces instant pudding mix, complimentary flavor of your choice
4 eggs
3⁄4 cup vegetable oil (I've used olive oil with no problem)
3⁄4 cup water
1 tablespoon vanilla
1 tablespoon butter flavor
For the Nut Topping
1⁄2 cup pecans, chopped
1⁄4 cup sugar
2 teaspoons cinnamon
For the Glaze
1 cup powdered sugar
1⁄2 teaspoon butter flavor
1⁄2 teaspoon vanilla
3 tablespoons milk
Instructions
1. Preheat oven to 350*F. Mix cake ingredients. Mix nut topping ingredients.  Spray a bundt pan with cooking spray.  Layer the cake mixture with the nut topping in the pan. Bake for 50 minutes or until a cake tester comes out clean.  
2. Mix glaze ingredients and glaze when cool.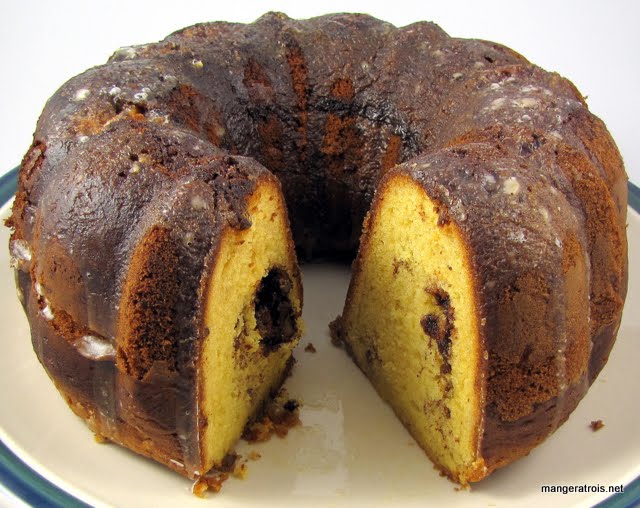 Comments
This recipe has been in my family for at least my entire life.  It's traditional Day After Thanksgiving breakfast, along with scrambled eggs.  It's moist, easy, and a family favorite.  I have fun varying up the flavors by picking different boxes of cake mix and pudding mix.  It's hard to go wrong!
The coffee cake shown here was made by my mother using lemon pudding and lemon cake mix.  It was delicious!
Person - Mom