Kofta Balls with Indian Tomato Sauce
Ingredients
For the sauce:
2 tablespoons olive oil
1 cup onion, finely chopped
2 cloves garlic, minced
1 tablespoon ginger, minced
4 cups tomatoes, chopped
1⁄2 teaspoon garam masala
1⁄4 teaspoon turmeric
1 teaspoon salt
_
For the kofta:_
1 cup extra firm tofu, cut into cubes
1 cup chickpeas, drained and rinsed
1 cup cornmeal
1⁄4 teaspoon ajowan or caraway seeds
6 cloves garlic, peeled and stemmed
1 jalapeno, seeded and coarsely chopped
2 teaspoons salt
4 tablespoons cilantro
Olive oil, for frying
Cooked rice, for serving
Instructions
1. Heat oil in large saucepan over medium heat.  Add onions and sauté until soft.  Add garlic and ginger and cook, stirring, until fragrant, about 1 minute.  Add tomatoes, garam masala, turmeric, and salt.  Cook, stirring occasionally, until tomatoes break down and form sauce, about 20 to 30 minutes. 
2. Place tofu, chickpeas, cornmeal, seeds, garlic, jalapeno, salt, and cilantro in food processor bowl.  Process until smooth and mixture pulls away from sides of processor bowl.  Form into small golf ball-sized balls. 
3. Add oil to skillet, about 1⁄4-inch deep.  Heat over medium heat.  Fry balls, working in batches, until golden brown on all sides.  Remove from pan and drain on paper towel-lined plate. 
4. Serve sauce on top of rice with Kofta balls on top.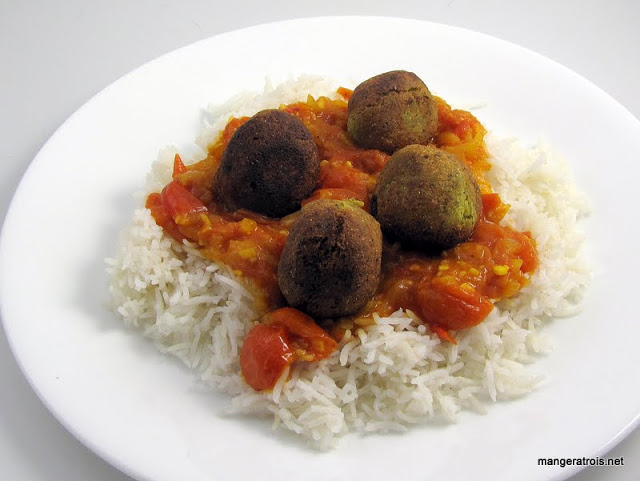 Comments
This recipe is from Food-Fitness-FreshAir.  It's one of the tastier things I've made recently and it's vegan as well!  I doubled the Kofta ingredients and this made a great meal for the three of us.  I probably could have quadrupled everything so that we could have enjoyed more leftovers, but I didn't think of that until it was too late.  I'm looking forward to making this again in the future.