Landscaping - The Wall
This is another one of those posts that doesn't have too much to deal with food directly, but it has to do with enjoying our backyard which is where we grill, and grilling is certainly a food-related topic.  Just like our amazing table has enhanced the overall food experience, so will our grand landscaping project.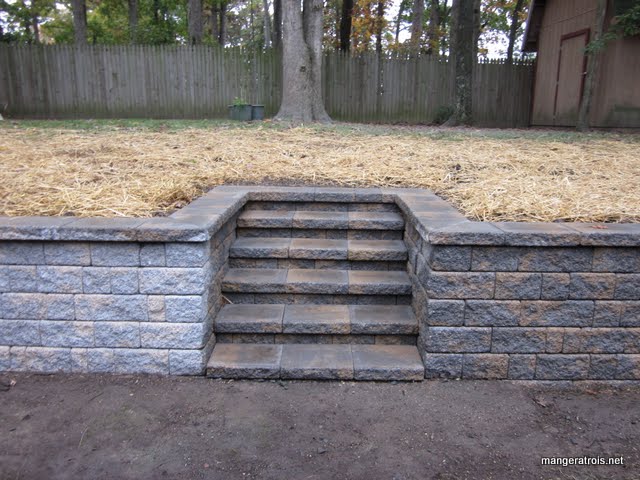 Our home, which we bought in 2001, was previously owned by a family that also owned a landscaping business in town.  As a result, the yard was amazing, it had terracing, out of zone plants that could be kept in the greenhouse in the winter, and a 900 gallon fish pond.  When you care about your yard and have a crew at your beck and call, the possibilities are limitless. 
We are not yard people. 
The yard quickly became varying degrees of overgrown and dead.  We ended up filling in the pond since it would get completely leaf choked every year.  And, 10 years later, the railroad tie terracing and walls have completely rotted, becoming a spiky, dangerous, scary hazard. 
Now that I'm getting ready to garden, which will require walking up the stairs in the yard on an almost daily basis, I made the command decision to upgrade the railroad ties to stone. 
The process of finding a landscaper was a bit overwhelming and depressing, but we finally found one that we, and our budget, could work with – Outdoor Creations. 
Here's the link to the full photo gallery of the project, the following are some of the finished project shots: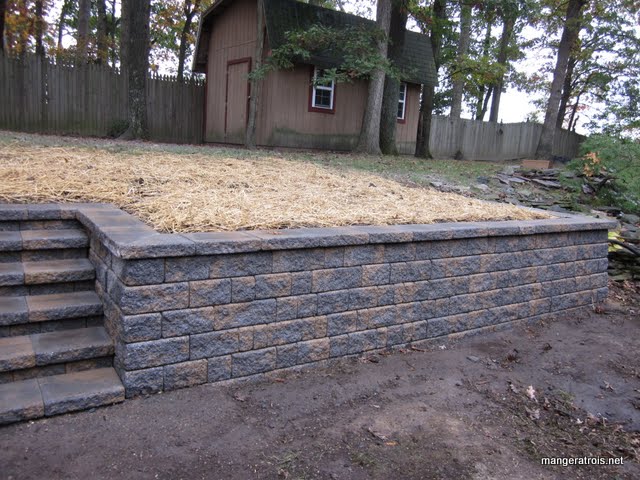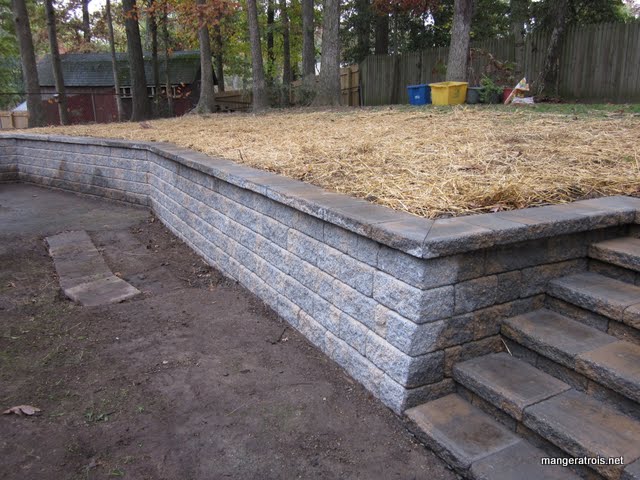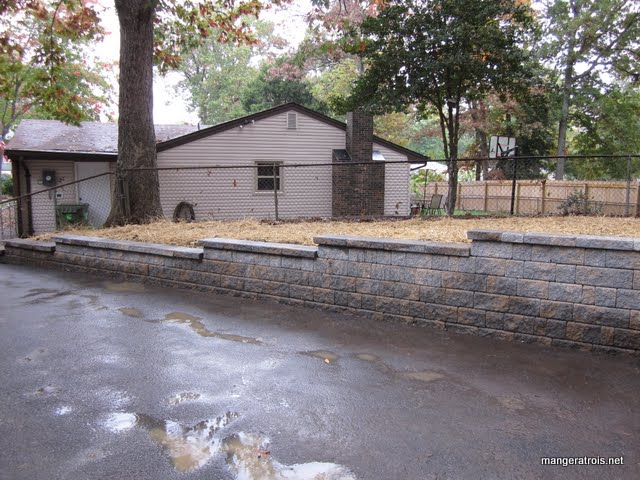 We do intend to have the patio done in similar stone by Outdoor Creations, but that project will have to wait until next year when we can afford it.  In the meantime, we are so thrilled with the wall and our yard already feels infinitely better, more enjoyable, and usable.  Grilling will be such a pleasure with a beautiful wall to admire while we do it.