Carrot Tree Kitchens at the Dale House Café January 2012
On our sixth day, which was our last full day of vacation, we drove over to Jamestown Settlement and Historic Jamestowne to get our history on.  We had been advised by a number of people to save our appetites for Historic Jamestowne because of the great café there.  Much to my surprise, the café at the Dale House is actually run now by Carrot Tree Kitchens which has a location in Williamsburg that was actually on my list of restaurants to visit.  So while we didn't visit the real thing, we at least got to eat at an offshoot! 
Due to time constraints and weather (we wanted to get back to the suite to play Arkham Horror), we decided to get our food to go.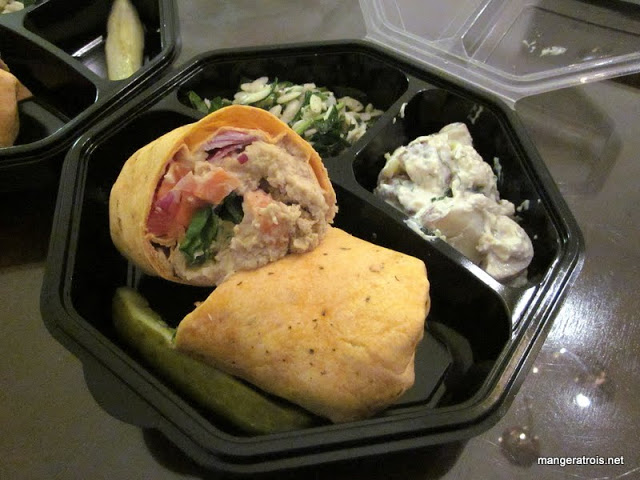 The Yorktown Onion Tortilla wrap filled with hummus, Greek olives, lettuce, cucumbers, red onion and carrots. (sans olives)
I was in a vegetarian mood, so I opted for the hummus wrap.  Nice, garlicky hummus with plenty of veggies.  My kind of sandwich!  It came with a side of Spinach Orzo Pasta Salad and then I ordered Red Bliss Potato Salad with Dill that Art and I shared.  The pasta salad was light and refreshing and the potato salad was some of the better I've had.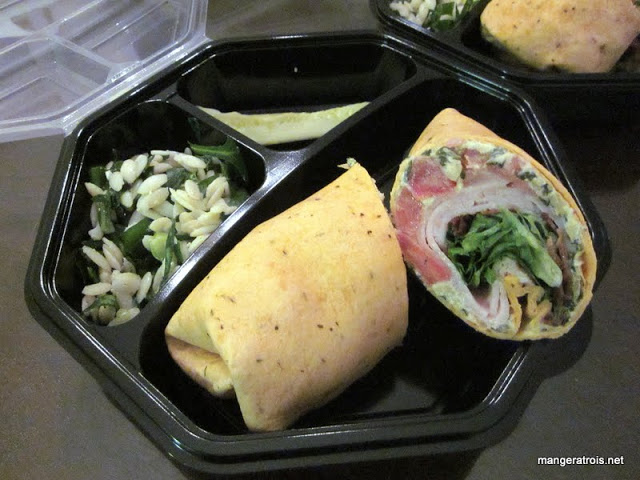 The Brookstone Honey-roasted Turkey with Spinach Artichoke dip, lettuce and tomato in a tortilla wrap (with bacon)
Art also got a wrap although he went the omnivore route.  He added bacon and thought it was grand.  He opted for the orzo salad side as well!
This was a really lovely lunch and I'm glad we got out to Jamestowne to see everything as well as pick up a great meal.
Total price: $21.22
Carrot Tree Kitchens at the Dale House Café
204 West Franklin St.
Richmond, VA 23220-5012
Phone: ?