Fat Canary January 2012
I didn't do a lot of planning before our trip to Williamsburg.  I scoured Urbanspoon and bookmarked about 20 restaurants that looked appealing but didn't bother picking days or making reservations.  Since it was the off season, this worked out pretty well for us.  I picked Fat Canary from my list for dinner our second day since we spent the day at Colonial Williamsburg where Fat Canary is located.  It was one of the best meals we ate during our trip.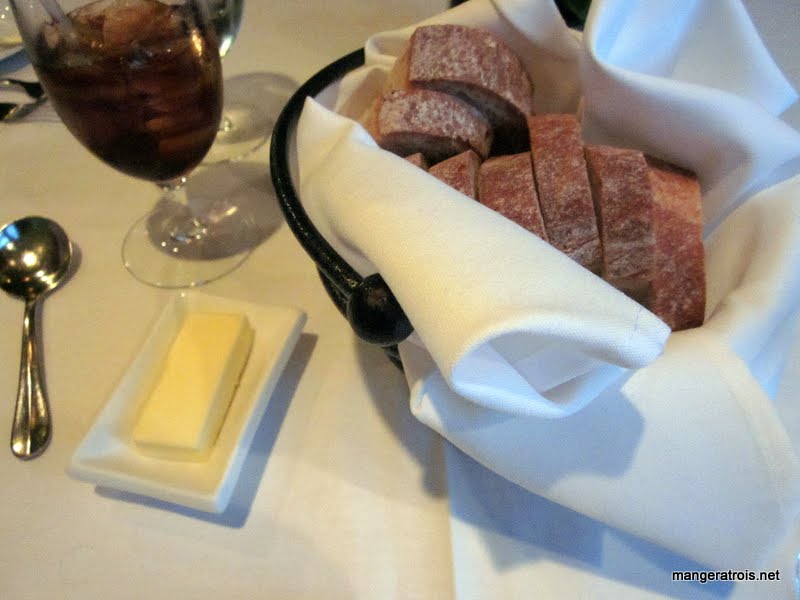 We started our meal with a nice bread basket.  As most meals start.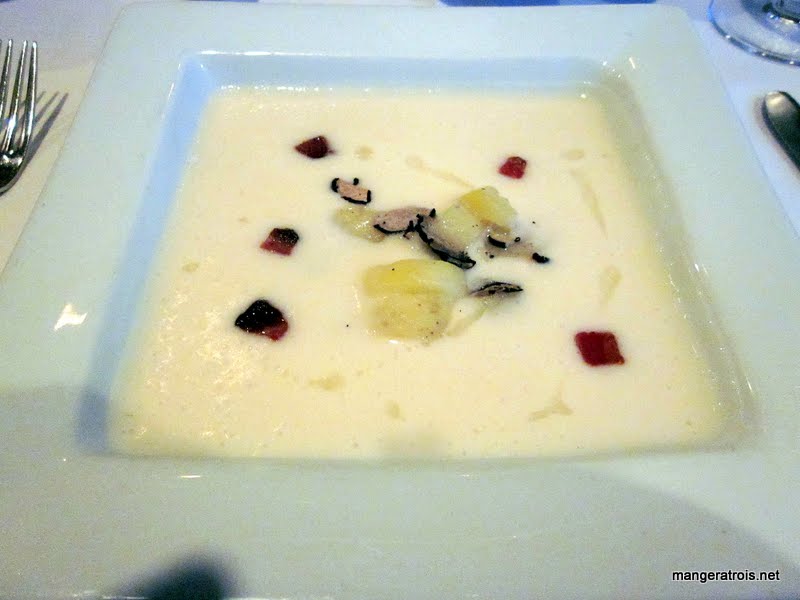 Since it had gotten chilly out, we both opted for a bowl of the soup of the day.  This was a very smooth potato soup with a few bits of crispy pancetta, shaved black truffle, and fingerling potato bits on top.  It was warm and creamy – a perfect start to the meal when we were both a bit cold.  I was a little worried about the truffle - the last time I had truffle it was in mac and cheese at Smith and Wollensky and I was unimpressed.  This time, it was delicious.  This just goes to show that even fancy ingredients can be ruined by bad preparation and that, sometimes, you should give an ingredient a second chance.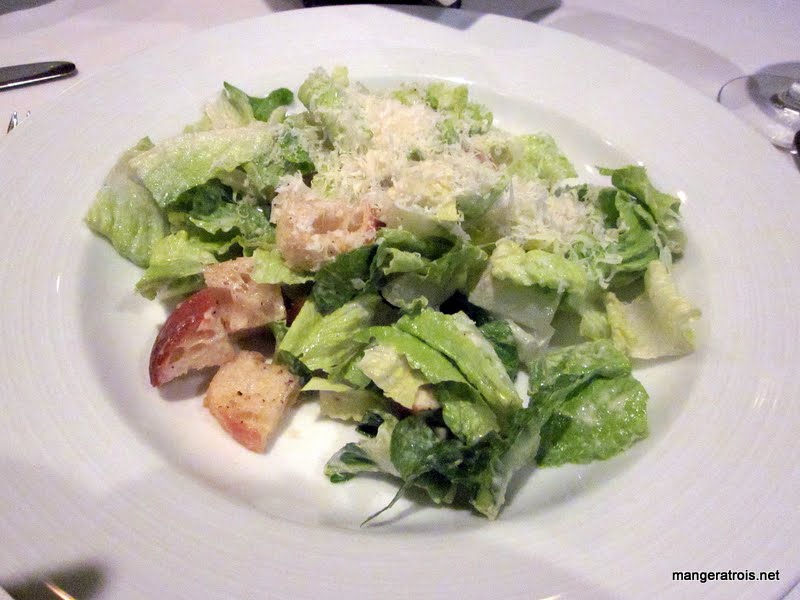 Hearts of Romaine, Focaccia Croutons and Roasted Garlic Dressing
We don't always order the same thing, really, but this salad called to both of us.  It looks similar to a Caesar salad, but the dressing wasn't quite the same.  The croutons were the best croutons I have ever had in my life.  I actually wanted to compliment the chef on the perfection of the croutons.  They were crispy on the outside and soft in the middle.  Seriously, perfection.  Who knew? 
Grilled Lamb Strip Loin, Farro with Herbs and Olives, Rapini, Garlic, Lemon and Pine Nuts
Art claims that this is the best lamb he's had in a restaurant for quite a long time.  He was pleased to see a lamb cut other than chops, which is the standard lamb preparation you see in restaurants.  He felt it was cooked exactly right and he quite enjoyed the farro it was served on.  He'd never had farro, but I convinced him that he'd enjoy it.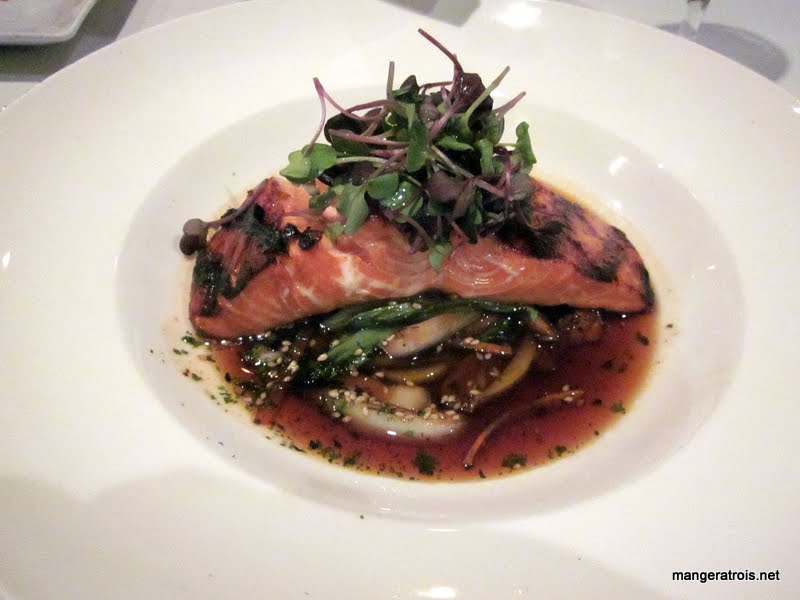 Sweet Soy Grilled Pacific Salmon with Citrus Ponzu Stir Fry Vegetables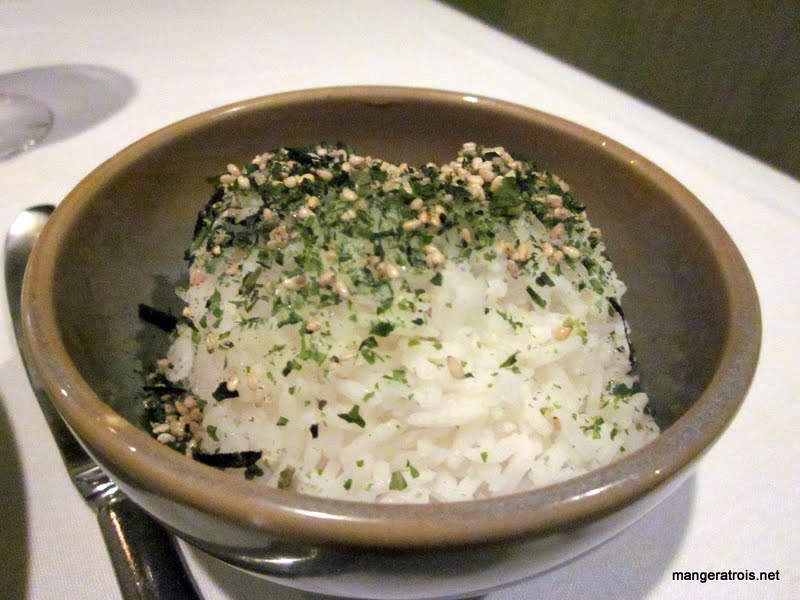 with Nori Rice
This was my entrée.  I loved it.  The salmon was very nicely done, the sauce was grand.  The rice was sticky and nicely flavored thanks to the nori.  All of the components came together beautifully. 
My dessert was profiteroles with espresso ice cream and topped with chocolate sauce.  Sadly, the espresso ice cream tasted a bit burnt as did the cup of espresso that Art ordered after his meal.  Perhaps this just isn't the restaurant for espresso? 
Art's dessert was a little pecan pie with ancho chile ice cream.  He loved it.  The pecan pie was loaded with pecans, just the way he likes it.  He definitely won the dessert battle of the evening! 
The service was lovely and our glasses were always filled.  I was also happy that my request for a table with good lighting was honored since we had a table in the front of the restaurant by a big bay window.  Apparently the restaurant has quite the wine cellar as well, even though we didn't partake. 
Total price: $164.37
Fat Canary
410 W Duke of Gloucester Street
Williamsburg VA
Phone: 757.229.3333