Delmonico Steakhouse June 2009
Oh Delmonico, we had such high hopes for you and you let us down gloriously.  I wish we had opted to eat at B&B Ristorante across the hallway instead of using up a precious meal at Delmonico.   
Lance and I had the pleasure of eating at Emeril's Tchoup Chop in Orlando back in early 2007.  We'd both been pleased with our meals and I figured we'd get another great meal at Emeril's Delmonico Steakhouse while we were in Vegas.  
At the start of the meal, our servers introduced themselves, we requested our typical glasses of water, and proceeded to peruse the menu.  Everything was off to a good start and we ordered our salads, steaks, and sides.  Sides are served family style and sized to feed 2-3 people.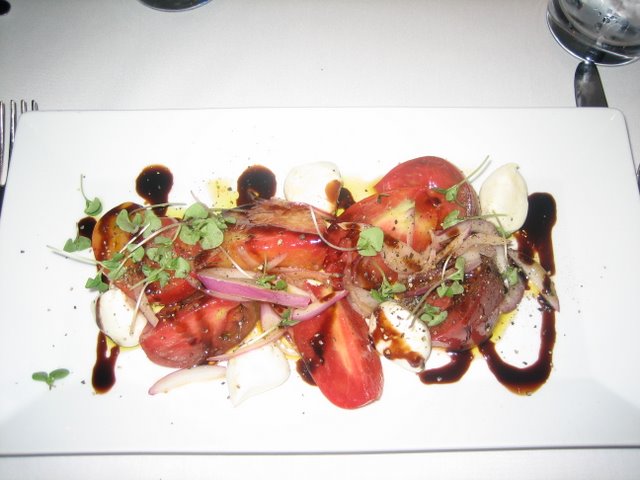 I started my meal with the vine ripened heirloom tomato salad with red onion, mozzarella cheese, extra virgin olive oil and balsamic vinegar.  When tomatoes are in season, I just can't get enough of them so tomatoes tend to be my standard first course in some form.  The salad was delicious if a little bit drippy.
Lance ordered a salad from the specials of the day and it was called Emeril's green salad.  In addition to the mixed greens, it had sundried tomatoes, pepper jack cheese, and creole croutons.  It was a well dressed, nice salad.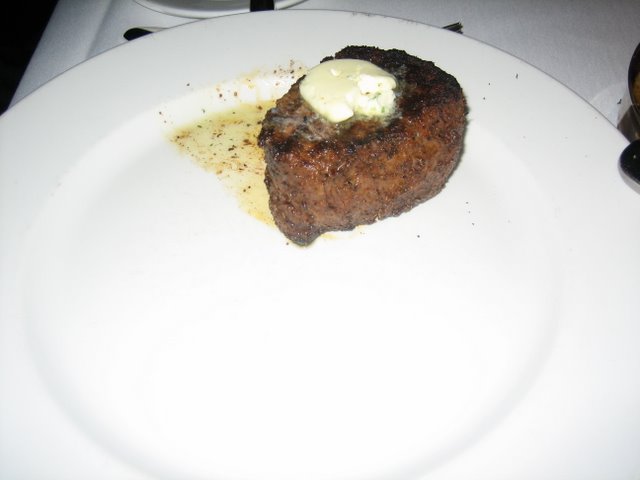 Our steak course followed.  Lance ordered filet mignon which came with a nice dollop of herbed butter.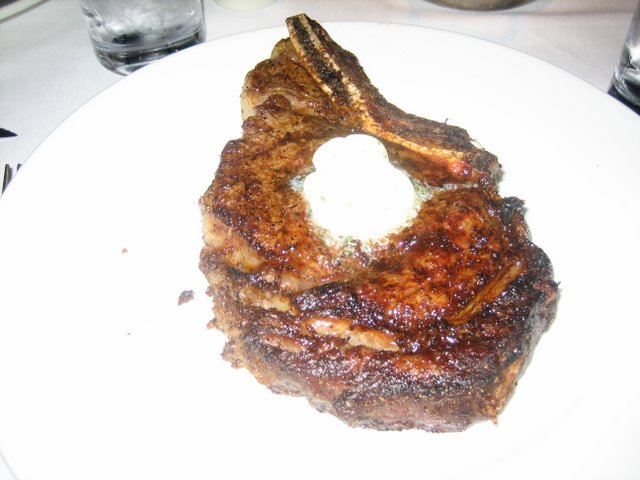 I ordered the bone in rib steak which is, apparently, the house specialty.  Both steaks were fine and done to our liking.  The rib steak was extremely flavorful and Lance helped me to finish off the last few bites.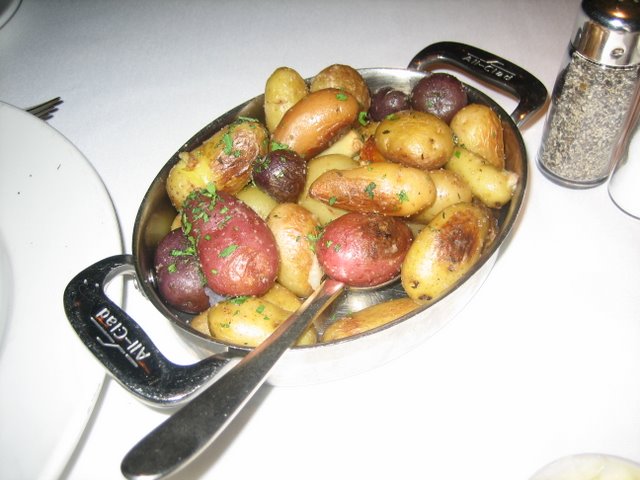 One of our sides was roasted fingerling potatoes and whole garlic with fresh herbs.  These were pretty, garlicky, and tender.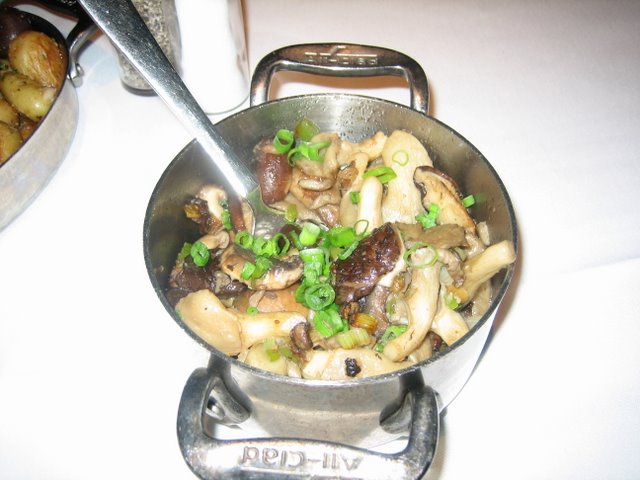 Our second side was sautéed garlic mushrooms.  This was a mixture of wild mushrooms with butter and garlic and also tasty with our steaks.
It was during our main course that we noticed something was amiss.  For both our salads and main course, we hadn't seen our servers after they delivered our food.  No one checked in to make sure everything was satisfactory; no one refilled our waters, nothing.  We briefly wondered if our lack of alcohol intake made us below the staff's notice.  For whatever reason, we didn't see our servers again until well after we were finished with our main course.  This was extremely disappointing and surprising.  There was another long wait to be able to order desserts, but we did, hoping that dessert would redeem the meal.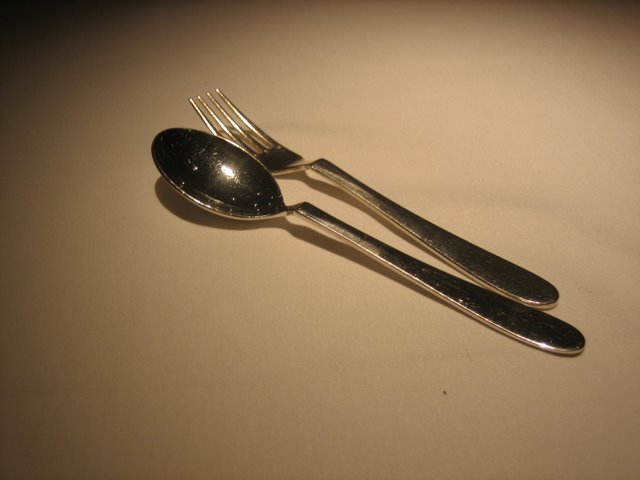 On a slight tangent, the silverware looked like something Uri Geller had gotten to.  A few Matrix comments were also made.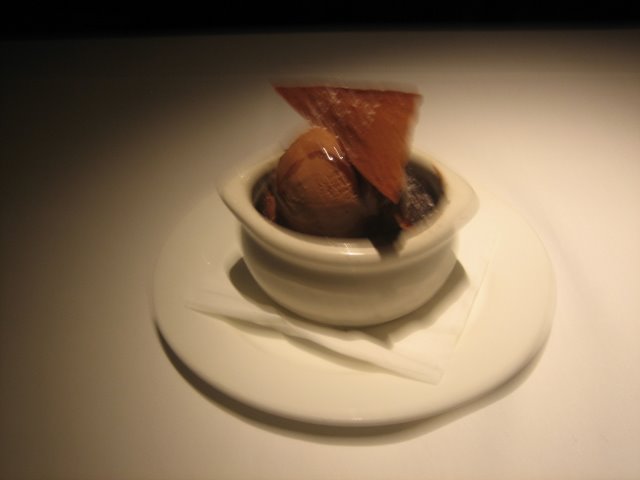 Lance ordered the chocolate brioche bread pudding with Hawaiian vintage chocolate ice cream and warm chocolate fudge.  The bread pudding was moist and soft, the ice cream was dark, slightly bitter, and rich.  It was a very rich dessert overall and extremely delicious.  The combinations of warm and cold worked very well together.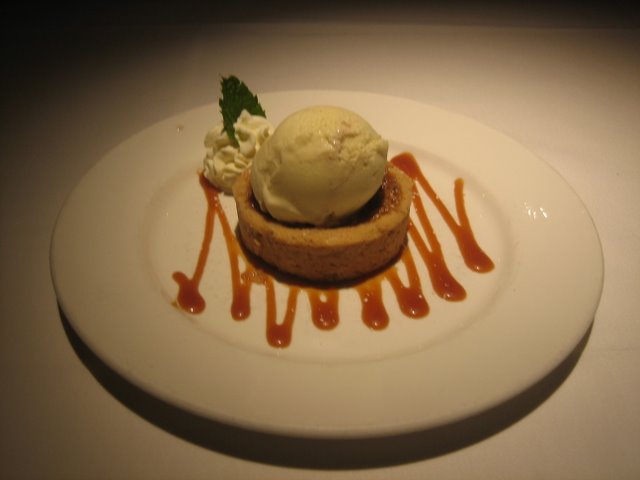 I ordered the pecan pie with an oatmeal shortbread crust, vanilla bean ice cream, and caramel sauce.  The crust for this was very tasty but I'm not sure that, as a whole, it was better than the pecan pie I make for my family every year at Thanksgiving.  It was good, but I wasn't blown away.
We were then ignored some more by the staff before getting our bill and leaving.  Perhaps the staff was just having a bad night?  The restaurant certainly wasn't full and there wasn't smoke pouring from the kitchen, so we saw nothing that would give us cause to believe our service should have been so inattentive.  Members of the waitstaff were frequently hanging around in a corner of the room together, so it's unclear what exactly was going on.  
This meal, which was our last one in Vegas, was a letdown.  We'll probably give other Emeril restaurants chances in the future, but we will not be revisiting Delmonico anytime soon.  Or ever.  
Total price, including a below-average tip: $217.10
Delmonico Steakhouse
The Venetian Resort Hotel & Casino
3355 Las Vegas Blvd. South
Las Vegas, NV 89109
Reservations: (702) 414-3737