Mesa Grill June 2009
On Wednesday, we wandered over to the Mesa Grill for lunch.  Mesa Grill is one of Bobby Flay's restaurants and I usually find his food to look very appetizing.  We opted to go there for lunch because none of the dinner items were that amazing sounding that it seemed worthy of dinner.  
I know there is a lot of controversy around Bobby Flay; many people think he's a bit of a jerk due to his Food TV shows.  I used to feel the same way about him until Throwdown with Bobby Flay started.  My opinion of him did a complete 180 after watching him interact with his sous chefs and watching him through many food battles.  When he wins, he is kind and gracious to his opponent.  When he loses, he's equally gracious and a good sport about things.  
The Mesa Grill site shows the restaurant fairly well.  The kitchen is open with a huge exhaust system over the grilling area.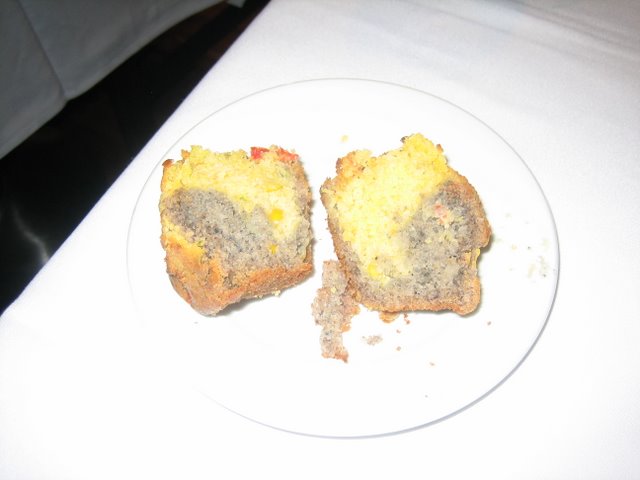 We started our meal with a basket of fresh bread including a blue and yellow corn muffin, two slices of sweet bread with raisins and nuts, and two slices of jalapeno bread.  Sadly, I only thought to take a picture of the corn muffin which had kernels of corn throughout and was great.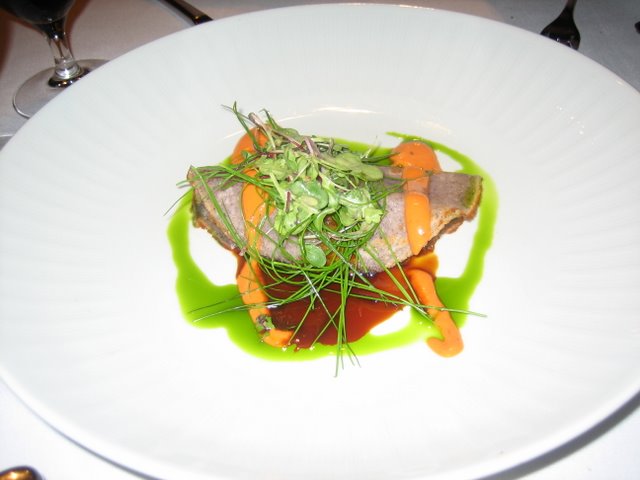 Lance ordered the Prix-Fixe Lunch menu so we started off sharing his Blue Corn Pancake.  Inside of the pancake was barbecued duck and it was plated with cilantro oil and a pepper sauce.  The flavors all worked very well together and I would have been happy with just a few of those for my lunch.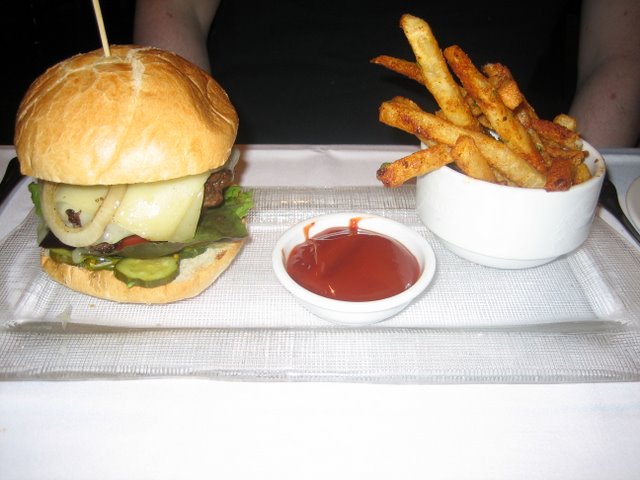 Continuing on with the Prix-Fixe menu, Lance had the Mesa Buffalo Burger.  This was served with Swiss cheese, pickles and the regular burger toppings.  The fries were crispy and spicy and the ketchup shown in the picture is spicy chipotle ketchup.  Lance also got some lime ketchup which was fantastic.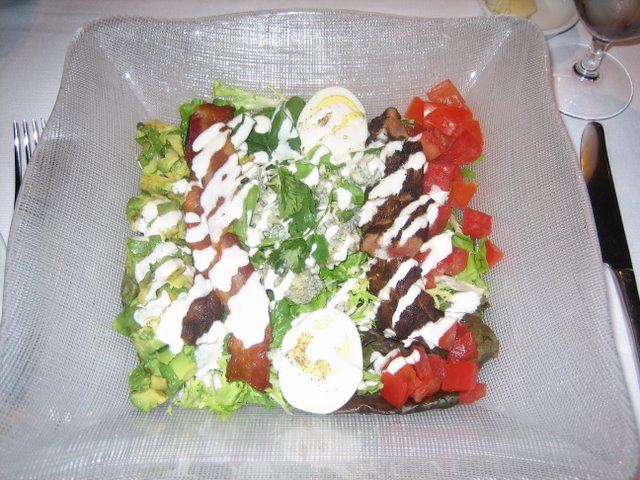 I was feeling a bit vegetable deficient, so I ordered the Barbecued Lamb Cobb Salad.  It was a mix of avocado, tomato, Cabrales blue cheese, bacon, extremely flavorful lamb, and buttermilk dressing.  I'm not usually a fan of blue cheese, but the quality of this blue cheese made quite a difference.  This was a fantastic salad.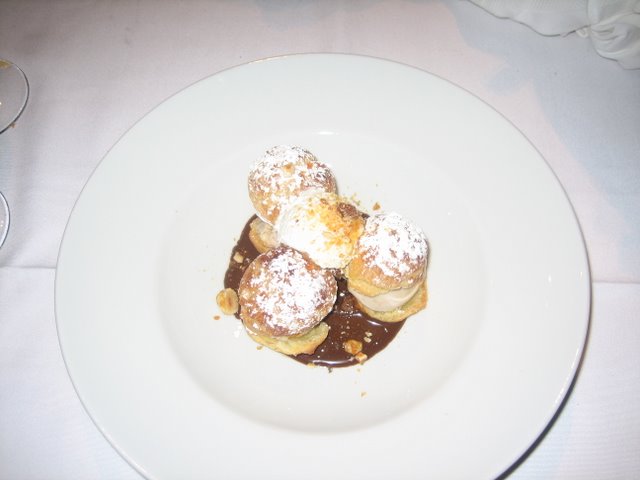 The last course of Lance's Prix-Fixe menu was the Banana Hazelnut Profiteroles.  Being allergic to nuts, Lance and I worked out a split and he ate the profiteroles while I ate the ice cream.  The ice cream had a very strong banana taste and the profiteroles were light tasty.
Overall, the food was delicious and we felt that this was a good choice for one of our lunch "slots."  The service was also acceptable.  Our waitress was attentive and friendly.  
Total price, including tip with no drinks: $63.88
Mesa Grill
Caesars Palace
Las Vegas, NV
Reservations: (877) 346-4642