Julian June 2011
Ah, Julian.  When I first found out that Lance and I were traveling to Kansas City I rushed to make a reservation for Celina Tio's restaurant.  Chef Tio has been on both The Next Iron Chef and Top Chef Masters and, as an alumn of my high school, I've enjoyed cheering for her while she has been on both shows.  I knew we had to eat at her restaurant and I was thrilled that we were able to get reservations. 
Then our flight was delayed and we almost missed our reservation!  Thankfully we were able to go straight from the airport to the restaurant and the hostess was happy to stow our suitcase away.  As a result, these are cell phone photos since my camera was buried in the suitcase somewhere. 
Sadly, Chef Tio wasn't at the restaurant that night, which is an oddity for her, but the experience was amazing regardless.  While Julian is certainly a fine dining experience, it is not a super fancy place.  The food is homey and comforting, the staff all wear t-shirts.  It was a comfortable and relaxed dining experience that just happened to come along with delicious food.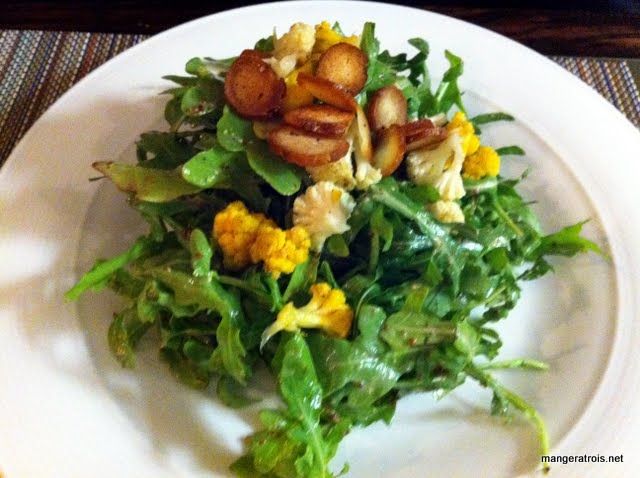 baby arugula, local cauliflower, pretzel croutons, mustard vinaigrette For starters, Lance got an arugula salad.  It was topped with crunchy pieces of cauliflower and homemade pretzel crouton bits.  He loved ever bite of it.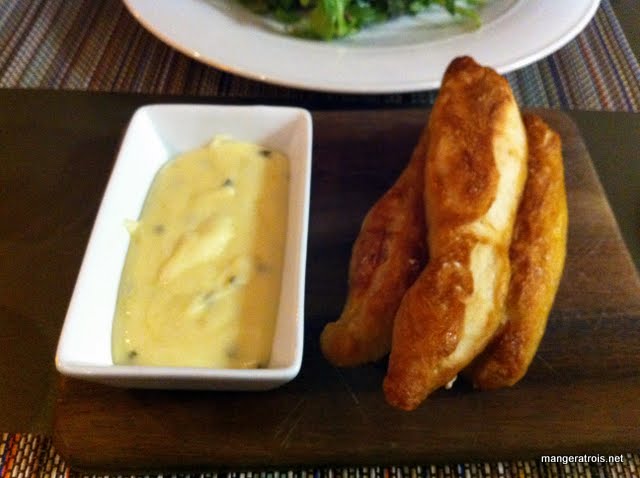 housemade pretzel sticks, horseradish cheese sauce We shared the pretzel sticks because I'd heard so many good things about them.  They were soft but chewy, just like a good soft pretzel should be.  The cheese sauce had a great spiciness due to the horseradish.  I'd love to try to replicate this at home.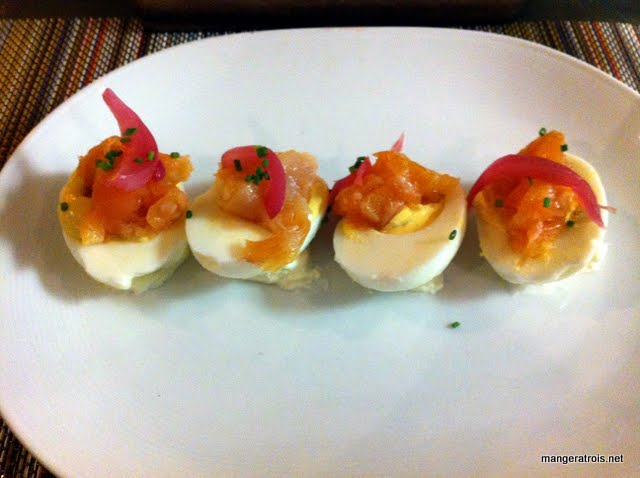 house-smoked salmon, deviled egg, pickled onion I chose the smoked salmon deviled eggs for an appetizer and they were scrumptious.  The egg filling was lovely and mustardy and all of the flavors just went really together.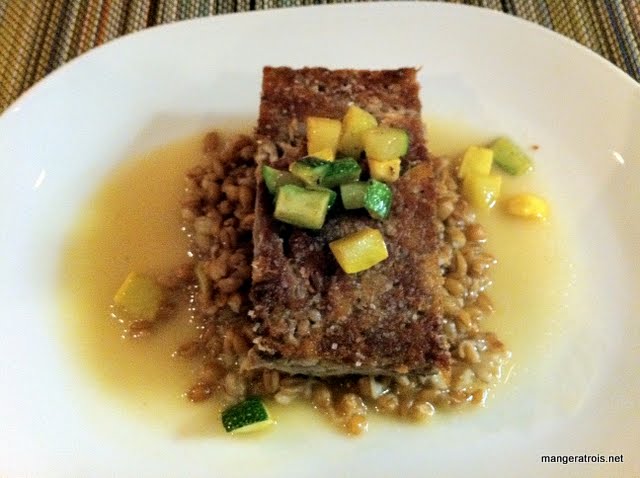 crispy pork shoulder, farro, local squash, jus I normally don't get pork in restaurants since I normally enjoy other meats better, but for some reason this caught my eye on the menu and then kept calling to me.  So I ordered it.  Oh my gosh, it was one of the most amazing things I've ever eaten.  I've tried to describe it to people and this is the best I can come up with.  Imagine a roasted pork shoulder that's so tender it shreds.  Form that shredded pork into a rectangle and pan fry it so it's all nice and crispy.  The it was served on farro, which is a grain, with some squash and jus.  It was amazing.  I want to try to make this at home since it seems like it should be possible.  Although I know it won't be as good as what I got at Julian!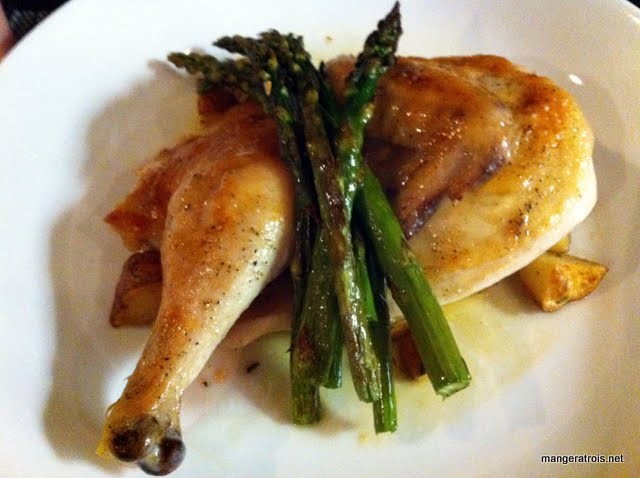 roasted chicken, rosemary potatoes, roasted asparagus Lance also deviated from his usual and ordered chicken.  It was so super tender and moist.  The asparagus was lovely and the potatoes were perfect.  We both would have been happy to lick our plates clean.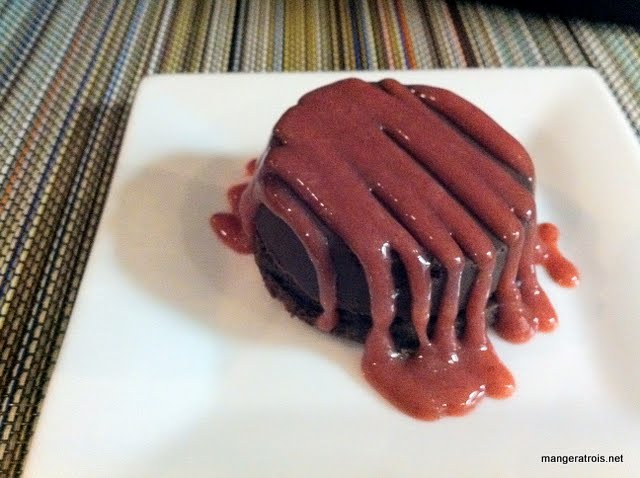 chocolate ganache with strawberry sauce Lance's dessert was like a chocolate brick with a bit of chocolate cake and strawberry stuff on top.  He loved it.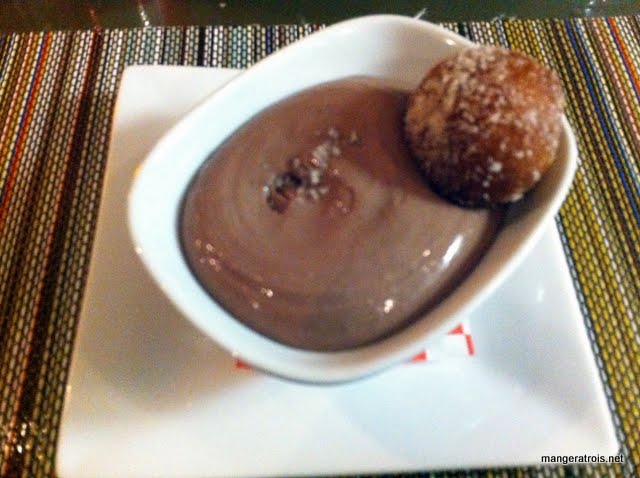 chocolate puddin' with a ginger doughnut This chocolate pudding was rich and chocolaty, like a very good mousse that had all of the airy mousseness mixed out of it.  The ginger donut was a very nice compliment and I would have been happy to eat a bowl three times the size.  It's a good thing I didn't, since the meal as it was was just perfect.  The portions were all lovely and we felt truly sated and pleasant after we finished. 
I would go back to Julian in a heartbeat if I'm ever back in the Kansas City area.  It was such a friendly, homey sort of place.  All of the staff was lovely and attentive.  Our waiter gave us many great suggestions and every morsel we ate was fantastic.  The pricing was also very moderate, we definitely felt that we got our money's worth!
I highly recommend Julian – if I lived in the area I would be eating there on a weekly basis. 
Total price, including tip, with no alcohol: $95
Julian
6227 Brookside Plaza
Kansas City, MO 64113
Reservations: 816.214.8454