St. Elmo Steak House August 2010
Ah, finally.  St. Elmo's.  The meal I wait for all year.  St Elmo's is one of those rare things to find – an independent steakhouse.  It has been operating at the same location since 1902 and has quite a history in Indianapolis.  If you're really lucky you get to eat at the table in the wine cellar.  Lance has been going here at least once a GenCon for the past many years, I consider myself lucky to be included in his tradition. 
We had initially planned to have dinner just with one of our friends, Brian, however we ended up being joined by three other friends as well, Nate, Mike, and Sean.  Good times were had by all, although I wish we hadn't been rushed due to our work schedule!  Six people dine much more slowly than two.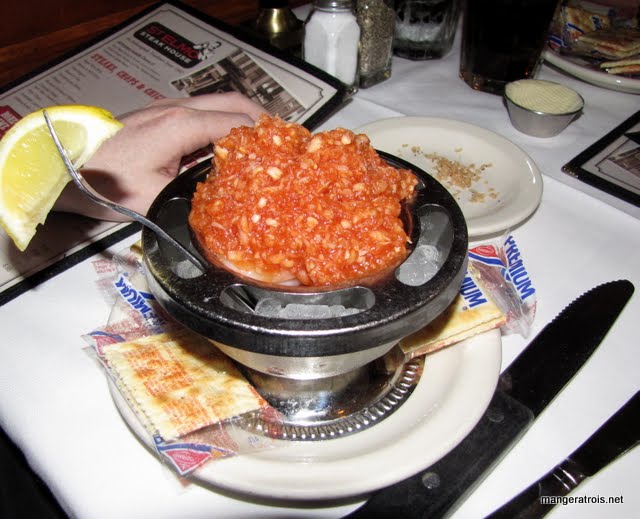 The Shrimp Cocktail.  This is St. Elmo's crowning glory.  You might think you're getting normal, mild cocktail sauce, but this stuff is actually laden with fiery chopped horseradish.  If you need your sinuses cleared out, this is the stuff for you.  I don't eat shrimp, but I always snag a bite or two of the sauce when Lance orders this because I love it.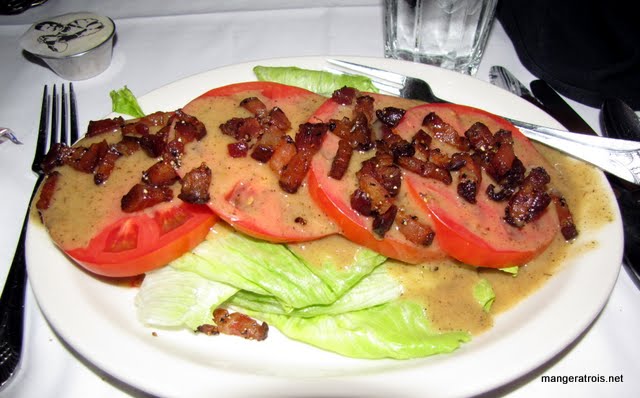 BLT Salad.  This salad comes with bleu cheese but I always ask them to hold it.  I suppose I could also ask them to hold the lettuce since I've never actually gotten around to eating it.  The tomatoes are gorgeous, ripe, summery thick slices topped with thick cut bacon and a great dressing that I'm always trying to replicate.  I think I'm always too busy enjoying the tomatoes to pay much attention to what's in the dressing, though.  Lance and I both ordered this salad and they were both devoured.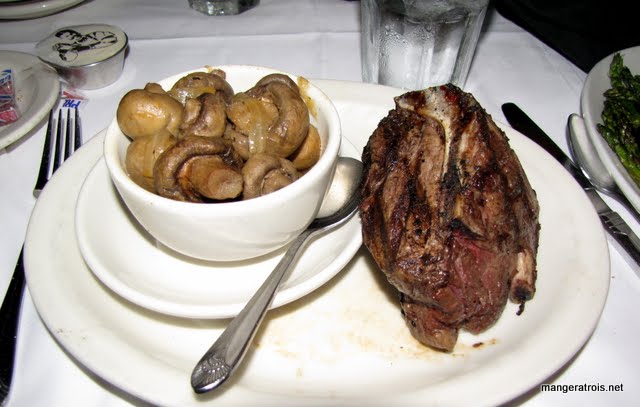 And then there was steak.  The first two times I went to St. Elmo's I ordered the lamb chops.  Then I discovered the Bone-In Filet and it's been Bone-In Filet ever since.  Lance gets this one too.  Mine is shown with a side of mushrooms.  In traditional steak house style the sides are large enough to share with the whole table.  (This filet is 16 ounces, the angle of the photo makes it look smaller than it actually was.)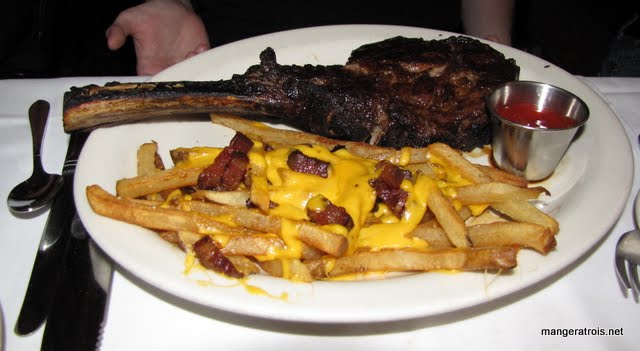 And more steak.  The special of the night was a tomahawk steak which is essentially a huge, Frenched rib eye.  This picture is of Nate's.  He ordered it with loaded French fries.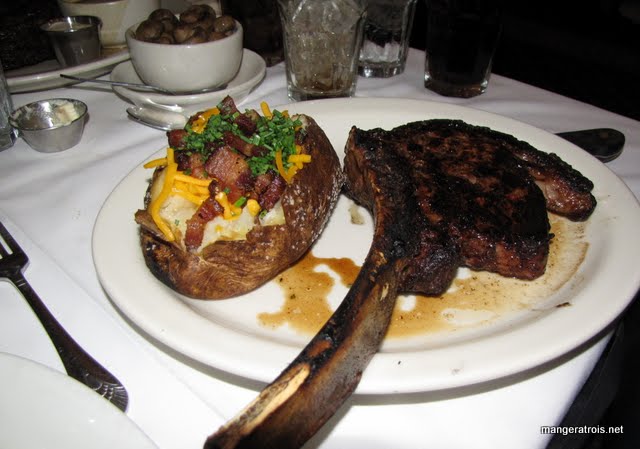 Mike also got the tomahawk.  His came with a loaded baked potato.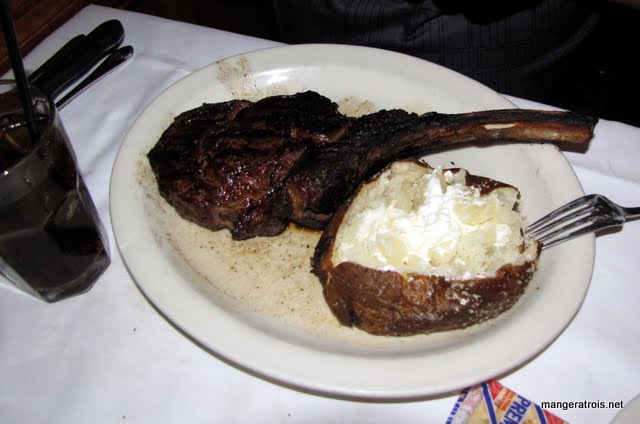 Sean's tomahawk came with a baked potato as well and, since that's the one I got to taste, I'll say that it was delicious.  The meat had a nice, rich flavor yet was tender and juicy.  Definitely a winner.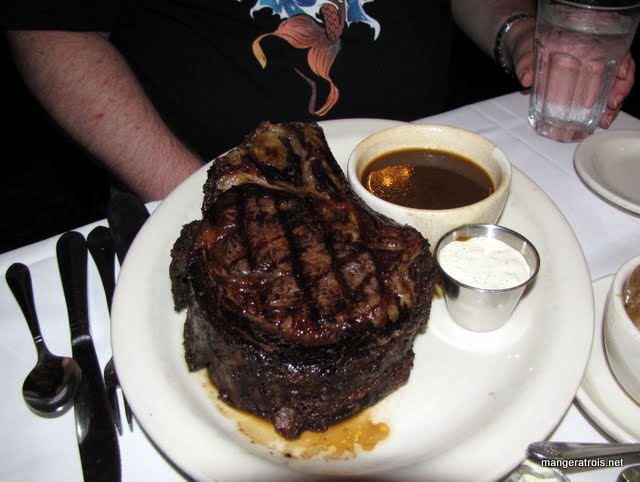 This is Brian's Bone-In Prime Rib.  It's 32 ounces.  In his defense he did ask if there was a smaller cut, but his request was denied.  He managed to eat the whole thing while we watched with astonishment.  I also got a taste and it was phenomenal.  Some day I'd like to attempt prime rib at home.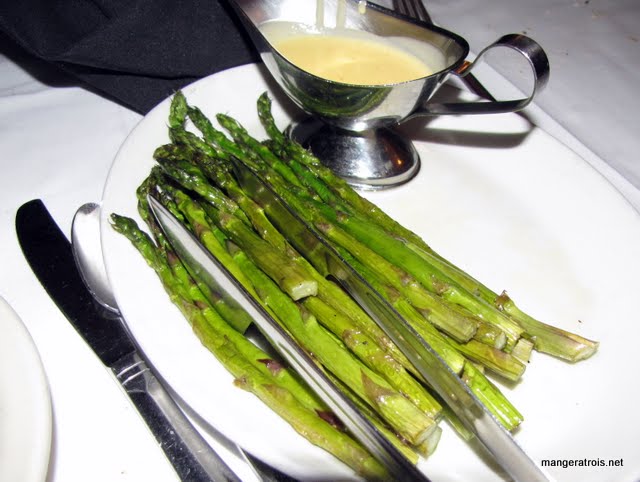 We also ordered asparagus for the table which is one of those vegetables I love and rarely eat at home.  This was done perfectly and the hollandaise sauce was great.  I probably could have eaten the whole platter by myself but, sniff, I had to share.
And then Lance and I had to leave to work while Mike, Sean, and Nate watched Brian finish up his meat.  They were kind enough to deliver chocolate cake to us later, but sadly I neglected to take a picture of it. 
As always, St. Elmo's delivers.  It's one of my favorite places to eat in Indianapolis and I've already started looking forward to next year's feast.  I've you're in the Indy-area, and you love steak, take the time to visit this fantastic restaurant. 
Total price: Unclear
St. Elmo Steak House
127 S. Illinois St.
Indianapolis, IN. 46225
Reservations: 317.635.0636