St. Elmo Steak House August 2011
We saved St. Elmo for Sunday since it was the best day for everyone's schedules.  We went with our frequent dinnermate Brian and another friend, Nicholas.  It was Nicholas's first visit to the great St. Elmo and we were looking forward to indoctrinating him.  We had a great table back in a little alcove of the restaurant so it was relatively quiet for our post-weekend chats and laughter.  There were also windows which make photography a bit easier.  Just want we wanted.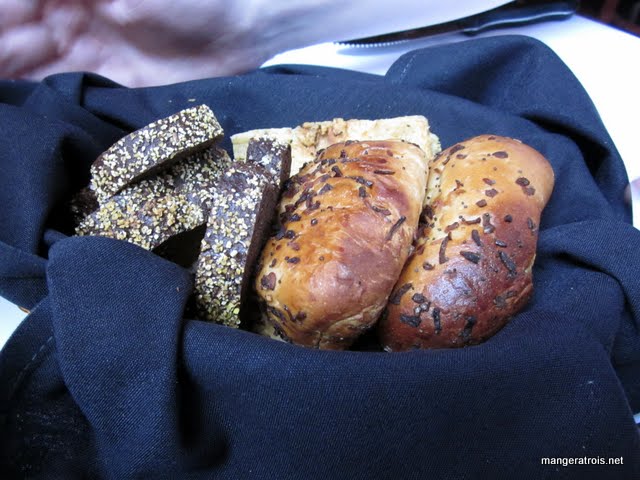 The bread here is awesome.  Nice, dark pumpernickel, onion loaves, and my personal favorite, the cheesy crispy things.  These cheesy crispy things are perfect for dipping in both the cocktail sauce and the navy bean soup.  And if you happen to ask for a basket of just cheesy things, they're happy to comply.  Not that I did this.  Oh no…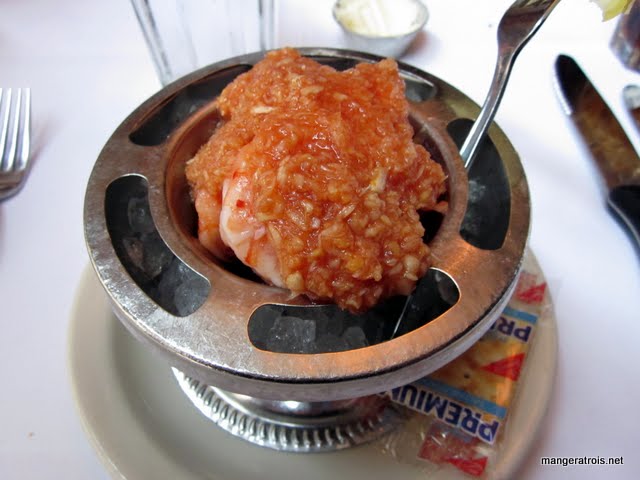 I had a pleasant experience last year.  I found out that I liked shrimp after a lifetime of hating it.  (I OD'd on shrimp as a small child and then hated it forever.  Or until 2011.)  My first thought upon this revelation was "I guess I can get the shrimp cocktail at St. Elmos this year!"  And I did.  So did everyone else at the table.  It's so perfect and horseradishy and I love the way it clears out the sinuses.  I did end up giving my last two (of five) shrimp to Brian since I still don't like shrimp that much, but I'm glad I ordered it.  (The restaurant claims to be the largest restaurant purchaser of shrimp in the US.  All due to their only appetizer.)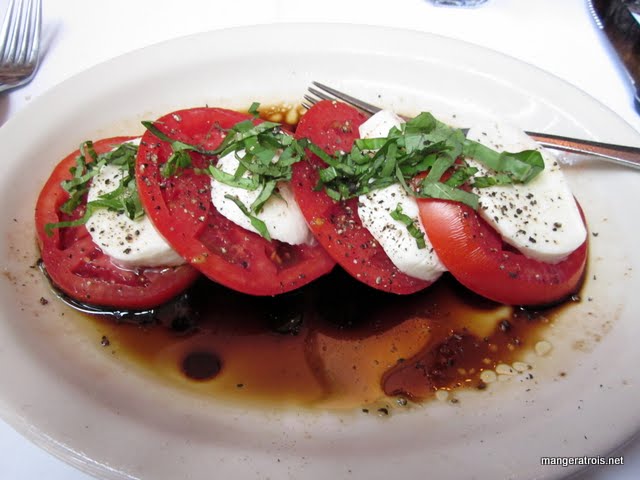 After my sad salad experience at Mo's, I was craving a good Caprese.  Nicholas and I both ordered this and the tomatoes were perfect.  St. Elmo has never failed to give me a perfect tomato and they'll always get props for that.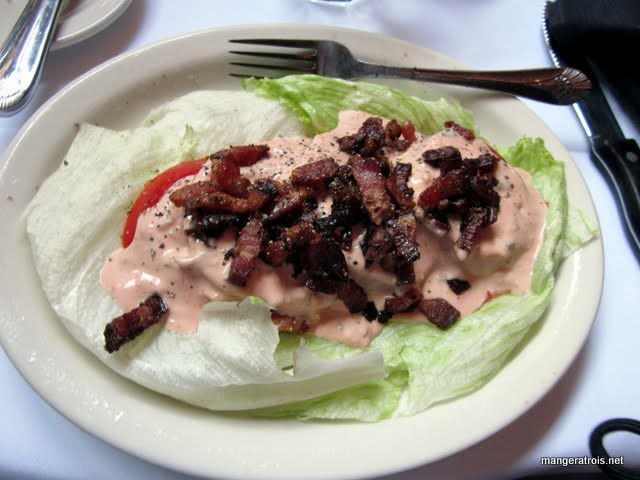 Lance ordered the BLT salad with Thousand Island.  Big chunks of bacon, tomatoes, and iceberg.  It seemed a bit light on the tomatoes, but Lance was happy and that's the important thing.  Their Thousand Island is lovely.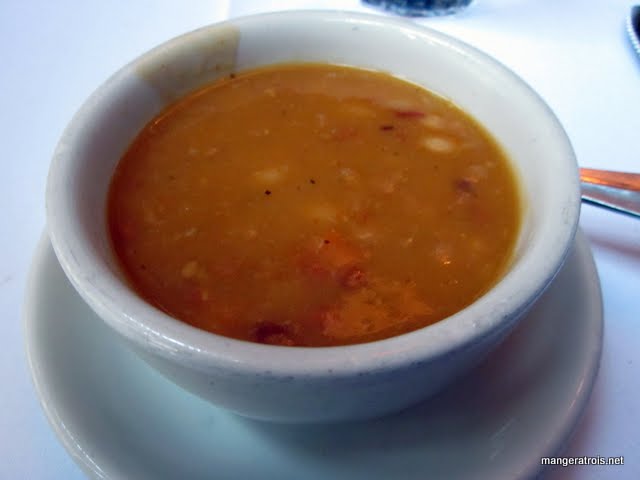 Each steak comes with the option of tomato juice or navy bean soup.  A few of us had the soup and a few of us opted out altogether.  I forget who did what but I think I had the soup which was nice.  I think I saved all of my appetite from the weekend for this meal.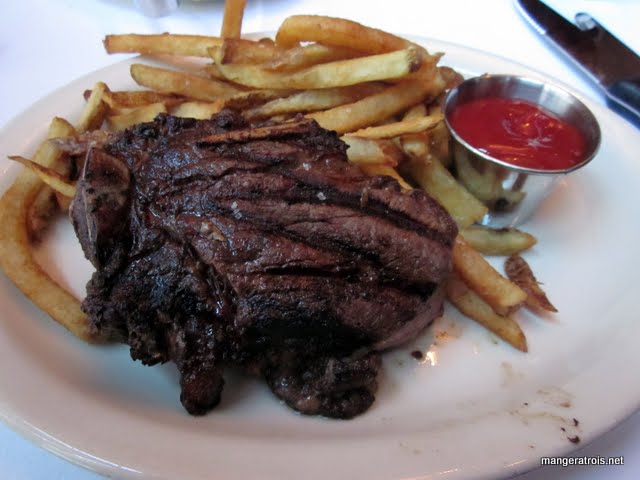 Um.  We all got the bone-in filet mignon.  Yes, it really is that good.  Lance got fries with his.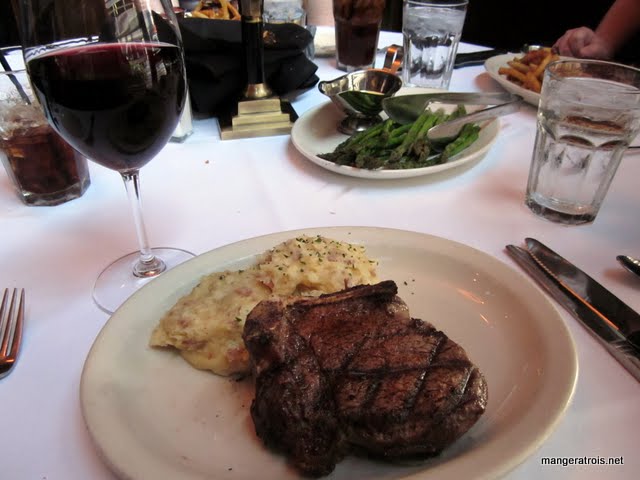 Brian got mashed potatoes with his.  He also wanted to show off his glass of wine with his picture – no idea what type it is, but he seemed happy with it.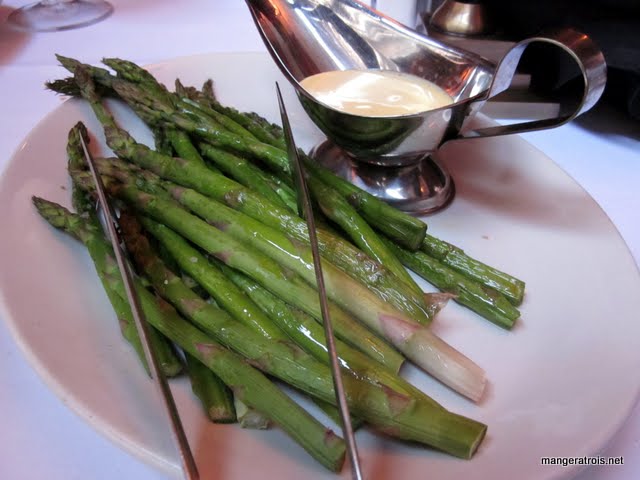 Brian and I shared asparagus with hollandaise.  I love asparagus.  I loved this asparagus.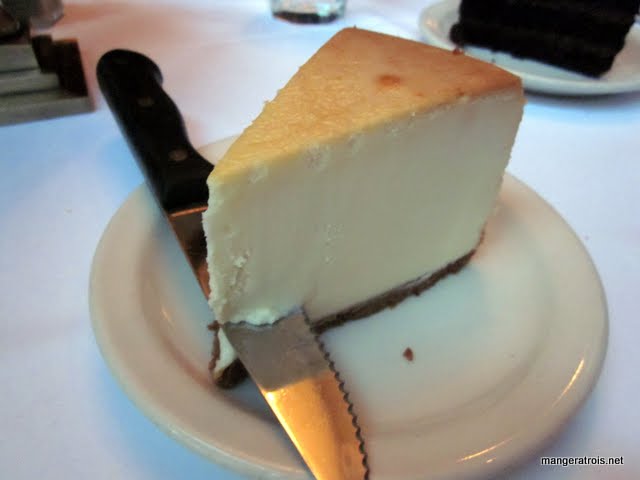 Some shifting of chairs was done since Nicholas and I decided to share a slice of cheesecake.  Thank goodness I didn't try to eat a piece on my own since that would have been a recipe for disaster.  It was creamy, rich, awesome.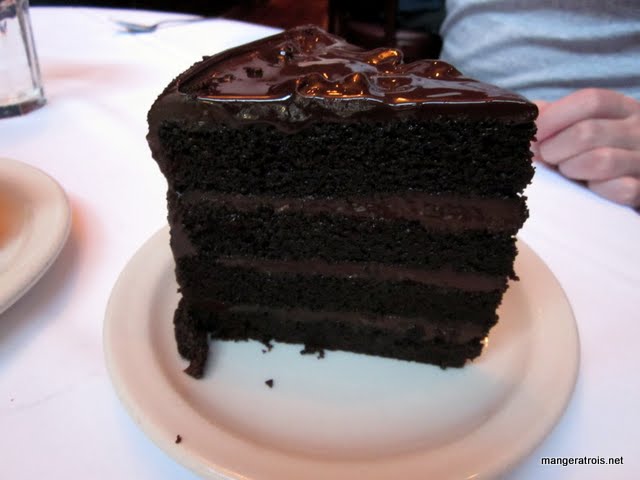 And, of course, Lance had chocolate cake.  Which I didn't get a picture of last year so here you go if you've been waiting.  It's huge. 
As always, the service was fantastic and knowledgeable.  I'm glad St. Elmo is a GenCon tradition for us.  It's a place I look forward to every year and I'm grateful that we're able to go.  It was also neat to get to introduce a friend to the place; hopefully we turned him into a true believer. 
Total price: Unknown and I don't want to think about it since there were FOUR of us. 
St. Elmo Steak House
127 S. Illinois St.
Indianapolis, IN. 46225
Reservations: 317.635.0636