The Oceanaire Seafood Room August 2011
Oceanaire was one of the new restaurants I picked for GenCon 2011.  It's almost sacrilege in my household to admit this, but I get tired of steakhouses.  For some reason Indy has quite a few of them and not many restaurants with other cuisines!  I picked Oceanaire since I thought it would be a nice change and a good place for Lance and I to celebrate our 5th GenCon together.  I admit that I was a little nervous to try a fish place in Indianapolis, Indiana, but I'm really glad we did try it out.  We were joined for this meal by our great friend Brian. 
The menu changes often and Lance was smart enough to grab me a printout on our way out since all three of us ordered daily specials.  Thanks, Lance!  None of us were particularly hungry, so we dove straight into the entrees, skipping appetizers even though there were tons of delicious ones on the menu.  I'd love to eat here again when I had a raging appetite.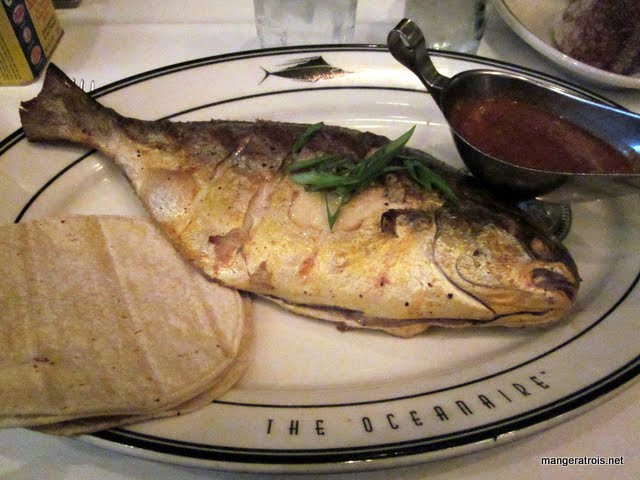 Whole Grilled Florida Pompano Charred Tomato Salsa, Tortillas & Lime
I had never had Pompano before, but it's hard for me to pass up the very rare occasions when I get to order a whole fish.  I'm glad that I was trained in the eating of a whole fish many years ago so that I didn't make too much of a fool of myself! 
The fish was extremely delicate and the whole entrée was the chef's take on a fish taco.  Due to my appetite, I mainly just ate the fish but everything was grand.  I was surprised at how delicate the fish was, both in texture and flavor.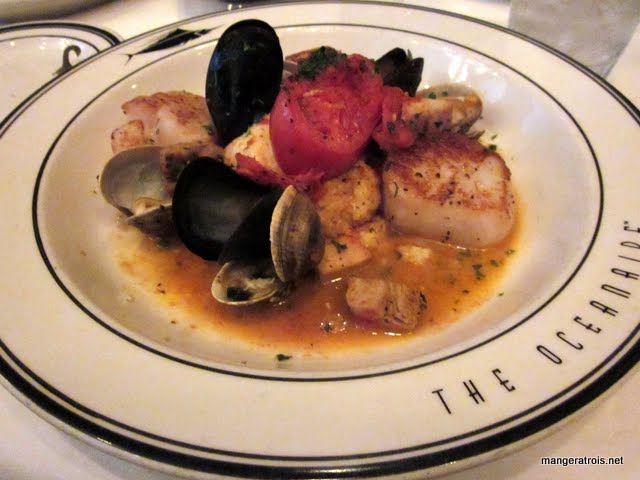 Maine Diver Scallops Manila Clams, Black Mussels, Tomatoes, Cheddar Grits & Roasted Pork Shank
Brian loves shellfish.  He's a weirdo, it's true.  He thought the scallops were great, no hint of sandiness in any of the shellfish, cooked to perfection.  The grits with pork were also great and the pork really dissolved into the grits.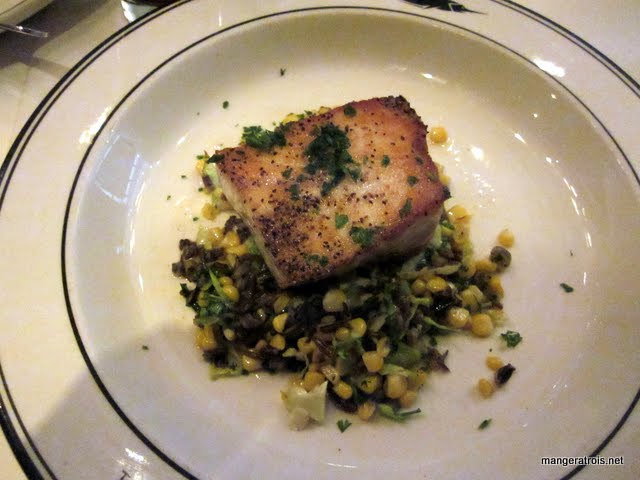 Pan Roasted Pacific Opah Shredded Brussels Sprouts, Wild Rice, Indiana Corn, & Lemon Brown Butter
Lance, in my opinion, was the winner of the meal.  None of us had ever tried Opah before and it was great.  The texture was sort of similar to tuna, but the flavor was a bit sweet and just amazing.  If I ever see this fish on a menu again, I'll order it without a second thought!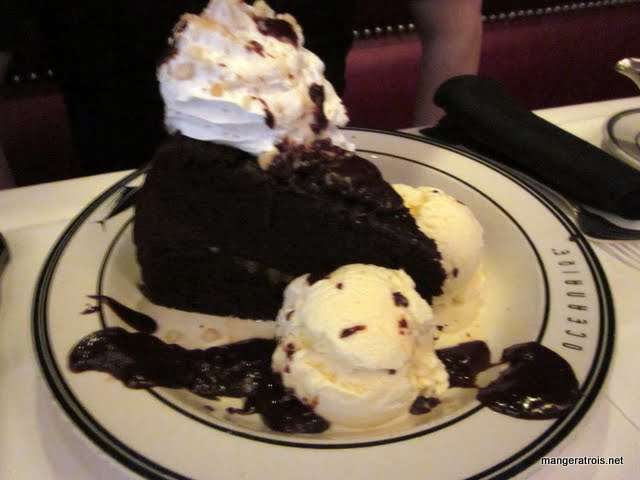 Lance apparently had more of an appetite than the rest of us, or he just can't pass up a good chocolate cake when he sees one.  This was one of those huge slices of chocolate cake and he enjoyed it immensely even though he couldn't finish it!  I ordered chocolate mousse to go, but this was a mistake since I didn't have time to eat it once I got back to work.  Oops. 
This was a great dining experience and I'd love to go back.  I might even get the chance sooner than August 2012 since it turns out there's one in both Baltimore and Washington.  How nice!  Great food, great service, and just an enjoyable experience overall.  Apparently seafood in Indiana can be great thanks to Fedex!
Total price: Unknown
The Oceanaire Seafood Room
30 South Meridian Street
Indianapolis, IN 46204
Reservations: 317.955.2277