Greek Cherry Tomato Salad
Ingredients
2 pints cherry tomatoes, quartered
Table salt
1⁄2 teaspoon sugar
2 cloves garlic, minced
1⁄2 teaspoon dried oregano
1 medium shallot, minced
1 tablespoon red wine vinegar
2 tablespoons olive oil
Ground black pepper
1 small cucumber, peeled, seeded, and cut into 1⁄2-inch dice
1⁄2 cup capers, rinsed and drained
4 ounces feta cheese, crumbled
3 tablespoons fresh parsley, chopped
Instructions
1. Toss tomatoes, 1⁄4 teaspoon salt, and sugar in medium bowl and let stand for 30 minutes. Transfer tomatoes to salad spinner and spin until seeds and excess liquid have been removed. Return tomatoes to bowl and set aside.
2. Bring tomato liquid from salad spinner, garlic, oregano, shallot, and vinegar to simmer in small saucepan over medium heat. Simmer until reduced to 3 tablespoons, 6 to 8 minutes. Transfer mixture to small bowl and cool to room temperature, about 5 minutes. Whisk in oil and pepper to taste until combined. Taste and season with up to 1⁄8 teaspoon table salt.
3. Add cucumber, capers, feta, dressing, and parsley to bowl with tomatoes then toss gently and serve.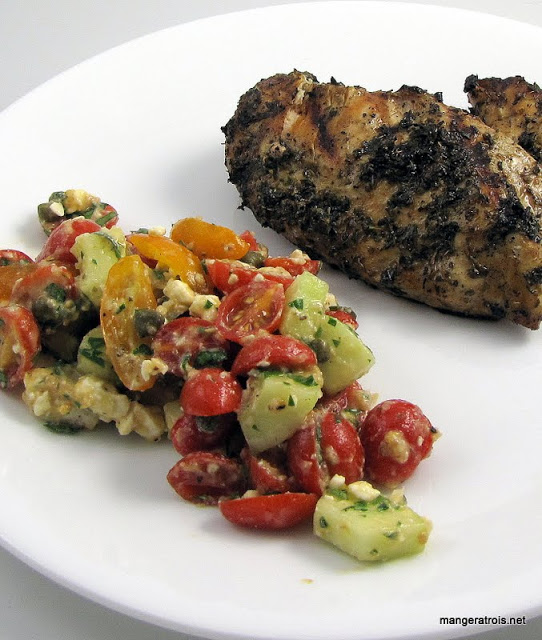 Comments
This recipe is from Cook's Illustrated 2008 and it was delicious!  But I love anything with cucumbers and tomatoes like this, so it's no surprise that I loved every bit.  The original recipe called for olives, but I used capers instead.  Yum. 
Shown here with Grilled Chicken with Garlic and Herb Marinade.