Shanghai Chicken Salad
Ingredients
1⁄2 cup rice vinegar
3 tablespoons plus 1⁄3 cup soy sauce
1⁄3 cup hoisin sauce
1 1⁄2 tablespoons fresh ginger, grated or minced
1⁄4 cup sesame oil
3-4 boneless, skinless chicken breasts
Salt and pepper
1⁄2 head Napa or Chinese cabbage, shredded
1 red bell pepper, stemmed, seeded, and thinly sliced
1 bunch green onions, thinly sliced on diagonal
1 cup chow mein noodles
Instructions
1. Whisk vinegar, 3 tablespoons soy sauce, hoisin sauce, ginger, and sesame oil together in medium bowl. Place chicken in single layer in Dutch oven. Pour 1⁄2 cup vinegar mixture over chicken breasts; reserve remaining vinegar mixture to use as dressing. Add remaining 1⁄3 cup soy sauce and 3 cups water to pot. Bring to boil over high heat. Cover, reduce heat to low, and simmer chicken until cooked through, 7 to 10 minutes.
2. Transfer chicken to plate, cover, and refrigerate until cool enough to handle. Shred chicken into long, thin strands using two forks or fingers.
3. Transfer chicken to large serving bowl, toss with 2 tablespoons dressing, and season with salt and pepper. Add cabbage, bell pepper, green onion, and remaining dressing and toss to combine. Sprinkle with chow mein noodles and serve.
Note: I recommend only topping it with chow mein noodles when ready to serve.  If you top the leftovers before refrigeration, they'll get soggy.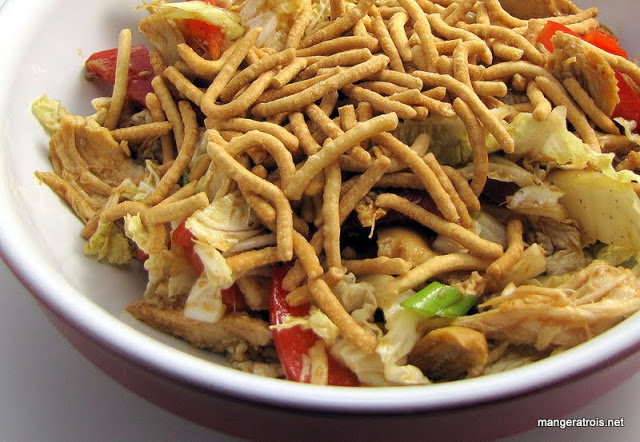 Comments
This recipe is another winner from Cook's Country 2005.  I may have gone slightly overboard on the chow mein noodles in this picture, I love them.  This salad was really scrumptious.  I claimed all the leftovers.  The sauce was very flavorful and I loved the veggies and the crunch of the salad.  It's also really nice to see an Asian chicken salad recipe that doesn't involve peanut butter, they're few and far between. 
Yum.
Cook's Country 2005