Lemony White Bean, Tuna, and Arugula Salad
Ingredients
1 teaspoon lemon zest
3 tablespoons lemon juice
1 tablespoon maple syrup
3 tablespoons olive oil
Kosher salt and freshly ground black pepper
6 ounces arugula
1 (15 ounces) can cannellini beans, drained and rinsed
1⁄2 small red onion, thinly sliced
3 tablespoons capers, drained and rinsed
12 ounces tuna in olive oil, flaked into small pieces
Instructions
1. In large salad bowl, stir together lemon zest, juice, and maple syrup.  Stir or whisk until oil is incorporated.  Season with 1⁄2 teaspoon salt and 1⁄4 teaspoon pepper. 
2. Add arugula, beans, red onion, capers, and tuna, tossing well to combine. Check for seasoning and add extra salt and pepper to taste.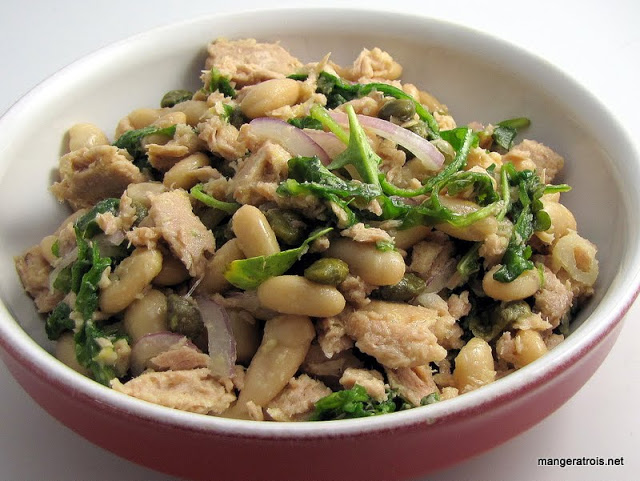 Comments
This recipe is from Weeknights with Giada.  I made it to have for lunches one week, since I tend to prefer lighter, salad-type meals for lunches.  I didn't take this picture right away, and the arugula wilted significantly due to the acid in the dressing by that point.  If this bothers you, I'd wait to add the arugula just before serving each portion to preserve its structure. 
I thought this salad was great.  The lemony dressing was delicious and I loved the flavors and textures from all the ingredients.  Another win from Giada.
Weeknights with Giada