Wheat Berry Salad with Orange Dijon Vinaigrette
Ingredients
2 cups wheat berries
Salt
1 small red onion, diced
1⁄2 pound tomatoes, diced
1⁄2 cup fresh parsley, minced
For the dressing
Zest of 1 orange
Juice of 1 orange
1 tablespoon Dijon mustard
2 tablespoons white wine vinegar
3 cloves garlic, minced
1 cup olive oil
Salt and freshly ground black pepper
Instructions
1. Place wheat berries in dry skillet over medium-high heat.  Toast, stirring constantly, until the grains pop and deepen in color, about 4 minutes. 
2. Place wheat berries in rice cooker bowl and cover with hot water; let soak in machine for 1 hour.  Drain wheat berries and return them to rice cooked.  Add 4 cups water, 2 pinches salt and stir to combine.  Close machine and set for brown rice or regular cycle. 
3. When machine finishes cooking, let wheat berries steam in cooker for 15 minutes before removing to bowl to cool. 
4. Once wheat berries have cooled, stir in red onion, tomatoes, and parsley.  (Amounts given are a guideline, as always, especially with salads!) 
5. Whisk together dressing ingredients or blend together using immersion blender.  Working 1⁄4 cup at a time, add dressing into salad, stirring and tasting after each addition.  Dress to you tastes, reserve any leftover dressing for another use.  (I used all of the dressing, but tastes vary.)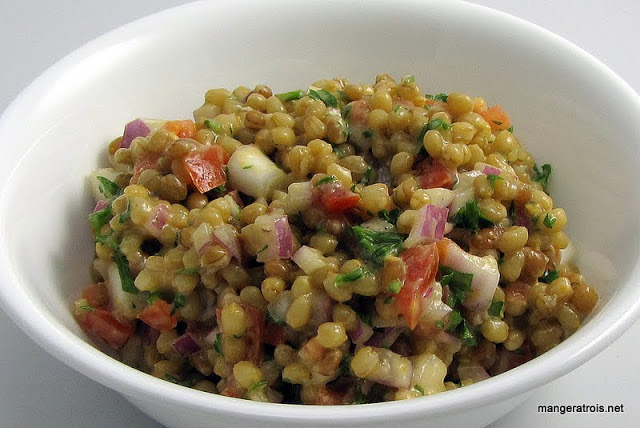 Comments
This recipe is inspired by a suggestion in The Ultimate Rice Cooker Cookbook.  (There's a new revised and updated version!  I love this book!)  This is the first time I've ever made wheat berries, I didn't even know they existed until a friend mentioned them on Facebook and then I ordered a bunch from Amazon. 
They are great!  They've got a nice bite to them, fantastic texture, and really great flavor as well.  I served this salad as a side dish for a meal and then had it by itself for lunches the next few days.  It's delicious and I look forward to experimenting more with wheat berries in the future!
Person - Gwen