Caesar Salad
Ingredients
For the croutons
4 tablespoons olive oil
1 clove garlic, minced
5 cups ciabatta bread, cut into 3⁄4 inch cubes (or similar crusty bread)
1⁄4 cup water
1⁄4 teaspoon table salt
2 tablespoons Parmesan cheese, finely grated
For the salad
2 cloves garlic, minced
2 tablespoons lemon juice
1⁄2 teaspoon Worcestershire sauce
6 anchovy fillets patted dry with paper towels, minced fine, and mashed to paste with fork
2 large egg yolks
5 tablespoons canola oil
5 teaspoons olive oil
1 1⁄2 ounces Parmesan cheese,  finely grated
Freshly ground black pepper
2-3 romaine hearts, cut crosswise into 3⁄4-inch-thick slices, rinsed, and dried very well (8 to 9 cups total)
Instructions
1. Combine 1 tablespoon oil and garlic paste in small bowl; set aside. Place bread cubes in large bowl. Sprinkle with water and salt. Toss, squeezing gently, so bread absorbs water. Place remaining 4 tablespoons oil and soaked bread cubes in 12-inch nonstick skillet. Cook over medium-high heat, stirring frequently, until browned and crisp, 7 to 10 minutes.
2. Remove skillet from heat, push croutons to sides of skillet to clear center; add garlic-oil mixture to clearing and cook with residual heat of pan, 10 seconds. Sprinkle with Parmesan; toss until garlic and Parmesan are evenly distributed. Transfer croutons to bowl; set aside.
3. For the salad: Whisk garlic paste and 2 tablespoons lemon juice together in large bowl. Let stand 10 minutes.
4. Whisk Worcestershire sauce, anchovies, and egg yolks into garlic-lemon juice mixture. While whisking constantly, drizzle canola oil and extra-virgin olive oil into bowl in slow, steady stream until fully emulsified. Add Parmesan and pepper to taste; whisk until incorporated. (You can also blend all of this stuff with an immersion blender.) 
5. Add romaine to dressing and toss to coat. Add croutons and mix gently until evenly distributed. Taste and season with up to 1 additional tablespoon lemon juice. Serve immediately.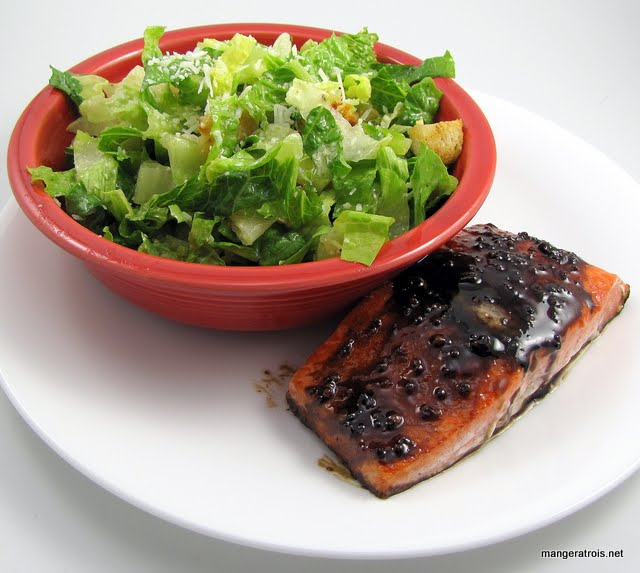 Comments
This recipe is from the Cook's Illustrated 2011 Annual.  I thought it was quite good, although I would advise serving the croutons on the side at the table instead of mixing them into the salad.  That way they'll stay crispy if you have leftovers. 
Shown here with Pomegranate-Balsamic Glazed Salmon.
Cook's Illustrated 2011