Greek Chicken Salad
Ingredients
For the chicken
3-4 boneless, skinless chicken breasts
1⁄2 cup olive oil
4 tablespoons lemon juice
2 tablespoon lemon zest
4 cloves garlic, minced
Salt and freshly ground black pepper
For the tzatziki dressing and salad
1 cup plain Greek yogurt
2 teaspoons olive oil
1 teaspoon lemon juice
2 cloves garlic, minced
2 teaspoons fresh dill, minced
2 cups tomato, chopped
1 small red onion, diced
2 cups cucumber, chopped
6 ounces feta, crumbled
Salt and freshly ground black pepper
Instructions
1. 30 minutes to 2 hours before serving, season chicken with salt and pepper.  Place in a zip-top bag or shallow container and cover with marinade ingredients.  Refrigerate for 30 minutes to 2 hours. 
2. While chicken is marinating, combine dressing and salad ingredients in large bowl.  Refrigerate until ready to serve. 
3. Heat grill, grill pan, or skillet to medium high heat and cook chicken until done, about 5 to 10 minutes per side depending on thickness of breasts.  Remove to cutting board and let rest until cool enough to cut.  Cut chicken into small cubes and then toss with salad. 
4. Serve on pitas, toast, or just eat out of a bowl with a spoon.
Note: This salad can be a little wet, so consider serving it with a slotted spoon.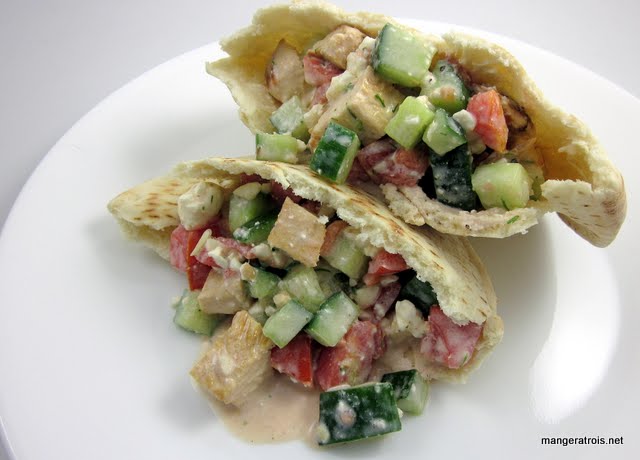 Comments
This recipe is from How Sweet It Is and reminded me quite a bit of my Falafel and Tzatziki Salad.  It was one of those meals that I thought "I will love this and Art and Lance will tolerate it."  Surprisingly, we all loved it quite a bit!  I served it with pita and we devoured the salad both at dinner and then with the few leftover servings that were left.  This is a super tasty salad and it was a great way to use some of the last tomatoes and cucumbers of the year. 
You could easily make this vegetarian by replacing the chicken with garbanzo beans.
Internet - How Sweet It Is