Salmon with Quinoa and Toasted Seeds
Ingredients
3 cups vegetable broth or water
1 cup quinoa, rinsed well
6-8 ounces baby spinach
4 (6-ounce) salmon fillets, skin removed and diced
6 tablespoons olive oil
4 celery stalks, finely chopped
1 onion, finely chopped
4 tablespoons parsley, finely chopped
4 tablespoons cilantro, finely chopped
4 tablespoons mint leaves, finely chopped
6 tablespoons sunflower seeds
6 tablespoons pumpkin seeds (The raw green sort, also known as pepitas.)
3 tablespoons sesame seeds
Salt and pepper
1-2 pinches red pepper flakes
2 tablespoons sugar or honey
Greek yogurt, for serving
Instructions
1. Bring water or broth to boil in medium saucepan.  Add quinoa and reduce heat to low.  Cover and simmer until liquid has been absorbed, about 20 minutes.  Place spinach on top of quinoa and cover to steam while preparing the rest of the meal. 
2. Heat 2 tablespoons oil in skillet over medium heat.  Add salmon and cook, stirring occasionally, until cooked to your liking.  Remove to plate. 
3. Add remaining 4 tablespoons oil to large skillet and heat.  Add celery, onion, parsley, cilantro, and mint.  Cook, stirring constantly, until onions begin to soften, about 5 minutes.  Add all seeds, salt, pepper, and red pepper flakes.  Continue cooking 2 minutes.  Add sugar or honey and stir well.  Add salmon, quinoa and spinach to skillet and stir well to heat. 
4. Serve and top with dollop of yogurt, if desired.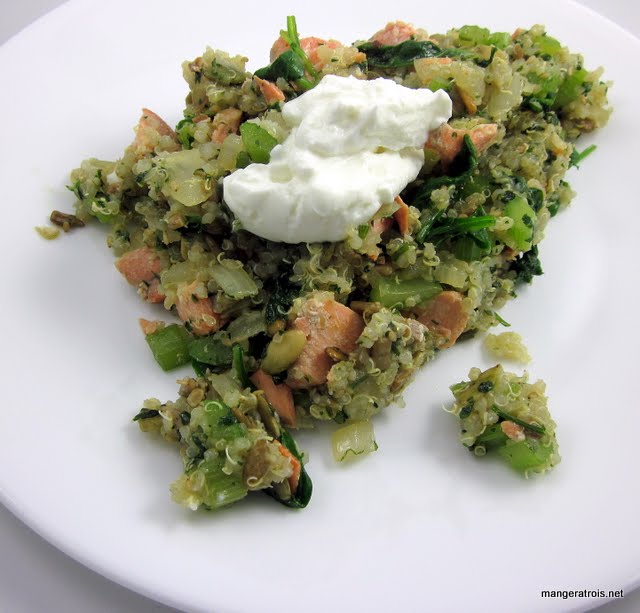 Comments
This recipe is from Holly and Rose and it's one of those that I was totally looking forward to.  Sadly, it was a flop and I'm not sure why.  At first I thought that it could have just used some acid, like lemon juice, but I added lemon juice to leftovers the next day and it was insufficient to make everything taste good.  I really like all the ingredients in this dish, so I'm not sure where it went wrong, but it just wasn't that great.  Oh well - can't win them all.
Internet - Holly and Rose