Risotto with Cabbage, Lemon, and Parsley
Ingredients
2 tablespoons unsalted butter
3 tablespoons olive oil
1 onion, chopped
3⁄4 pound cabbage, cored and thinly sliced
Salt and freshly ground black pepper
1 1⁄2 cups arborio rice
1⁄2 cup white wine
4 cups chicken broth
1⁄4 teaspoon lemon zest
2 tablespoons Italian parsley, minced
1⁄4 cup Parmesan cheese, grated
Instructions
1. Heat butter and 2 tablespoons oil in Dutch oven set over medium heat.  Add onion and sauté until soft, stirring.  Add cabbage, season with salt and pepper, and toss to coat.  Cover and cook until cabbage is tender, about 15 minutes.  Check occasionally to make sure cabbage isn't burning and adjust heat as necessary. 
2. Add rice and cook, stirring, until rice is opaque and well coated. 
3. Add wine and cook, stirring, until all wine has evaporated or is absorbed. Working with 1⁄2 cup at a time, add chicken broth.  After each addition, stir often and continue stirring often until each addition is completely absorbed into rice.  This should take around 20 minutes and, at the end, the rice should be tender.  If more liquid is necessary, use water. 
4. When rice is cooked, add remaining tablespoon olive oil, lemon zest, parsley, and cheese.  Stir well then taste and adjust seasoning if necessary.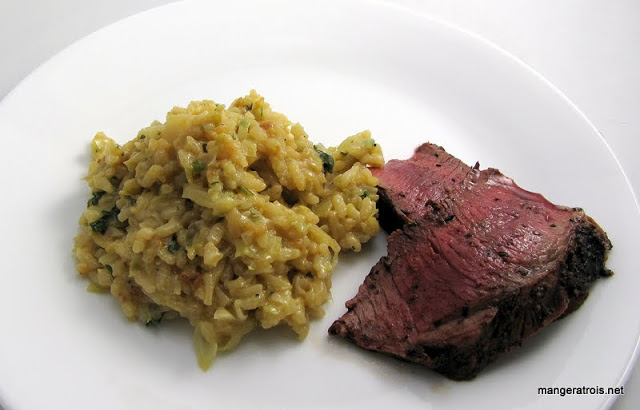 Comments
This recipe is from Fresh from the Farmers' Market.  I had a small cabbage to use up from the market and found this recipe through Eat Your Books.  It was quite tasty!  The lemon flavor was subtle but notable. 
Shown here with Grilled Leg of Lamb.