Breakfast Fried Rice
Ingredients
1 pound thick sliced bacon, cut into pieces
3-4 cups cold cooked rice
6 eggs
1 bunch green onions, sliced
2 tablespoons soy sauce
2 tablespoons rice vinegar
1 tablespoon sesame seeds
Salt and freshly ground black pepper, to taste
Instructions
1. Heat large skillet over medium heat.  Add bacon and cook, stirring often, until crisp.  Drain bacon in sieve set over bowl. 
2. Return 2 tablespoons bacon fat to skillet and heat over high heat.  Add rice and cook, stirring, until heated through, breaking up any clumps, about 5 to 10 minutes.  Crack eggs into skillet and continue stirring to distribute and cook eggs. 
3. Add green onion, soy sauce, rice vinegar, and sesame seeds.  Stir to combine then taste for seasonings and add salt and pepper if necessary.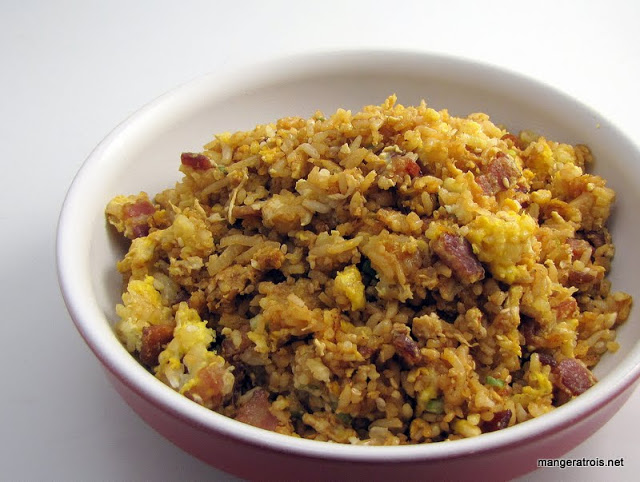 Comments
I make a silly version of fried rice from time to time just with leftover rice and eggs.  Art mentioned that he occasionally gets breakfast fried rice at one of the airports he travels through and that inspired me to make this for us one lazy weekend morning.  We both greatly enjoyed this as a breakfast but he requested that I add more veggies next time such as broccoli, peas, and red bell peppers.  Definitely a nice bowl of yum to start a day with!
Person - Gwen