Ingredients
1⁄2 cup ketchup
1⁄3 cup Worcestershire
1⁄3 cup apple cider vinegar
1 tablespoon ground mustard
1 tablespoon garlic powder
1⁄2 teaspoon paprika
1⁄4 cup brown sugar
1⁄2 teaspoon liquid smoke
Dash red chili pepper flakes
Pinch salt and pepper
1 medium sweet onion, chopped
3 pounds boneless pork shoulder, trimmed of fat
Instructions
1. Combine all ingredients except for onion and pork into crock pot. Stir until well blended.
2. Place pork and onions into mixture, coating both sides of meat.
3. Cook for 8 to 10 hours on LOW.
4. After meat is cooked break apart with fork and stir well to coat with sauce.  
5. Serve on hamburger buns or Kaiser Rolls.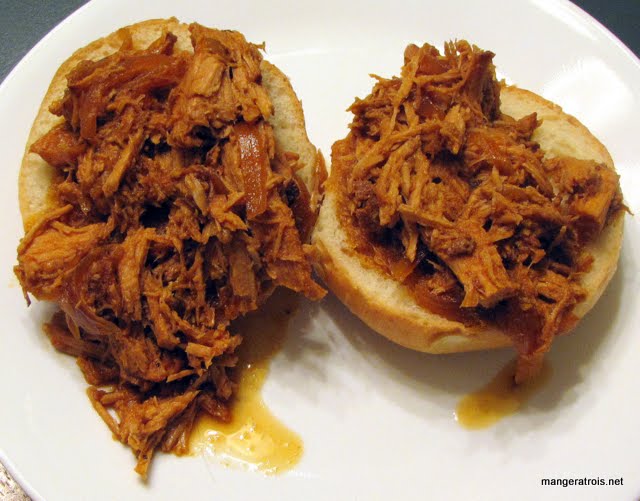 Comments
I'm still looking for the perfect pulled pork recipe in the slow cooker.  This could have been the one, although it was a bit too vinegary for my tastes.  Most slow cooker pulled pork recipes call for jarred bbq sauce which, in a pinch, is great, but I'm still hoping for a better from scratch option.  I found this recipe at squidoo.com.
Internet - Squidoo