Honey Butter Pork Tenderloin
Ingredients
4 tablespoons butter
1 1⁄2 pounds pork tenderloin, trimmed
1⁄2 teaspoon Cajun seasoning (I used Emeril's Essence which seemed close enough.)
1⁄2 teaspoon black pepper
2 tablespoons honey
1⁄4 cup water
Instructions
1. Preheat oven to 375*F. 
2. Heat butter in a large ovenproof skillet over medium heat.  Season the pork tenderloin with Cajun seasoning and black pepper.  Place pork in the skillet and brown for 5 minutes on each side. 
3. Add honey to skillet and roast for 7 to 10 minutes or until pork is fully cooked.  Transfer pork to a plate and cover with foil to rest. 
4. Return skillet to burner set to medium heat.  Add water and simmer, stirring, until sauce is reduced to 1⁄2 cup.  Slice pork and serve with sauce.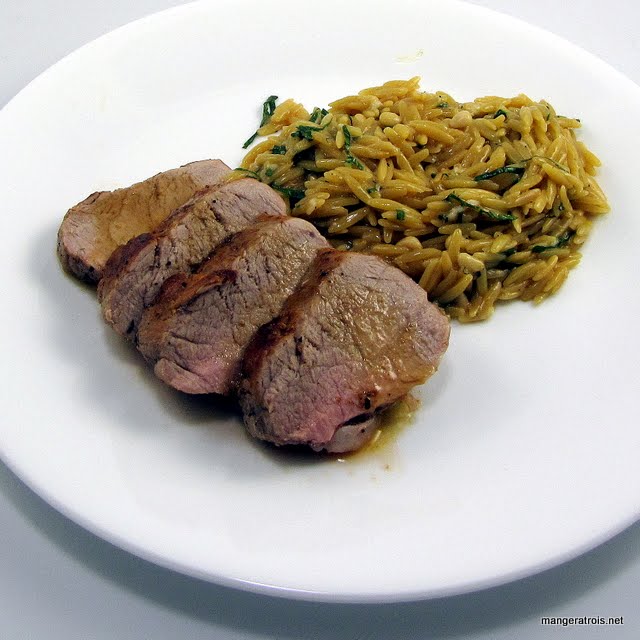 Comments
This recipe is from Momma Hen's Kitchen although the original recipe wasn't very clear so I had to fill in some gaps to get something that I thought would work well.  This was delicious, the pork was nicely cooked and the sauce was flavorful.  It wasn't super sweet, just the right amount, and fantastic butter flavor.  It's very easy to double the recipe if your pork tenderloins come in two packs like mine do. 
Shown here with Creamy Parmesan Orzo.
Internet - Momma Hen's Kitchen