Maple-Mustard Pork Chops
Ingredients
4 (6-ounce) bone-in center-cut pork chops
1⁄2 teaspoon salt
1⁄4 teaspoon freshly ground black pepper
1 tablespoon olive oil
1 tablespoon butter
2 tablespoons shallots, finely chopped
1⁄4 cup chicken broth
2 tablespoons Dijon mustard
2 tablespoons maple syrup
2 tablespoons parsley, finely chopped
Instructions
1. Season both sides of pork with 1⁄4 teaspoon each salt and pepper. 
2. Heat oil in large skillet over medium-high heat.  Add pork to pan; cook 3 minutes on each side or until almost cooked through.  Remove from pan and keep warm. 
3. Return pan to medium-high heat.  Melt butter in pan.  Add shallots and sauté 3 minutes of until tender and translucent.  Add broth, bring to a boil, and cook 1 minute.  Stir in mustard, syrup, and remaining 1⁄4 teaspoon salt.  Cook 1 minute or until beginning to thicken.  Return pork to pan and cook 1 minute on each side or until fully cooked and heated through.  Serve pork with sauce.  Garnish each serving with parsley.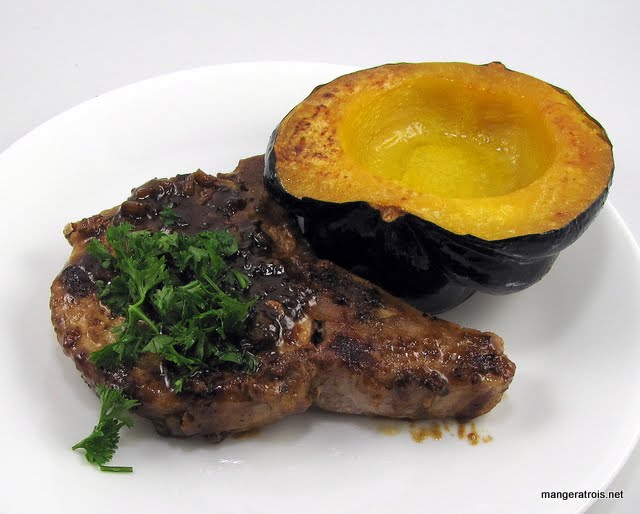 Comments
This recipe is from Cooking Light via the blog Culinary Covers.  We're not big pork chop lovers, but I had a few in the freezer that needed to be used up.  While I'm still not a lover of pork chops, I did think this was a tasty recipe.  The sauce was flavorful and I might use it in the future for other cuts of pork. 
Shown here with Roasted Acorn Squash.
Cooking Light