Slow Cooker Char Siu
Ingredients
1⁄4 cup soy sauce
1⁄4 cup hoisin sauce
2 teaspoons Chinese five spice powder (McCormick makes one that can be found in the spice aisle of most grocery stores.)
1 tablespoon fresh ginger, minced
3 cloves garlic, minced
1 teaspoon sriracha
1 teaspoon sesame oil
3 pounds pork loin
Instructions
1. Mix soy sauce, hoisin sauce, five spice powder, ginger, garlic, sriracha and sesame oil in slow cooker.  (Feel free to skip the mincing and do this all with your immersion blender.) 
2. Place pork in slow cooker, on top of sauce, and turn to coat.  Cook on LOW for 8 hours. 
3. Leaving pork in slow cooker, shred with two forks and stir well to coat with sauce.  Serve with Green Onion Pancakes.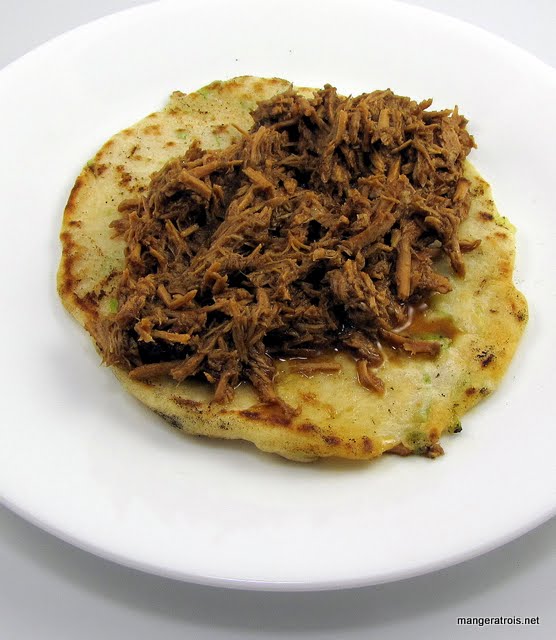 Comments
This recipe is from The Cast-Iron Darling, another great blog.   It's funny that we're not super huge fans of cow cooked in the slow cooker, but pig is awesome.  Pork lends itself well to the shredded meat results that the slow cooker yields.  The flavor of this meat was great and we all enjoyed it quite a bit. 
I would make a few changes next time, but just minor ones.  The meat and the pancakes were both great, but it would have been nice to have some green crunchy things to go along with the dish.  I'll be serving this with some combination of shredded cabbage, sliced green onions, and sliced cucumber next time. 
Shown here with Green Onion Pancakes.
Internet - Cast-Iron Darling