Baked Layered Pattypan Squash
Ingredients
4 pattypan squash, trimmed and thinly sliced
1 onion, chopped
1 pound Italian sausage, casings removed and crumbled
1 cup parsley, chopped
1 1⁄2 cups bread crumbs
1⁄2 teaspoon pepper
1 tablespoon olive oil
Instructions
1. Preheat oven to 350*F. 
2. Heat skillet over medium heat and cook sausage until no longer pink. Remove sausage from pan. Add onion to sausage fat and cook 3-5 minutes, or until soft. 
3. In a bowl mix together sausage, onion, parsley, bread crumbs, pepper, oil, and 2 tablespoons water.  Layer squash slices with sausage mixture in 9 by 12-inch pan.  Cover and bake 30 minutes. Uncover and continue baking 15 minutes or until squash is tender.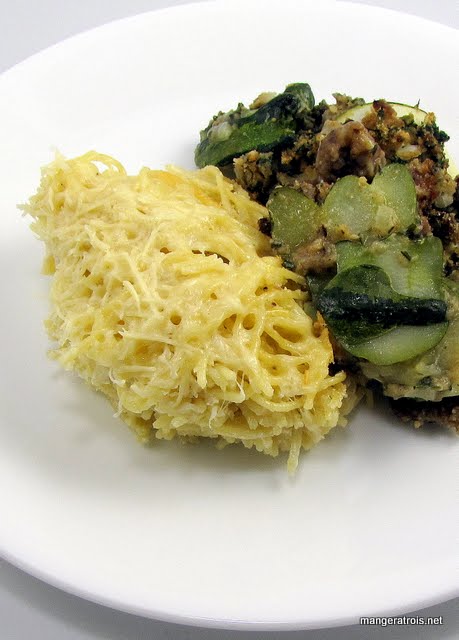 Comments
This was supposed to be a stuffed pattypan dish but my pattypans were too small and it seemed like the [recipe](http://www.healthy-(recipes-for-kids.com/scallop-squash-(recipes.html) wouldn't work so well.  Everything was tasty, the spice from the sausage added lots of great flavor. 
Shown here with Baked Lemon Pasta.
Internet - Healthy Recipes for Kids