French Pork and White Bean Casserole (Cassoulet)
Ingredients
Table salt
1 pound dried cannellini beans, rinsed and picked over
2 medium celery ribs
1 bay leaf
4 sprigs fresh thyme
1 1⁄2 pounds fresh bratwurst
4 ounces salt pork, rinsed of excess salt and diced
4 tablespoons olive oil
1 1⁄2 pounds pork shoulder, cut into 1-inch chunks (I interpreted this as 1 1⁄2 pounds of meat which was about a 2 1⁄2 pound piece with the bone.)
1 large onion, chopped fine
2 medium carrots, peeled and cut into 1⁄4-inch dice, about 1 cup (I used baby carrots.)
8 cloves garlic cloves, minced or pressed
1 tablespoon tomato paste
1⁄2 cup dry white wine
1 (14.5 ounce) can diced tomatoes
4 cups chicken broth
Ground black pepper
4 large slices white sandwich bread, torn into rough pieces
1⁄2 cup fresh parsley, chopped
Instructions
1. Dissolve 2 tablespoons salt into 3 quarts cold water in large bowl or container. Add beans and soak at room temperature, 8 to 24 hours. Drain and rinse well.
2. Adjust oven rack to lower-middle position and heat oven to 300*F. Using kitchen twine, tie together celery, bay leaf and thyme. Place sausage and salt pork in medium saucepan and add cold water to cover by 1 inch; bring to boil over high heat. Reduce heat to simmer and cook 5 minutes. Transfer sausages to cutting board, allow to cool slightly, then cut into 1-inch pieces. Remove salt pork from water with slotted spoon; set aside.
3. Heat 2 tablespoons oil in large Dutch oven over medium-high heat until beginning to smoke. Add sausage pieces and brown on all sides, 8 to 12 minutes total. Transfer to medium bowl. Add pork shoulder and brown on all sides, 8 to 12 minutes total. Add onion and carrots; cook, stirring constantly, until onion is translucent, about 2 minutes. Add garlic and tomato paste and cook, stirring constantly, until fragrant, 30 seconds. Return sausage to Dutch oven; add white wine, using wooden spoon to scrape browned bits from bottom of pan. Cook until slightly reduced, about 30 seconds. Stir in tomatoes, celery bundle, and reserved salt pork.
4. Stir in broth and beans, pressing beans into even layer. If any beans are completely exposed, add up to 1 cup water to submerge (beans may still break surface of liquid). Increase heat to high and bring to simmer. Cover pot, transfer to oven, and cook until beans are tender, about 1 1⁄2 hours. Remove celery bundle. Using large spoon, skim fat from surface and discard. (When I got to this point in the recipe, there was no liquid over the beans so I had no way to skim anything off.)  Season with pepper and stir to submerge beans.  Increase oven temperature to 350*F and bake, uncovered, 20 minutes.
5. Meanwhile, pulse bread and remaining 2 tablespoons oil in food processor until crumbs are no larger than 1⁄8 inch, 8 to 10 1-second pulses. Transfer to medium bowl, add parsley, and toss to combine. Season with pepper.
6. Sprinkle 1⁄2 cup bread-crumb mixture evenly over casserole; bake, covered, 15 minutes. Remove lid and bake 15 minutes longer. Sprinkle remaining bread-crumb mixture over top of casserole and bake until topping is golden brown, about 30 minutes. Let rest 15 minutes before serving.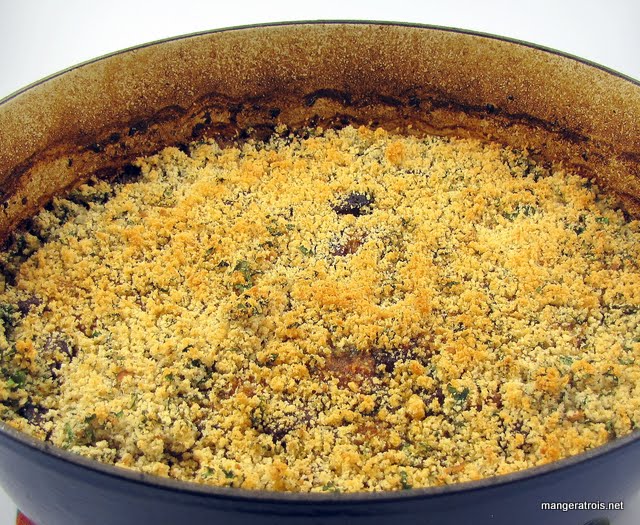 Comments
This recipe provides a very good example of why it is very important to read the entire recipe before doing a single thing.  This is probably one of the most important skills that any cook can possess.  Reading this recipe through yields two important pieces of information.  The first is that you should soak the beans the night before you plan to cook this recipe.  The second is that the recipe takes a very long time even after the beans are soaked.  I believe that we began prep around 5pm and ate dinner shortly after 9pm.  Four hours including Art's help with prep.  The last 3 hours of cooking is largely unattended. 
I am very happy to say that all of the time was very worth it.  The beans were perfectly cooked through, the meat was all fantastic, and the dish as a whole was extremely filling and well balanced.  Even though the recipe was time consuming, it wasn't difficult to bring together.  Lance liked the pieces of pork shoulder most, Art liked the sausage the best, and I liked it all. 
This recipe is from the 2009 Cook's Illustrated Annual and makes a fantastic meal with a good loaf of crusty bread and salads.
Cook's Illustrated 2009