Maple-Glazed Pork Tenderloin
Ingredients
3⁄4 cup maple syrup (The real stuff, please.)
1⁄4 cup light or mild molasses (I used "original" which I guess is mild.)
2 tablespoons bourbon or brandy (I used brandy since that's what I had in my cabinet.)
1⁄8 teaspoon ground cinnamon
Pinch ground cloves
Pinch cayenne pepper
1⁄4 cup cornstarch
1 tablespoon table salt
2 teaspoons ground black pepper
2 pork tenderloins
2 tablespoons vegetable oil
1 tablespoon Dijon or whole grain mustard
Instructions
1.Adjust oven rack to middle position and heat oven to 375*F. Stir 1⁄2 cup maple syrup, molasses, bourbon, cinnamon, cloves, and cayenne together in 2-cup liquid measure; set aside. Whisk cornstarch, salt, and black pepper in small bowl until combined. Transfer cornstarch mixture to rimmed baking sheet. Pat tenderloins dry with paper towels, then roll in cornstarch mixture until evenly coated on all sides. 
2. Heat oil in 12-inch heavy-bottomed nonstick skillet over medium-high heat until just beginning to smoke. Reduce heat to medium and place both tenderloins in skillet, leaving at least 1 inch in between. Cook until well browned on all sides, 8 to 12 minutes. Transfer tenderloins to wire rack set in rimmed baking sheet. (The tenderloins will shrink some as they cook in the skillet, so don't worry if you have to curve them to fit them initially.) 
3. Pour off excess fat from skillet and return to medium heat. Add syrup mixture to skillet, scraping up browned bits with wooden spoon, and cook until reduced to 1⁄2 cup, about 2 minutes. Transfer 2 tablespoons glaze to small bowl and set aside. Using remaining glaze, brush each tenderloin with approximately 1 tablespoon glaze. Roast until instant-read thermometer inserted in thickest part of tenderloins reads 130*F, 12 to 20 minutes. Brush each tenderloin with another tablespoon glaze and continue to roast until thermometer reads 135 to 140*F, 2 to 4 minutes longer. Remove tenderloins from oven and brush each with remaining glaze; let rest, uncovered, 10 minutes. (I didn't actually measure the glaze I used each time, since I had plenty.  I just brushed it on until it was, well, glazed each time.)
4. While tenderloins rest, stir remaining 1⁄4 cup maple syrup and mustard into reserved 2 tablespoons glaze. Transfer meat to cutting board and slice into 1⁄4-inch-thick pieces. Serve, passing mustard glaze at table.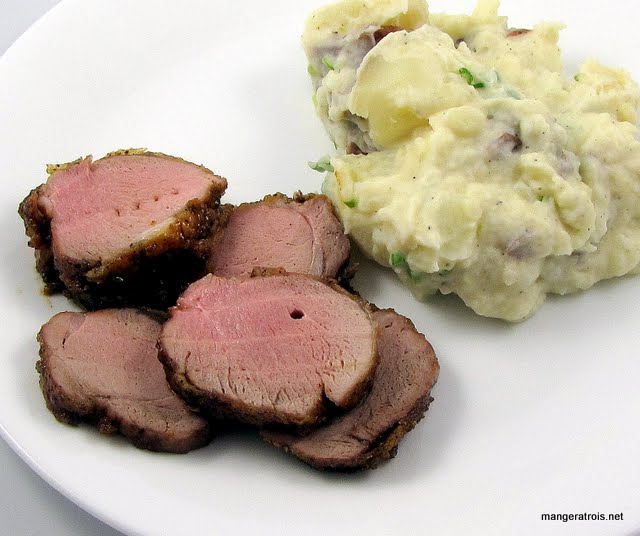 Comments
I've made many recipes for pork tenderloin over the years but this is, by far, the most flavorful.  The recipe is from the 2009 Cook's Illustrated Annual and the guys could not stop eating it.  The sauce, which I forgot to add to the plate before taking the picture, was a great compliment.  The tenderloins smelled wonderful while cooking and all the spices just blended together fantastically.  The cornstarch coating helped to add nooks and crannies to the pork so that the glaze would adhere during cooking. 
There is no doubt that I'll be making this again – there are two other variations in the cookbook that I'm interested in trying at some point. 
Shown here with Sour Cream and Onion Smashed Potatoes (and a thermometer hole and fork print, oops).
Cook's Illustrated 2009