Tourtiere
Ingredients
1 1⁄2 pounds russet potatoes, cubed
3⁄4 cup half and half
2 tablespoons unsalted butter, softened
2 pounds ground pork
1 onion, chopped fine
3 cloves garlic, minced
1 teaspoon dried thyme
1 teaspoon dried sage
1⁄4 teaspoon ground nutmeg
1 cup beef broth
Salt and pepper
2 9-inch pie crusts (I use Pillsbury, since I like them.) 
Instructions
1. Put potatoes in large pot and cover with water by 1 inch. Bring to boil, reduce heat to low, and simmer until tender, about 15-20 minutes. Drain potatoes, return to pot, and mash with half and half and butter. Set aside.
2. Adjust oven rack to middle position and heat oven to 425*F. Cook pork, onion, garlic, thyme, sage, and nutmeg in Dutch oven over medium-high heat until pork is lightly browned, about 10 minutes. Add broth and bring to boil. Reduce heat to medium-low and simmer, covered, about 10 minutes. Uncover, increase heat to medium-high, and cook until most of liquid evaporates, about 10-20 minutes. Off heat, stir in prepared mashed potatoes. Season with salt and pepper and let cool completely, at least 30 minutes.
3. Line deep pie plate (or a deep, round casserole dish) with 1 pie crust. Fill with pork and potato mixture and top with second pie crust, crimping edges to seal. Cut 4 vent holes in top and bake until crust is golden brown, 35 to 40 minutes. Cool on wire rack 15 minutes. Serve.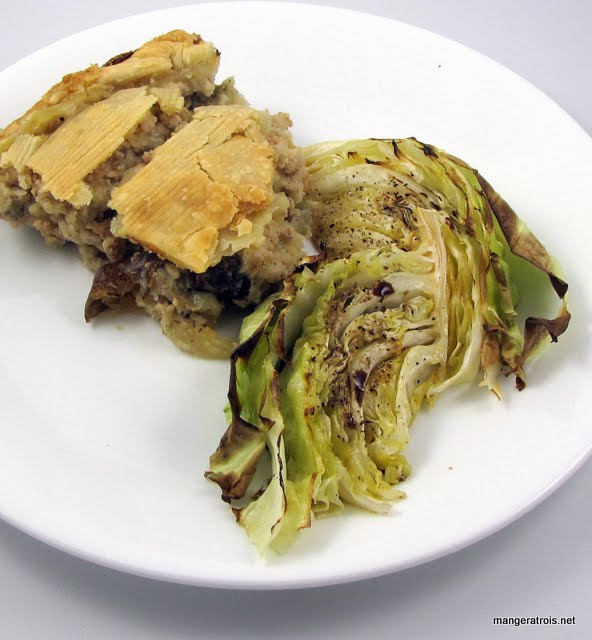 Comments
This recipe is from the 2009 Cook's Country Annual and it's a fairly basic meat and potatoes pie.  It was very tasty and extremely simple. 
Shown here with Roasted Cabbage Wedges.
Cook's Country 2009