Herbed Pork Loin with White Wine Reduction
Ingredients
1 teaspoon salt
1⁄2 teaspoon ground coriander
1⁄2 teaspoon freshly ground black pepper
1 (3-pound) boneless pork loin, trimmed
2 tablespoon fresh parsley, chopped
1 tablespoon fresh rosemary, chopped
1 tablespoon fresh oregano, chopped
1 tablespoon fresh sage, chopped
2 teaspoons fresh thyme, chopped (I couldn't get fresh thyme, so I used a bit less than a teaspoon dried.  This is probably a better summer recipe due to availability of fresh herbs.)
1 tablespoon olive oil
1⁄2 cup shallots, finely chopped
2⁄3 cup white wine
1 cup chicken broth
1⁄4 cup fresh orange juice, about 1 large orange (I admit, I used a some Simply Orange.)
Instructions
1. Preheat oven to 425*F.
2. Sprinkle first 3 ingredients over pork. Combine parsley and next 4 ingredients, rub over pork.
3. Heat oil in a large nonstick skillet over medium-high heat. Add pork to pan; cook 7 minutes, browning on all sides. Place pork in shallow roasting pan or broiler pan coated with cooking spray. Or, if using an oven safe skillet, keep it in that.  Bake for 35 minutes or until a thermometer registers 155-160*F. Remove pork to cutting board. Cover loosely with foil; let stand 10-15 minutes.
4. Place roasting pan (or skillet) over medium heat. Add shallots to pan; cook 2 minutes. Add wine, scraping pan to loosen browned bits; bring to boil. Cook until mixture is reduced to 1⁄3 cup. Add broth and juice; cook until mixture is reduced to 3⁄4 cup, about 5-10 minutes. Serve sauce with pork.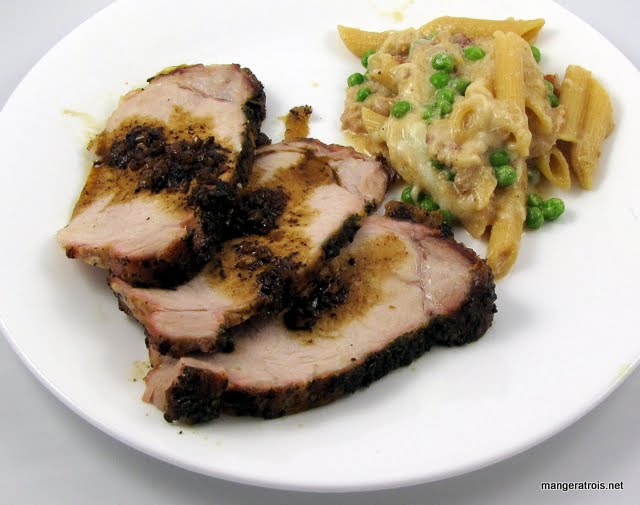 Comments
Art isn't a huge lover of pork chops so, in order to make pork, I tend to stick to roasts.  This one is from the 2010 Cooking Light Annual and was ridiculously flavorful and moist.  The sauce had just enough sweetness in it to provide a fantastic accompaniment to the meat.  We all enjoyed this quite a bit and I look forward to revisiting it in the summer when my access to fresh herbs is vastly improved. 
Shown here with Baked Four-Cheese Pasta.
Cooking Light 2010