Balsamic Pork Tenderloin with Shallots
Ingredients
5 teaspoons olive oil, divided
1 (1 pound) pork tenderloin, trimmed and cut crosswise into 1⁄2-inch thick slices
Salt and pepper, to taste
2 1⁄4 cups shallots, thinly sliced (The recipe said this would be about 8, but my shallots were HUGE so I used only 4.)
1 clove garlic, minced
1⁄2 cup water
2 tablespoons balsamic vinegar
Instructions
1. Heat 1 teaspoon oil in a large nonstick skillet over medium-high heat. Sprinkle pork with salt and pepper. Add pork to pan; cook 3 minutes on each side or until done. Remove from pan, and keep warm.
2. Add remaining 4 teaspoons oil to pan; reduce heat to medium. Add shallots to pan; cook 10 minutes or until tender, stirring occasionally. Add garlic; cook 2 minutes. Stir in 1⁄2 cup water and vinegar; simmer 6 minutes. Season with salt and pepper. Spoon shallot mixture over pork. Serve immediately.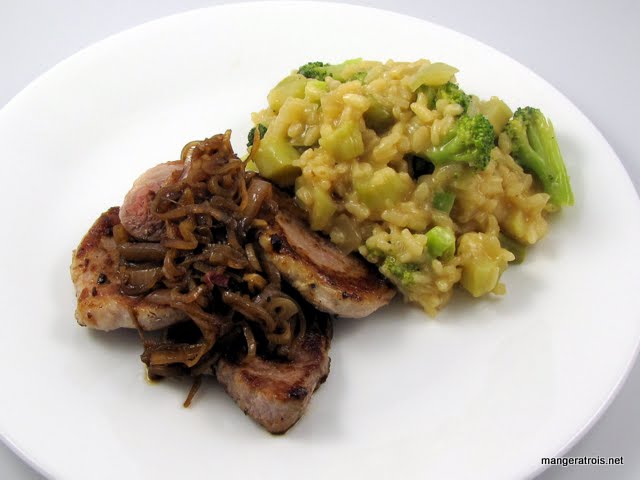 Comments
This recipe is from the 2010 Cooking Light Annual and I thought it was a little strange that it said to cut the tenderloin into pieces before cooking it.  However, I gave it a go, and was very pleased with the results!  The pork was nice, tender, and seared well.  The shallots were delicious and vinegary. 
Shown here with Lemon Broccoli Risotto.
Cooking Light 2010